Simulator training ensures safer navigation of cruise ships in arctic waters
Cruise ships can be challenging to manoeuver, but in arctic waters there are many additional dangers to take into account to ensure passenger safety.
10 August 2017

The fantastic landscape and environment of Greenland attracts an increasing number of cruise passengers to this previously secluded part of the world. Every year, still more cruise ships sail in the confined, ice-filled fjords of Greenland. 

Sailing in arctic waters is different compare to sailing elsewhere and associated with high risk not least due to icebergs and rapidly changing weather. And should an accident happen the crew must be self-reliant because tugs or emergency services are not close by for assistance. Therefore, it is important not to get into high risk situations in arctic waters. If the cruise ship strikes on cliffs or an iceberg and the passengers must evacuate the ship, they will not survive many minutes in the ice-cold water.
Ship pilots improve their arctic navigation skills by training in worst case scenarios in our ship simulators. That way, they know precisely how to deal with difficult situations in the confined fjords of Greenland when faced with them in real-life.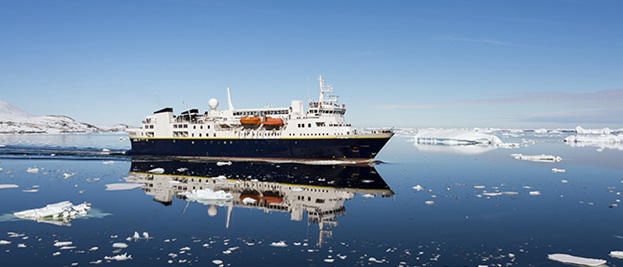 New law demands pilots on board
By law, cruise ships must have a ship pilot on board when sailing in arctic waters around Greenland. For safety reasons, it is essential that the pilot is familiar with the arctic area and knows exactly how to navigate the cruise ship according to local conditions.
Greenland Pilot Service is the largest provider of pilot services for cruise ships sailing in Greenlandic waters. Their pilots have recently attended training in Bridge Resource Management & Ship Handling in Arctic Areas at FORCE Technology's training centre. 
"We chose FORCE Technology's training course because of their acknowledged and pedagogical approach to teach ship handling and because their simulators are well-functioning and the models are realistic and life-like," says Jakob Nordstrøm, Director and co-owner of Greenland Pilot Service.
Keeping calm when interacting with different personality types
According to Jakob Nordstrøm the reason for the pilots attending the courses was two-fold:
"We wanted our pilots to be trained in two things: They must be familiar with the new legislation and know how to comply with it so that we can advise our customers on the cruise ships correctly. Also, to improve their interpersonal skills when acting as a pilot, because the crew often consists of different nationalities and personality types."
The Bridge Resource Management course teaches the pilots how to utilize the existing resources on board and understand the psychological factors that drives human behavior of different cultures.
The pilots learn how to handle cultural differences among the crew and act appropriately so that conflicts are avoided. Consequently, they improve their skills of advising and communicating with the captain and his crew.
"It is important that the pilot keep calm in the communication with the captain when he helps navigate in the arctic waters and instruct the captain of where the cruise ship can or cannot sail," explains Jakob Nordstrøm.
Four key challenges when sailing in Greenlandic waters
The pilots from Greenland Pilot Service are very experienced and familiar with the arctic waters. Jakob Nordstrøm points out four key challenges associated with sailing in the Greenlandic waters:
Sailing in arctic waters requires a completely different mind-set because there are objects (e.g. icebergs and growlers) floating in the water endangering the ship. Thus, the crew must constantly focus on what is in the water in front of the ship - it is not sufficient to look at maps and computer screens.
The sea charts, which are still paper-based, are not very detailed and not too exact as they are based on manual soundings. Therefore, there is a need for local knowledge to sail in the waters.
At night, the ships must sail with ice projectors turned on - it is a legal requirement. Thus, navigating at night-time is quite a different experience for the crew.
The weather conditions in Greenland change rapidly. In the morning, the weather might be calm and quiet but change to winds of 15 m/s in the afternoon.
When the pilot joins the cruise ships and during the trip towards Greenland, they instruct the captain and his crew about these key challenges. This prepares them for the challenging journey ahead and helps them focus on safe and calm reactions.
The certified training at FORCE Technology ties in perfectly with Greenland Pilot Service's vision of delivering the highest possible safety standard.
"Greenland Pilot Service offers a high standard of safety and we continuously look for ways to improve our skills. The training course has made us more aware of how we act as pilots. This knowledge enables us to provide our clients with better advice and to deliver the highest standards of safety," says Jakob Nordstrøm.