FORCE Technology has built a new ship simulator for DanPilot
DanPilot's new ship simulator will be used for their pilot training, to enhance the skills of the pilots and help increase safety in Danish waters.
23 October 2018

Denmark's largest pilot company, DanPilot, has acquired a new ship simulator from FORCE Technology for their pilot training. DanPilot employs more than 160 pilots and serves all ports and waterways in Denmark.
Experienced as well as new pilots will benefit from training in a ship simulator as they can gain new knowledge about ship manoeuvring for a multitude of ship models and can train extreme and everyday scenarios at the same time as they are challenging what is possible.
Simulator training enhances pilot skills
Safety at sea is of the utmost importance to DanPilot. They will use the simulator to train and enhance the skills of their pilots – for example manoeuvring new vessel types or train how to enter new ports - and to share experience and best practice.
"In particular, the simulator will be used for systematic knowledge sharing and sparring amongst pilots and for specific pilotage tasks in selected ports or waterways, i.e. bunker operations. We will also use it to develop best practice for the various navigation routes and for training of boatmen in relation to pilot boat handling. In addition, the simulator will be used for testing the pilot's skills when recruiting new pilots," explains Søren Westerskov, Chief Pilot at DanPilot.
The experience the pilots gain from the simulator training will make them more robust and prepared for ship handling challenges in real situations, thus enhancing safety at sea.
High realism based on complex mathematical models
When DanPilot decided to acquire their own simulator, they made a thorough screening of the market. Due to the high realism of our simulators, DanPilot asked FORCE Technology to deliver the new simulator. Over the years, many of DanPilot's pilots have attended numerous maritime training courses at FORCE Technology and thereby obtained first-hand experience of our ship simulators and the realism when operating the simulators.
Simulators from FORCE Technology use complex mathematical models that make ship models act very close to real life. For example, the simulator can accurately calculate squat effect and ship-ship interaction, as well as the bank effect that occurs between a vessel and the bank when the vessel operates in narrow or shallow waters. The new simulator contains a wide range of ship models - from small to very large vessels.
The new DanPilot simulator has been developed and thoroughly tested by FORCE Technology's specialists and also tested by pilots from DanPilot to ensure a high standard of the simulations. The use of the newly acquired simulator will complement the legally required training courses, e.g. shiphandling, bridge resource management and tug handling, with the overall goal of increasing the skill level of all their pilots.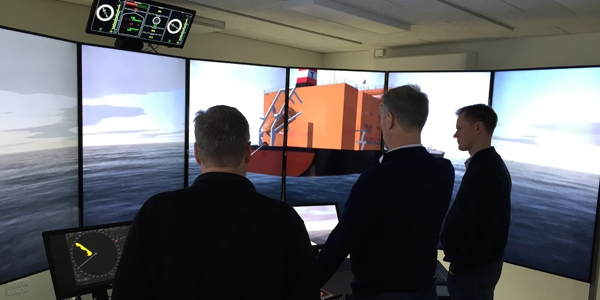 DanPilot's new simulator in function