Maritime innovations for more than 12 million DKK
We have been granted 12.1 million DKK for three innovative maritime projects. The outcome of the innovation projects will benefit a broad range of companies working in the offshore and maritime sectors.
11 February 2019

With the aim of developing new, innovative technological services for the maritime industry, FORCE Technology has been granted 12.1 million DKK. The assignments are formulated in three performance contracts concluded with the Danish Ministry of Education and Research. The outcome of these projects will benefit our current and future customers as well as our collaboration partners in the offshore and maritime sectors.
The research and innovation activities within the three projects will take place during 2019-2020. The main contents of the projects are described below.
Project 1: Virtual hydro- and aerodynamic laboratory and knowledge base
In this project we will establish a new virtual laboratory based on artificial intelligence (AI)/Machine Learning, historical databases, and numerical methods. The virtual lab will supplement the existing physical test methods within the hydro- and aerodynamic areas used by the building, shipping, and offshore industries.
The intention of this project is to enable an iterative and agile design process that will be made available to the market. With this vision, we are able to shift from the typical role of pure data supplier to providing consulting services based on data, a service which is demanded by many small and medium-sized companies.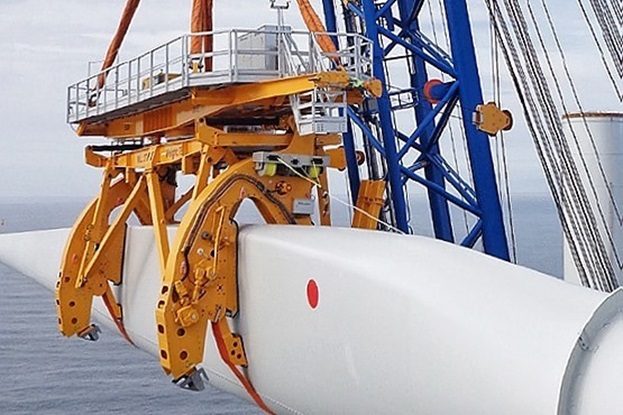 Project 2: Simulation of advanced lifting equipment – offshore wind
In this innovation project, we will develop simulation tools that can support design, testing, and operator training for advanced lifting equipment used offshore when installing wind turbines and oil/gas installations. The development will take place in collaboration with stakeholders in the offshore sector.
The user-configurable tools we will develop will allow manufacturers and users of lifting equipment to develop, optimise, and adjust the equipment in a simulated offshore environment with realistic wind forces and wave forces.
Examples of equipment which can be supported include: blade yokes for mounting wind turbine blades, tagline systems, and lifting equipment for Transition Pieces, towers and nacelles. It will also be possible for manufacturers to develop and test new innovative lifting concepts, e.g. self-hoisting cranes for offshore servicing.
Project 3: Safe and efficient navigation
In this innovation project we will develop an improved hydrodynamic ship model for accurate manoeuvring simulation in shallow waters and in waves, currents, ports, and channels. This new technological service is based on our extensive knowledge about accurate simulation of ships manoeuvring in shallow water, ports, and channels.
The purpose of this project is to enable optimal utilisation of the shallow waterways with respect to safety and efficiency. To achieve this, we will develop a calculation model that can calculate waves and water flows around ships and determine hydrodynamic forces with higher precision than previously possible.
Want to know more?
If you want to know more about the innovation projects, please contact John Koch Nielsen, R&D Coordinator – Maritime Industry, FORCE Technology.

Read more: 
https://forcetechnology.com/en/hydrodynamics
https://forcetechnology.com/en/aerodynamics
https://forcetechnology.com/en/simulations-and-cfd