Enhance your knowledge within advanced ultrasonic testing and strengthen your competitive advantages
Our newest range of courses in advanced ultrasonic testing ensures that you can fulfill the industries requirements to a modern and qualified NDT inspector.
Training and educating personnel is an ongoing process that contributes to keeping the professional skills up to date, and at the end of the day, it will strengthen your competitive advantages. At FORCE Technology, we have a wide range of courses within traditional and advanced ultrasonic testing.
It is important to us that the knowledge you obtain on our courses is applicable in your daily work. Our courses combine classic classroom teaching and demonstrations with individual, practical work. All the individual, practical work is not only based on standard plate test specimens but also specimens and geometries known from the industries.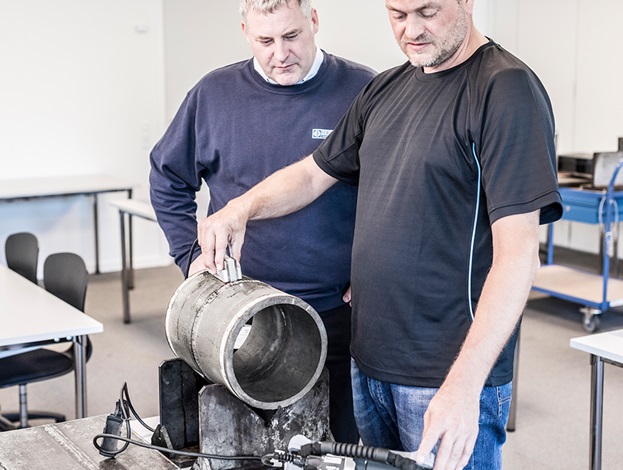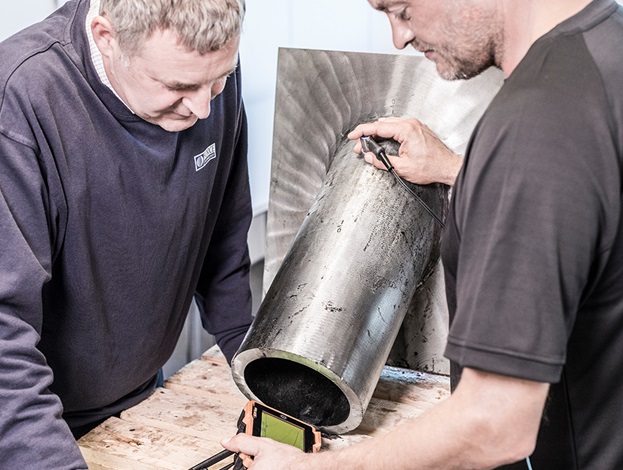 New courses in 2018 within advanced ultrasonic testing
Ultrasonic testing experiences a rapid development. For decades, the traditional ultrasonic testing methods have been recognised worldwide and are used on all kinds of steel constructions. The latter years, advanced and automated ultrasonic methods have gained ground both in terms of experience in the application of the technology in general and in the software, hardware area.
In 2018, we introduce multiple new courses within advanced ultrasound testing for example Phased Array Ultrasonic Testing (PAUT) level 1+2. Compared to traditional ultrasonic testing PAUT has the advantage that one probe placed in the same position can generate multiple angles into the material and cover the entire weld in one scan.
The course provides a thorough theoretical and practical education in the PAUT method including data collection, evaluation and reporting as well as the benefits and the limitations of the method.
PAUT is a continuation course for inspectors who have hands-on experience with ultrasonic testing and an UT-2 certificate, sector welds. The course complies with EN ISO 9712 and EN ISO 9712/Nordtest.

We also hold a wide range of other courses in advanced ultrasonic testing. Read more about all our courses and sign up here.
Implementing PAUT gives competitive advantages
Today, the competitiveness of businesses is very dependent on the continued development of the knowledge and skills of the employees. As a natural consequence, there are high demands for quality and usability of the courses, skill development and further training.
Our newest addition of courses within advanced ultrasonic testing ensures that you can fulfill the industries requirements to a modern and qualified NDT inspector, as well as provide your business with a competitive advantage.
For example, a test implementing PAUT on circumferential welds on wind turbine towers has shown that PAUT is significantly faster than traditional ultrasonic testing.

The less time spend on inspection and data collection, the faster the data is ready for evaluation and the sooner it is possible to assess failures and defects and what to do with them. Reducing the inspection time with one hour results in significant cost reductions and competitive advantages.
Are you planning which courses to attend in 2018?