FORCE Technology is a member of the newly established European AIOTI
The rapidly growing Internet of Things (IoT) has accelerated the establishment of a new European organisation, AIOTI, which works to promote dialogue between different IoT players. A number of major, global companies and research centres – among others FORCE Technology – have recognised a need for the association and are already active members.
Developments in the specialist field Internet of Things (IoT) are moving fast. Very fast. "IoT speed is light speed," stated Kees van der Klauw, interim chairman of the newly established association AIOTI, at the founding general assembly in Brussels on Friday 11 November 2016. And he knows what he is talking about. Van der Klauw is also the Senior Vice President at Philips Research, which means he is an expert in light and IoT.

The rapid development combined with the huge commercial and societal potential involved in propagating IoT in a professional and coordinated way, is also the reason why the European Commission already in 2015, asked a number of European companies for advice regarding the promising new field of technology, the Internet of Things. Since it quickly became evident that there was a need for dialogue internally between the IoT players, AIOTI, Alliance for Internet of Things Innovation, was quickly established with a number of major, global companies as its founding members. Shortly after, other groups joined – standards organisations, bodies that promote trade and SMVs. Each group brought its own perspective and interests to the work. A number of working groups grew out of this process, and in November 2016, it was clear that it was time to change the alliance into a proper association, subject to Belgian law.

Today, AIOTI's mission is to contribute to the creation of a dynamic European ecosystem, which can promote the uptake and use of IoT. In addition, AIOTI shall support the convergence and interoperability of IoT standards, collect knowledge about market barriers to the uptake of IoT, and chart and build bridges between IoT activities, on a local, European and global level.

AIOTI is organised into 13 working groups (see figure), each with its own area, such as political recommendations, smart buildings, standards, wearables and smart agriculture.

It is a requirement that members of AIOTI are active in at least one of the 13 working groups. FORCE Technology is a member of the working groups on IoT standards (WG03).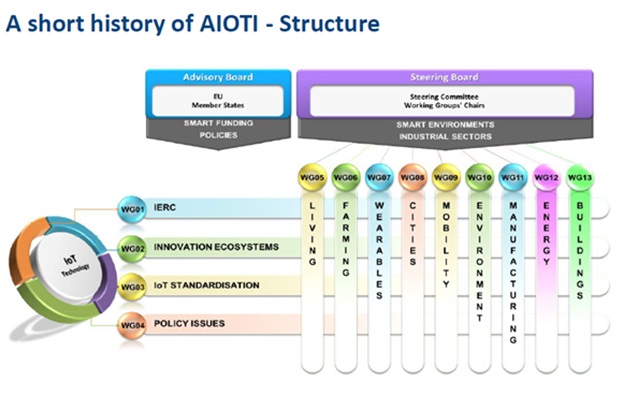 What does this mean for our partners?
Today, AIOTI has almost 400 active members in the working groups, from approximately 300 different organisations and leading companies, including Orange, Cisco, IBM, THALES, Texas Instruments, Vodafone, Sigfox, LG, Huawei, Grundfos, IMEC, Dell, CEN-CENELEC, British Telecom, Samsung, John Deere, NEC, Qualcomm, Panasonic, Intel, Fraunhofer, and a large number of European universities and research centres.

Because members must work in at least one of the working groups, AIOTI is a major exercise in team building between all types of players, and with FORCE Technology's active participation in this distinguished association, we are able to develop closer relations with a number of the leading, global players in IoT – relations, which directly and indirectly will benefit our Danish partners. For example, we will quickly get relevant, international news and therefore become a stronger partner when it comes to knowledge sharing.

We expect that our efforts, in particular with standards, will ensure Danish influence in the European process – a great deal is happening on the European level at the present time.

It is also our hope that we can use our participation in AIOTI to find partners for exciting projects, get faster answers to technological questions and in general, get closer to "the centre of things" – there are after all other places than FORCE Technology, where things are happening in the IoT field.