OKM: IoT-enabled paperless production
The small manufacturing company from Tønder, OKM A/S, has been working on the digitalisation of multiple processes for the past couple of years. Through the MADE Fast programme, the company investigated the technical feasibility of wireless tracking technologies in order to automate process time registration in their production line.
Challenge
Manual time registration of pro-duction processes results in inaccurate and faulty data. Auto-matic registration will optimise operational performance.
Process
Four steps performed investigating context, proposing fit-for-purpose solutions, testing and addressing implementation perspectives.
Outcome
Analysis and recommendation of wireless protocol and system architecture, Assessment and proposal of required partners and implementation plan.
Challenge
OKM A/S manufactures, taking advantage of CNC machine tools, aluminum components for different industries, among others the automotive sector. The company has a strong focus in digitalising its production processes to optimise its performance lowering its operational costs.
One fundamental aspect concerns the improvement of production planning. As this relies of historical data collected from the different production processes, the ability to register the time spent on such processes for a specific item is paramount. The current time registration app allows operators to manually input start and end times of production processes into OKM's ERP system as well as register when an operator is working on a machine. However, this method has showed to have the following challenges:
On machines where different items are processed at the same time, it is not possible to differentiate the time spent for the different items
Human errors often result in inaccurate time registrations and unreliable data.
Before engaging with MADE Fast, OKM had already identified the advantages of introducing an automatic time registration system based on wireless identification tags, where data collection from operators, items and machine ID/process execution data would enable the correlation of interrelated time stamps in order to register the time spent on different items and across different production processes. Based on initial research, RFID had been identified as a possible fit-for-purpose technology for developing such system.
To support the development of a suitable IoT system that meets the requirements for automatic time registration, it was necessary to conduct a structured investigation of the technical feasibility concerning wireless identification protocols, including RFID, based on the contextual characteristics of OKM's production environment. This investigation included:
The identification of fit-for-purpose protocols
The realisation of prototypes
The performance of real-world comparative testing in the production facility
The assessment of the development and implementation perspectives that are required to realise the solution for OKM.
Freddy Christensen, System Manager at OKM A/S, elaborates on this approach:
"OKM is a small company of 20 people. We have chosen to start on our own, trying to work with digital production initiatives, which so far have been okay. For the next step, it is of high importance to us to make sure that the data from an automatic time registration system are valid and accurate before scaling it up. In this project we test and exemplify the feasibility of the system by testing it on one machine and including a few operators. If this is able to proof the concept, we can reduce the risk of scaling the system to the whole production". 
Process
The project was segmented in four parts based on a design thinking methodology of inquiry & analysis, synthesis, simulation and evaluation:
Inquiry & analysis
Understanding the context is of vital importance in order to understand which characteristics are needed to take into consideration when designing IoT solutions. Physical layout of production, surrounding elements and everyday processes as well as human behaviour are all examples of elements that will affect the process of identifying best suitable technology and systems design to meet the stated requirements. Activities conducted were:
Understanding the context: Observations, interviews etc.
Mapping and analysis: Using storyboards and process mapping.
Solution proposals and evaluation
Based on the findings from the previous step, two fit-for-purpose solution proposals were presented. As RFID had already been assumed as one possible technology solution, the objective of the project was to present one solutions proposal using RFID and one using Bluetooth Low Energy (BLE) as an alternative wireless protocol. From here it was possible to prepare and conduct a comparative study of the performance of the two, based on fixed evaluation parameters. For this purpose, four testable hypotheses were stated to compare their respective appropriability. The following activities were performed:
Proposal of 2 fit-for-purpose solutions based on findings in previous step
Evaluation and comparison through fixed parameters.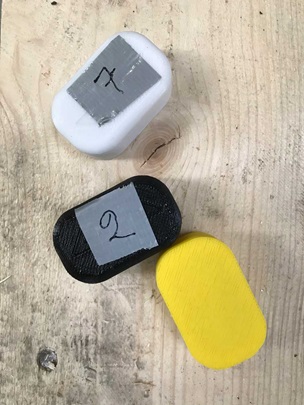 Pilot testing
Two separate prototype systems using respectively RFID and BLE were prepared. A test design was made in order to ensure comparable testing measures. The two systems were installed in OKM's production line and tests runs were made. In order to simulate a scenario as close to real-word operations as possible, the pilot test made use of scenario cards, where seven normal behavior scenarios that occur in the everyday production process were listed. By picking random cards and performing the task stated, the test was conducted with build-in randomness that usually happens in an everyday operations.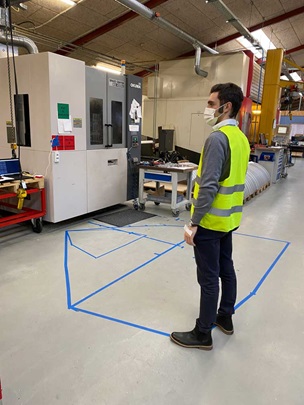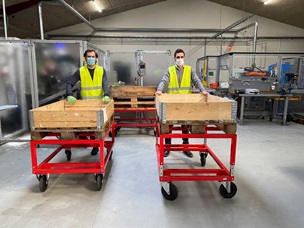 The objective of the test was to investigate the technical feasibility of the two wireless protocols and thus assess their fit for the purpose. Activities included:
Preparing and constructing test design
Sourcing, building, testing and preparing electronics
Setting up test software
Installation at OKM
Running test
Evaluation/analysis
Presenting test results.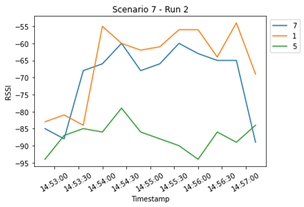 Implementation perspectives  
Once a solution proposal has been identified it was important to assess how to move into the implementation phase taking into account considerations regarding the development of a product scope, requirement specifications, the need for orchestrating procurement and systems integration, tests, operations, management, etc. At this stage is was identified that an overview of the capabilities needed to enable the implementation of the developed system was needed. In addition to that, this had to include an overview of which partners and vendors to include in such phase as well as which internal competencies to acquire. Furthermore, a project plan was developed to prioritise such activities.
In summary, the investigation regarding how to move to an implementation phase included a:
Capability assessment - determining which services/activities are required for the system and which capabilities/suppliers are needed to include
Screening of potential suppliers - identifying potential vendors and partners for scaling the system.
Outcome
Automatic time registration of production processes relieves the pain of inaccurate manual data collection caused by human errors. However, in order to realize the benefits, data accuracy from hardware devices is of vital importance.
Using BLE as wireless protocol for time registration between operator, machine and units
From conducting real-world testing, test results revealed an insufficient accuracy in RFID for the purpose of registering time through identifying the presence of operators and units near by a machine in the particular setting and context. For this purpose, using BLE as wireless protocol revealed to be much more appropriate for the specific characteristics of OKM's production practices.
Using CNC programme execution data for registering time on multiple items in fixture machines
By assessing multiple solution proposals on how to differentiate production time spent on a specific item when multiple items are processed, it was investigated how data concerning the CNC programmes run by the machine can be extracted. As such data are already collected by the machine and include both runtimes and the specific items that have been processed, this method significantly decreases the complexity of a solution that would have to use additional hardware for time measurements to be installed in the machine.
Based on the activities and findings of the project, OKM A/S has identified the most fit-for-purpose wireless identification technology to use for automatic time registration that has been initially verified through real-world testing. Furthermore, the perspectives of how to proceed with development and implementation have been mapped and planned in an easy-to-use timeplan and to-do list. The acceleration of digitalisation efforts through quick proof-of-concepts and development plans - facilitated by the MADE Fast program - provided OKM A/S with a stable offset for moving further into industry 4.0 and smart production. Freddy Christensen commented:
"From the insights provided in our project with FORCE Technology we now have the confidence to further invest in the development of our smart production initiative, knowing which technology platform that are most suitable for our purpose. The structured and accelerated approach equips us with knowledge that would have taken us much longer to obtain ourselves, if even possible at all. Having an operational to-do plan makes it easy for us to move into the next step." 
About FORCE Technology: IoT, Data & Services Innovation
IoT, Data & Services Innovation is a new business unit in FORCE Technology with around 30 specialists working with applied innovation - that is, facilitate development processes and help shape the right IoT concept to create valuable IoT solutions for companies to make direct use of. We have an innovative approach to problem solving, business modeling and service innovation, combined with deep expertise in electronics and hardware. We are bridging the gaps between new hardware technologies, design thinking and business development. 
About MADE FAST
MADE FAST (Flexible, Agile, and Sustainable production enabled by Talented employees) is a new industrial lead research, innovation, and education partnership to develop the next generation of Daish advanced manufacturing capabilities.
The objective of MADE FAST is to deliver solutions to Danish manufacturers which will enable increased flexibility, agility and environmentally sustainable manufacturing operations, supported by talented employees and enabled by digitalisation.
MADE FAST will drive competitiveness by enabling Danish manufacturers to produce customer specific products, scale production from small series production to mass customisation, accelerate, support, scale and improve employee training, and develop sustainable manufacturing operations which reduce the environmental footprint of their manufacturing operations.