Production control of rolled ring forgings
The FORGITAL® group manufactures and supplies seamless rolled rings for use in the industry worldwide.
The rings are made of steel, aluminium, titanium and various alloys and are manufactured as rectangular cross-section rings or contour rolled rings. The FORGITAL® group provides a great range of rings with weights between 10 kg and 40 tonnes. These products have previously been inspected for homogeneity and defects by manual ultrasonic methods. However, a need for automated inspection and detailed quality documentation was recognized.
The first solution to automated ultrasonic inspection was implemented at FORGITAL Italy S.P.A. FORCE Technology delivered probe rails for moving the probes and P-scan 4 for data acquisition, analysis and presentation. During the inspection phase probe rails were mounted temporarily on the lathe machine in place of the machine cutting tools.
FORGITAL has a long tradition for continuous improvement of processes and as a consequence a second solution was implemented. This solution used a new machine dedicated to rotate rings up to 3 metre diameter during ultrasonic inspection. The second solution used a flexible permanent set-up of probe rails.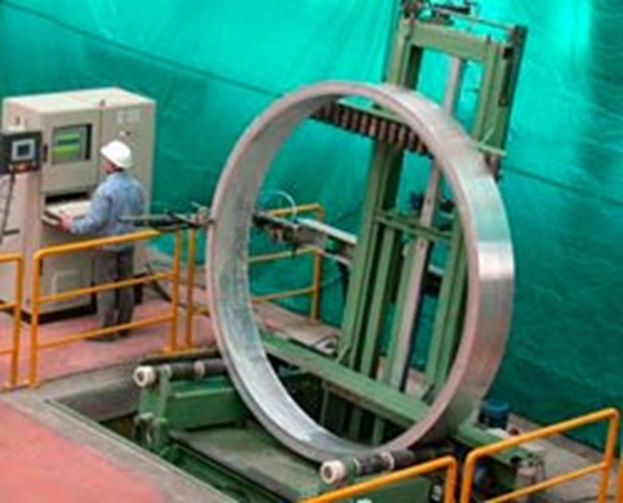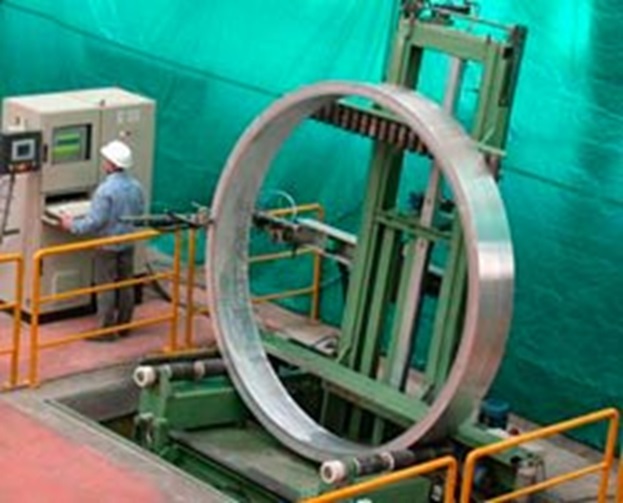 The rectangular cross-section rings are inspected while each ring is placed vertically in the test stand and rotated. The ultrasonic probes are mounted on the probe rail and moved on the face and outside surface of the ring. The P-scan 4 can inspect two surfaces simultaneously with up to eight probes. The ultrasonic data are analysed with the P-scan 4 software and all data are saved in the company's quality documentation system. 
The company Forges Maurice Dembiermont in France, a member of the FORGITAL® group, got in 2004 an inspection system similar to the one used by FORGITAL Italy. The system is designed to scan rings up to 8 metres in diameter. The probe arrangement delivered by FORCE Technology consists of probe rails and probe holders mounted with pneumatic springs, so they can automatically adjust to the curvature of the rings. 
The P-scan 4 Flex was selected for data acquisition, because it can be expanded with eddy current inspection capability. Thus Dembiermont has reserved the potential for further improvements in efficiency by combining ultrasound inspection with simultaneous eddy current inspection.