P-scan reduces inspection time with a factor of 5
Scana Steel Björneborg AB of Sweden has supplied high quality stress joints, 18.5 meters long conic steel pipes, to the offshore industry for years.
These products have previously been 100% ultrasonic inspected by manual procedures. The manual inspection time was about 55 hours for each pipe unit.
An automated P-scan solution has reduced inspection time to 11 hours per unit. The huge timesaving obtained with the automated P-scan solution will have paid back the investment after inspection of less than 100 pipe units. However, the investor obtained in addition these benefits:
All pipe units are 100% inspected by automatic and identical uniform operations.
Each pipe unit got its inspection data automatically filed as part of its quality control documentation.
The personnel operating the inspection system obtained a highly improved working environment.
The solution reduces the need for manpower, resulting in cost savings.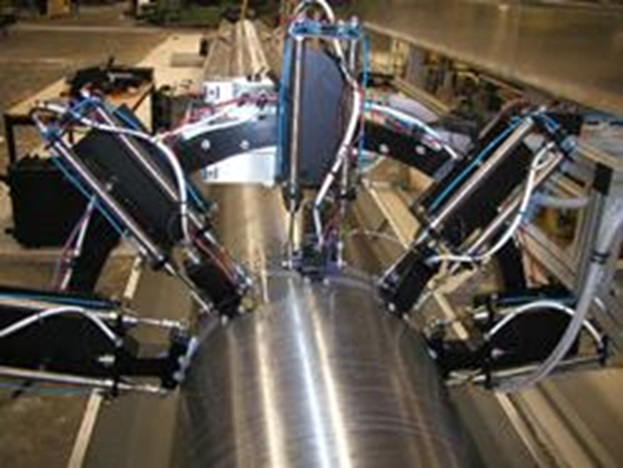 The P-scan solution uses the P-scan 4 and a special scanner set-up with ultrasonic probes mounted in a frame perpendicular to the pipe axis (see photo). During inspection, the pipe unit rotates with a constant circumferential velocity while the scanner frame moves at a constant speed along the pipe.