TwinEye X-ray measuring system installed at LOGSTOR - again
By developing, manufacturing and installing in line X-ray measuring systems to production plants we help securing high and uniform quality and productivity at LOGSTOR.
LOGSTOR is the world's biggest producer of pre-insulated district heating pipes with production plants in multiple countries. In 2013 we yet again delivered and installed an in-line X-ray meassuring system to their plant in the Danish city of Løgstør where the production on the continuous lines is maintained and expanded.
Productivity and quality are keywords
LOGSTOR is on a market with tough international competition. The only way to stay ahead is to continually focus on optimisation of productivity and quality by being innovative when it comes to new products and production methods. 
"The measuring systems from FORCE Technology help ensure high and uniform quality, and to optimise our productivity by minimizing waste," says Kristian H. Overgaard, EVP Technical Director at LOGSTOR.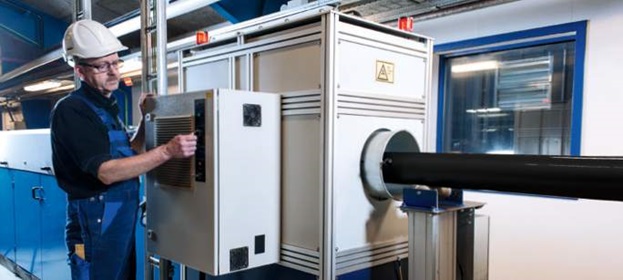 The X-ray measuring systems are important units in the pipe production, and counting the newest addition LOGSTOR now has our X-ray measuring system on five continuous production lines in Løgstør. All the systems are adapted to LOGSTOR's production and are operated by the daily operators. 
On monitors, the operators can clearly see how the production is going and whether the quality is as it should be. If the alarm goes off, they will quickly be able to adjust the production accordingly and minimize potential waste. 
The pipes are produced in continuous sheetings and can be quite complex and different in their construction. Naturally, it is crucial that the insulation is correct and has the right insulating quality. The pipes must lie accurately in the insulating foam, and the alarm wires must be correctly placed and embedded in the foam insulation. This means everything is "hidden" in foam that is protected by an outer plastic shell, making it impossible for the naked eye to see but not for X-rays.