Water jet probe scanning system upgraded
Water jet probe system refurbished and upgraded to meet new demands for inspection performance.
The high-tech company Terma A/S develops and manufactures a wide range of products used in aerospace and defence systems. Terma products are often termed "mission critical elements" where defects and failures are unacceptable. One of Terma's production lines manufactures aero structures for aircraft. Aero structures are often lightweight carbon fibre reinforced constructions and these have to be inspected 100% by ultrasonic methods.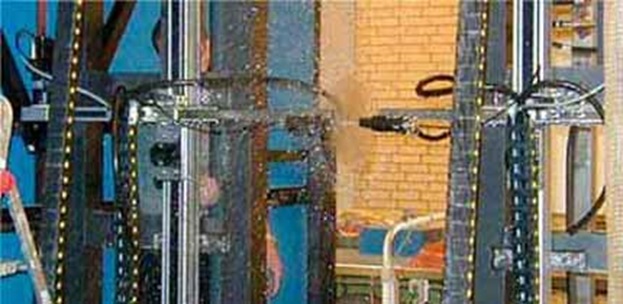 The ultrasonic inspection had previously been done with a water jet probe scanner installation that could no longer be serviced by its original manufacturer. FORCE Technology specialists analyzed the feasibility of refurbishing and upgrading the system. It was found that the ultrasonic system and the motor control system needed to be replaced. The main part of the mechanical construction as well as the jet probes could be reused. 
The refurbishing of the mechanical system included: 
new motor for the longitudinal horizontal probe drive (Y-direction) 
new motors for the horizontal aligned movement of jet probes (Z-direction) 
construction of a new frame with motor and vertical drives for the two jet probes (X-direction) to ensure accurate positioning and alignment of probes.
The ultrasonic system was upgraded to P-scan system 4 with integrated motor control system. The X- and Y-movements were designed for maximum speed of 700 mm/sec and the acceleration and deceleration could be controlled to minimize vibration. 
The P-scan-4 ultrasonic data acquisition unit is famous for its large dynamic range of 120 dB which is very important for water jet scanning of fibre components where the attenuation of the ultrasound can exceed 100 dB. 
The ultrasonic data are analyzed with the P-scan 4 software package and the data are saved on the central data server in accordance with Terma's quality documentation system. The costs of refurbishing and upgrading the system have been significantly cheaper than investment in a new inspection system.