Phased Array Ultrasonic Testing (PAUT) level 1+2
The Phased Array Ultrasonic Testing (PAUT) level 1+2 course is for everyone holding a UT-2 certificate, which need a thorough knowledge of the PAUT theory, practical data collection, data evaluation and reporting as well as the method's applications. The course language and materials are English. If all participants on a course understands Danish, the course can be conducted in Danish.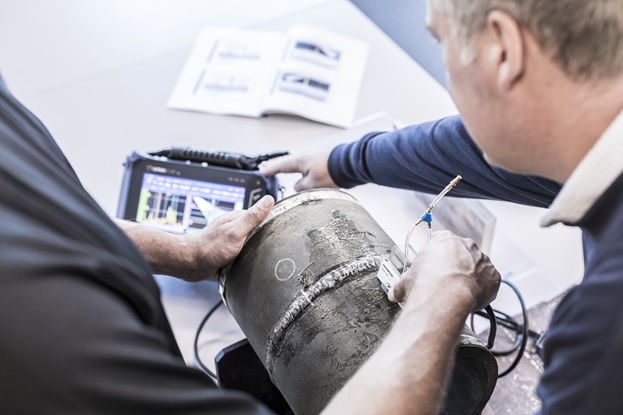 The course is particularly relevant for inspectors who are going to work with PAUT data collection, evaluation and reporting in the industry and will enable them to do this independently in practice afterwards. To participate in the PAUT level 1+2 course inspectors need hands-on experience with ultrasonic testing and an UT-2 certificate, sector welds.
Course content
The course combines theory and practical exercises, which are supervised by our qualified instructors. Through inspection of various test subjects with Phased Array Ultrasonic Testing, a good understanding of the method's applications, benefits and limitations will be obtained.
During the course, home assignments reviewing the PAUT theory are regularly handed out and reviewed the following day together with the instructors.
PAUT level 1+2 (120 hours incl. exam) consists of the following topics:

Theory and principles of Phased Array Ultrasonic Testing
Choice of probes
Review of methods and acceptance standards
Practical assignments in Phased Array Ultrasonic Testing
Data collection
Scan data evaluation
Scan data reporting
Review of standards
Preparation of scan instructions
Participation requirements
Participation in PAUT level 1+2 requires prior certification as UT level 2, which must be documented. Furthermore, the course requires mathematics skills at minimum a secondary level as calculations are recurring in the lessons, home assignments and the exam.
Benefits from course participation
The course provides a thorough theoretical and practical education in the PAUT method. The course aim is to give a sufficient theoretical and practical basis needed to be examined on PAUT level 2 in accordance with EN ISO 9712.
After certification as PAUT level 2, you will be able to set-up testing equipment, collect data and evaluate and make reports on the data collected with Phased Array Ultrasonic Testing.
Furthermore, the course emphasises scan data collection and evaluation of data from a variety of geometries. This will provide invaluable insights in applying the method on the common constructions in the industry afterwards.
Exam
To complete PAUT level 1+2, you must pass an exam consisting of a theoretical and a practical part based on the knowledge you have acquired during the PAUT level 1+2 course.
Theory:
The theoretical part of the exam consists of:

Answering of specific questions (multiple choice)
Practice:
The practical part of the exam consists of:

Set-up and calibration of PAUT equipment
Collection of scan data including set-up files and a scan plan
Evaluation and reporting of scan data
One instruction for level 1
Prerequisites for issuing a certificate
The following conditions must be met before an EN ISO 9712 certificate can be issued:

Visibility requirements. Visual test performed during the course
Completed education: PAUT N2 course
Passed PAUT-2 exam
4 months practical NDT experience with Phased Array ultrasound testing