Online workshop: Metrology for IoT and AI
How can we trust the data provided by IoT and AI?
FORCE Technology and DFM (the Danish National Metrology Institute) is inviting for a workshop to discuss Metrology for IoT and AI.
For the past 20 years, both Internet-of-Things (IoT) and Artificial Intelligence (AI) has become more and more adopted for specific applications in the industry and in society in general. These technologies start to provide foundations for data-driven decisions which has economic, policy and safety impacts – potentially both positive and negative. Therefore, it is essential that we are able to trust the data provided by IoT and AI.
Within IoT, the challenge with low-cost and rapid deployments leads to systems with no quantification of the accuracy of data. Within AI, the vast majority of models completely fail to provide an uncertainty measure together with the output value – largely prohibiting safe adoption in e.g. quality controlled- and autonomous systems. One of the ways to obtain a higher degree of trust is to apply metrology – the science of measurements, uncertainty, traceability and SI units.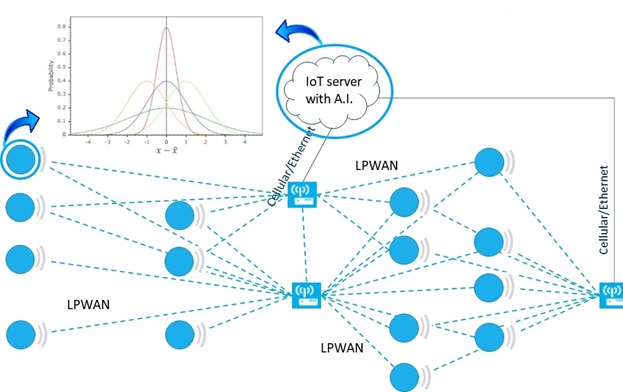 Agenda
14:00-14:15
Introduction
v/ Anders S. Mynster, FORCE Technology

14:15-14:35
Metrology for IoT - Challenges and possibilities
v/ Nikolaos Agianniotis, FORCE Technology

14:35-14:55
Metrology in AI - Challenges and possibilities
v/ David Balslev-Harder, DFM
14:55-15:00
Break

15:00-15:20
Company case: Using metrology and IoT to ensure COVID-19 vaccines 
v/ Jacob Konradsen, Eupry

15:20-15:40
Break-out sessions to discuss needs for metrology in IoT and AI


v/ Anders S. Mynster, FORCE Technology

15:40-15:50
Conclusion from the break-out sessions


v/ Anders S. Mynster, FORCE Technology

15:50-16:00
Future activities in the project


v/ Anders S. Mynster, FORCE Technology