Rocket nozzle laboratory and production facilities
Our facilities are equipped with a broad variety of advanced production equipment, which is useable in many different production contexts.
Laser fusion, X-ray and ultrasonic equipment
At our headquarters near Copenhagen, Denmark, we have established laboratory and production facilities, equipped with state of the art equipment within e.g. laser fusion and X-ray and ultrasonic equipment. 
The facilities include

:
lasers of different types and sizes; disk, Nd-YAG and CO2
an automated and highly flexible weld cell, capable of handling up to 5 tons 
a unique Seamtracker for sandwich designs
a broad range of X-ray and ultrasonic equipment, including a dedicated installation for automated inspection of full size nozzles.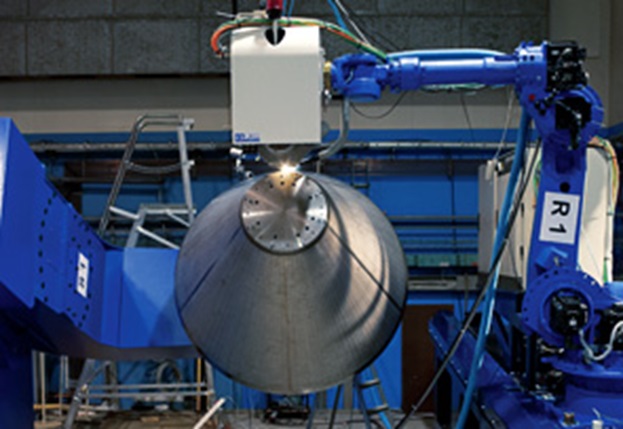 Pioneering rocket nozzle production
A large number of sandwich nozzles for next generation launchers has been welded at our facilities. The range covers design studies, sub-scale and even full-scale nozzles. The same will be the case with the main engine nozzle for the Ariane 6 rocket. 
The rocket nozzle is laser welded from an inner and outer part, forming a sandwich structure to enable efficient cooling of the nozzle during lift-off, where it is exposed to temperatures exceeding 3,500°C. 
The design lifetime is ten minutes, and during this timeframe, the nozzle is maintaining the course of the rocket and outputting a thrust of 150 tonnes, corresponding to 5-6 million BHP. Obviously, this sets rigorous restraints on the kilometres of welding on the nozzle.
Combining our expertise
The facility combines several of our in-house areas of expertise to ensure flawless joining of the parts. The outer shell is welded to the inner shell, which is made up of thin, milled walls.
The positioning of the laser beam requires a precision better than 0.1 mm in order to avoid a cutting of the outer shell. For this, we invented and implemented an X-ray based seam-tracking system, called the Seamtracker. The system is capable of looking through the outer shell and actively position the laser over the inner wall. 
This way kilometres of millimetre thin laser welding is performed flawlessly. In addition, kilometres of wire is welded to the outer face of the nozzle to reinforce the structure in critical areas and forming a base for welding struts and stiffeners also providing added strength to the nozzle.
Laser fusion - a supreme solution
Laser fusion has proven to be a worthwhile alternative to the traditional GTAW method, as it provides a faster, more flexible, flawless and, maybe most importantly, cheaper means of welding rocket nozzles.
Let us work together
Do you have a project that could benefit from our laser fusion or other of our state of art equipment? Then you are more than welcome to contact us. If you are interested in seeing the facilities, we can also arrange a visit. All you have to do is contact us. Our contact information is at the top of this page.