Retrofit & life extension of cathodic protection systems
We deliver cost-efficient cathodic protection retrofit solutions for life extension and repair purposes. Get it done faster with our unique approach using tested and verified retrofit sleds.
We have more than 30 years of experience with cathodic protection design, computer modelling verifications and offshore inspections. Based on this, we have come up with a new approach to retrofit and life extension of subsea assets with cathodic protection (CP).
Right solution from the start: from CP survey to modelling and retrofit
Starting with a FiGS® survey, followed by CP computer modelling, your design will be perfectly optimised when it comes to number and positioning of anodes. Additionally, our CP retrofit sleds are designed for maximum utilisation and handling from shipment, offshore transit and deployment.
Our Galvanic Anode Cathodic Protection (GACP) retrofit and life extension sleds are designed compliant with the current standards for offshore lifting and handling to withstand harsh weather condition during deployment.
Three standardised solutions for CP retrofit and life extension
We offer standardised anode sled solutions with optimised anode dimensions and distribution for excellent current efficiency and anode weight allowing. Standardised solutions mean shorter lead times from order to delivery.
The three standard anode sleds we offer provide cathodic protection and life extension to any structure in range of anode sleds installed on the seabed. Custom made anode sleds can be designed upon request.
With partners in Scandinavia and the United Kingdom, we can fabricate and mobilise from several ports minimising logistics and transportation costs.
Text continues below images.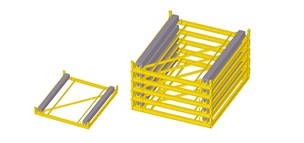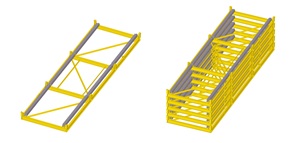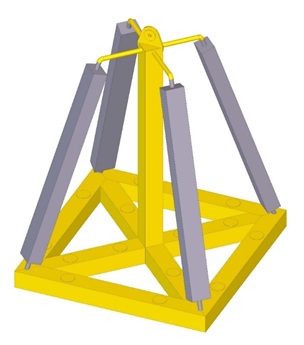 All our anode sled solutions are fabricated and delivered with following features:

Volume/surface area ratio optimised for deployment through splash zone
Al-Zn-In anodes certified according to DNV RP-B401/Norsok M503
Dual seawater resistant rugged tieback cables to minimise voltage drop
ROV/diver operable connection clamp systems for any type of structure
Footprint area optimised for anode current efficiency and logistics
Stackable (horizontal sleds) for transportation and minimising vessel deck space
Lifting sling can be delivered upon request.