Risk based inspection & analysis
Discover targeted inspection; where and when you need it. We provide qualified evaluations and procedures for inspection through risk-based analyses.
In order to reduce the amount of inspection, and thereby improve cost efficiency, we recommend a risk-based inspection (RBI) approach. RBI is a methodology to optimise inspection. The objective is to give the highest priority and focus on inspection to items with high risk, while the items with low risk will be reduced or excluded from the normal inspection program. This allows you to focus your resources more strategically, while maintaining operational safety and stability.
Safety and reliability ensured
Safety is our highest priority, and ensuring that inspection is done properly, is an important aspect to this. If inspection, or inspection planning, is not performed according to best practice or with high quality inspection equipment, one may run the risk of overlooking anomalies that can lead to critical failures.
Consequences of poor inspection planning include:
Unexpected downtime
Personnel injuries and environment pollution
Production loss
Risk Matrix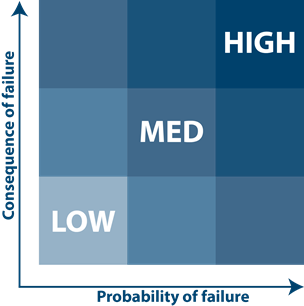 Planning and implementing
Based on 35 years of experience, we have developed best practice procedures, as well as software, for inspection analysis and management. We establish and maintain an effective inspection plan with recommended activities and intervals based on the risk based analyses. This is delivered either as separate work packages, through our in-house developed software (FRAIM or RuBI), but it may also be integrated directly into a client's Computerized Maintenance Management System (CMMS). In addition to this, we supply inspectors and equipment for both conventional and more specialised inspections.
Collaboration and flexibility
Working close with the asset operator is key to providing sufficient input for inspection planning, but we also draw knowledge and experience from our various specialised departments, including integrity management, material and corrosion, structure, inspection and software.
Our vast experience, both practical and theoretical, allows us to be flexible and tackle more intricate cases, while maintaining a high level of quality and safety.
Management and consultancy
Our variety of specialists within areas ranging from material technology, integrity management to monitoring, structural integrity and inspection, situated all over the world, makes us a preferred supplier and partner to the offshore industry.
Do not hesitate to contact us if you would like to receive more information, or if you have any questions or inquiries.