Air emissions and emission measurements
We ensure that you comply with regulatory requirements for measuring, evaluation and documentation of airborne emissions, including odour and micro pollutants.
Comply with requirements concerning environmental approval
Air emissions are subject to regulation by legislation. The environmental approval includes requirements for set up, when it comes to exhaust, measuring and reduction of air emissions and odour. In order to allow for operation, compliance is essential. 
These measurements may even constitute an important parameter in a corporate environmental policy, possibly attracting environmentally conscious companies and employees. Requirements depend on the expected environmental impact of the production and the nature of your business.
Emission measurements at FORCE Technology are based on

:
many years of experience
extensive knowledge
accreditation
meticulous planning
high quality in performance.
We provide advice and measurements that ensure compliance. In the case of non-compliance, we can advise on how to adjust accordingly.
All-round task performance within air emissions
We ensure our customers broad-based expertise concerning air emissions during all stages, from prevention to documentation and reduction.
We provide

:
advice on environmental legislation and -approval
identification of requirements and challenges
accredited measurements and documentation
quality assurance of automated measurement systems (AMS), including QAL2, AST and QAL3 (LINK)
advice of emissions reduction, including odour and NOX
accredited NOx and CO emissions measurements according to the norwegian Aktivitetsforskriften §70b and §70c.
We strive to meet client needs at all times, which is why we create measurement programs that ensure compliance with regulatory requirements through careful planning, attractive prices and on-time delivery. We perform measurements and provide a report, ready for the authorities.
Our measurement technicians have a large amount of instruments at their disposal, including equipment for special measurements. They get support from specialist within air pollution and engineers throughout the organisation. We also work closely with our laboratory, which provide us with chemical analyses.
We are DANAK accredited in measuring and analysis within air emission and ambient air, and also serve as the National Reference Laboratory for Air Emission Monitoring in Denmark.
Planning ensures quality and minimises measurement costs
Emission measurements are planned carefully in order to meet authority conditions and requirements. We prepare a proposal where we specify the price and the task at hand. This ensures consensus on the extent of the task and prevents any unnecessary misunderstandings.
Our experienced and educated measurement technicians react promptly when measurement conditions are not met. Typically, they can correct the situation on-site to avoid repeat measurements at a later point of time. In cases of uncertainty, our team of engineers and consultants are involved. This approach ensures efficiency with regards to spent hours and extra work.
We calibrate and perform service on our measuring equipment at our own laboratory facility, according to our accreditation.
Do not hesitate to contact us if you wish to know more about air emissions or get started with emission measurements.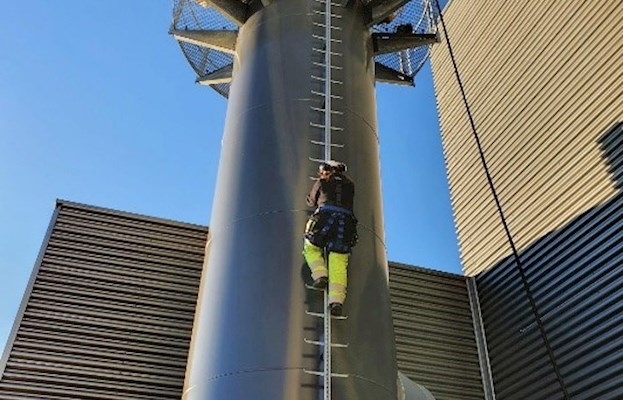 Article
Ren luft for fremtidige generasjoner
Emisjonsmålinger sikrer at bedrifter overholder myndighetskrav til måling, vurdering og dokumentasjon av utslipp til luft.