Air quality in working environment and inside air
Use air quality measurements to document compliance with occupational limit values.
Air quality matters to our health and well-being
The quality of the air we breathe is highly significant when it comes to our well-being and health. Air quality is affected by a variety of factors when we are inside or at work.
Measurements are used to document the quality of workplace air and show whether measures must be taken to comply with the occupational limit values.
FORCE Technology can assist with air quality measurements and advice on how to improve the air quality.
Particles and gases in working environments and indoor
Working environments may be negatively impacted by air pollution from manufacturing processes or nearby sources. This can affect employees' health, efficiency, and attitudes toward work, in both production and office environments. To ensure a good indoor climate and working environment for employees that may be exposed to pollutants, measuring relevant chemical contaminants is a critical first step.
If you want to assess whether values in your workplace are within the limits set by the relevant working environment authorities, it is necessary to measure and examine gases and particles. For substances where there are no existing limit values, the results of the measurements should be assessed based on knowledge of the health impact of the substances in question.
Results from measurements often used in decision-making for initiatives to improve air quality in the working environment, as well as to assess the effect of such measures. You can also use the measurement results for a risk assessment of individual work processes.
FORCE Technology offers consultancy on measures to improve the air quality in working environments, and performs:
Measurements of air pollution in working environments, including respirable dust, total dust, ultrafine particles, and all types of inorganic and organic gases.
Evaluation of possible health hazards for substances without existing limit values.
Measurements of indoor air quality, including monitoring ventilation needs in office environments, as well as any intrusion or evaporation of gases to the indoor climate.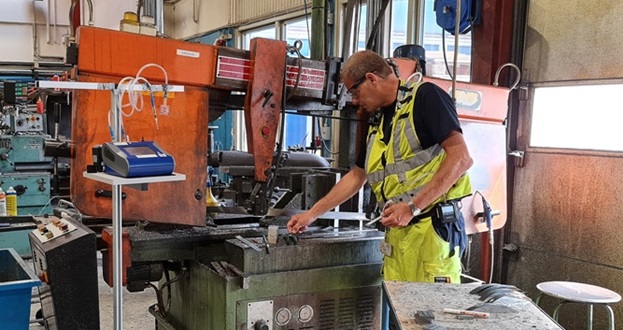 Accredited measurement of dust and gases in working environments
We perform measurements in working environments in accordance with applicable national and international standards, and we have a comprehensive range of instrumentation at our disposal. This ensures that the measurement results can be used as documentation to the relevant Working Environment Authority. We have an extensive suite of instruments carrying out measurements in the working environment and we can perform measurement of virtually all chemical substances in gaseous or particulate form.
Measurements can be taken using stationary or mobile equipment, over a long or short period of time, depending on your needs and the purpose for the measurements.
Based on the results obtained, FORCE Technology can advise you on how to comply with requirements and on initiatives you can implement to improve the air quality.
Chemical risk assessment 
When employees work with or are exposed to chemical substances, a chemical risk assessment should be performed. If the written risk assessment does not provide a clear answer to the exposure (degree, type, duration and quantity), you can supplement it with measurements that you can use as documentation in the chemical risk assessment.
Make informed decisions for optimal air quality
We have several experts and technicians ready to advise you and give you the data you need to make informed decisions about air quality. As our client, you are guaranteed expertise, quality, and a client-centered approach to your tasks, as we:
are accredited by DANAK for air pollution measurements in working environments
conduct analyses in our own or external laboratories, to ensure rapid completion
constantly work to develop new measurement methods
offer online, password-protected measurement data access for long-term measurement campaigns
participate in international exchange of knowledge in European standardisation work.
Contact our consultants to get started with air quality measurements in working environments and indoors. 
FAQ - air quality in working environments