Design of optical systems
Consultancy, design and review of optical systems, including construction, manufacture and testing of prototypes.
The design of the optical system is essential for minimising risks in the development phases and essential for system performance.
We offer:
Advice and design of optical systems
Review of existing designs
Building and testing prototypes
Manufacturing and sourcing
Consultancy, sparring, and upgrading of skills
The optical design of imaging systems
Conventional optical system design is related to imaging systems such as camera lenses and spectrometers.
Here we can help optimise the systems to meet requirements related to image quality, resolution and at the same time reduce the weight and dimensions.
To achieve a cost-effective optical design, often advanced optical manufacturing methods, aspherical surfaces, and new materials are often used nowadays.
The optical design of non-imaging systems
A large number of optical systems are non-imaging and cannot be modelled with the methods used for imaging systems. Examples are lighting systems, light guides, biological systems, systems with complex geometries, internal reactions and dispersion.
For the design of these optical systems, non-sequential raytracing is used. This method enables the use and optimisation of CAD designed items, elements, with advanced freeform surfaces and prisms.
Contact us to learn more or visit our site about photonics and light.
Selected cases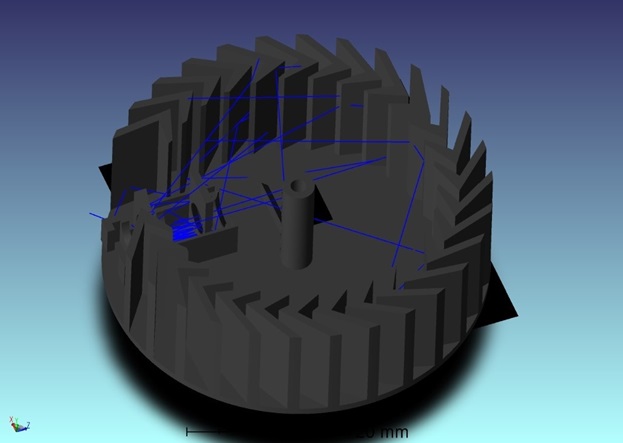 Consilium AB. Design of a smoke detector
Consilium A/B manufactures smoke detector systems for use in shipping for, among others, cruise ships. FORCE Technology has developed a smoke detector for Consilium.
FORCE TEchnology has designed the plastic housing of the smoke detector in 3D CAD and simulated the optical path optically with 10 million rays from one LED.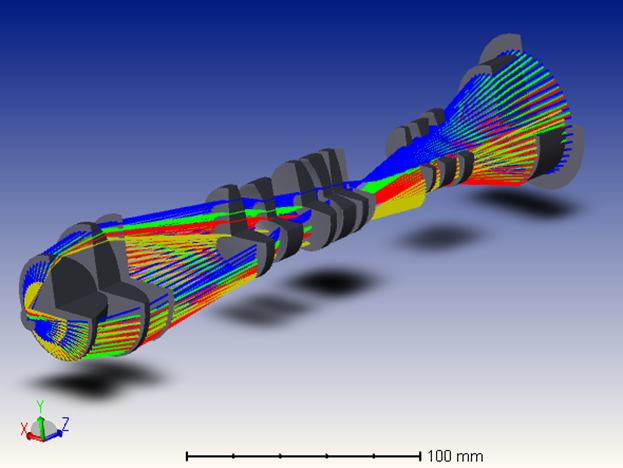 Frontmatec A/S: Design of projection lens
Frontmatec A/S manufactures state-of-the-art sensor systems for the slaughterhouse industry.
For the quality grading of half cattle carcases, the company uses imaging systems.
To this end, FORCE Technology has designed an optical projection system that ensures structured lighting.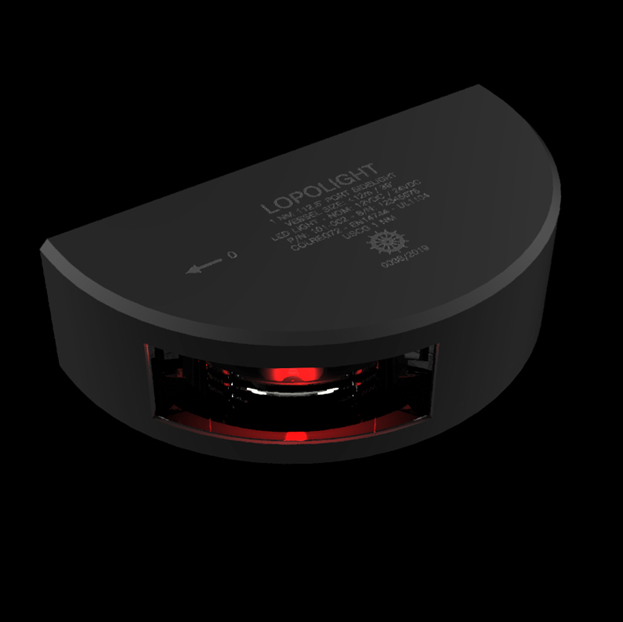 Lopolight: Optical system simulation and test of lanterns
Lopolight manufactures lanterns for ships. The International requirements to the light from the lanterns are very well-defined and hold high demands. 
Force Technology has simulated the optical lighting system and conducted accredited approval tests according to international standards.