Power-to-X - requirements for materials, testing and storage
Power-to-X is a crucial part of the green transition of our energy supply. It will place great demands on the companies developing and maturing products and technologies to support this transition.
The market for Power-to-X is characterised by developing, uncertain, and investment-heavy technologies. For Power-to-X to become both a sustainable and cost-effective alternative to existing energy sources, it is a prerequisite to  scale up the current electrolysis technology. Furthermore, the plants must also be able to convert green electricity from wind and solar into e-fuels and e-chemicals, such as methane, methanol, and ammonia, in addition to hydrogen. 
Companies supplying materials, equipment and tests for Power-to-X technology are therefore challenged, as we do not necessarily know the requirements that materials and equipment must be able to comply with. All suppliers to the industry, from entrepreneurs to SMEs and the large existing players in the energy sector can benefit from our impartial knowledge and competencies that cover the entire supply chain. A demonstration project might be what your particular business needs. 
We assist
manufacturers of equipment to produce hydrogen, e-fuels and e-chemicals;
system integrators and operators;
operators within transportation and suppliers of other infrastructure, e.g., pipes and plant, etc.; 
manufacturers and operators of billing meters and service stations;
end-users of green fuels produced through Power-to-X;
so that the energy ends up safely at the consumer's billing meter.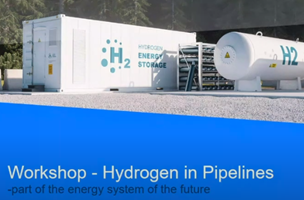 Metrology for measuring green energy
You can draw on our experience as an independent party in terms of
type tests
verification
audit
legal metrology
standardisation.
As experts in flow measurement, we can facilitate testing and type approval of newly developed meters, e.g., for hydrogen and e-fuels. We are the first in the world to have type-approved hydrogen meters and filling stations in accordance with the new OIML R 139:2018 recommendation.
We promote standardisation and develop legal metrology in discussions with authorities, meter manufacturers, and operators across the entire Power-to-X value chain (measurement of electricity, hydrogen, heat, fuel and gas) for households, industries, and transportation.
We have extensive experience with and facilities for flow measurement of gases and liquid fuels. This includes the world's largest loop for high-pressure calibration and flow meters, the MEGA loop.
Materials and components
We can assist with:
testing and documentation of alternative material choices
optimisation of your design by simulation, enabling you to select materials with high durability
efficiency measurement, characterization, and production of electrode surfaces with catalysts for electrolysis.
In addition, we help to incorporate safety aspects early in the development process and in integration with other processes and systems.
When your focus is on longer life cycles, larger device systems, reduced costs, especially material costs, then our specialised testing facilities and knowledge of materials, processes, and surfaces can benefit you.
In particular, the resistance of materials to hydrogen embrittlement and the concentration of hydrogen permeability, depending on pressure and temperature, is closely monitored in Power-to-X contexts.
Maritime
Power-to-X will also play a key role in international shipping when it comes to phasing out fossil fuels in favour of a greener form of energy. Here, you can draw on our extensive knowledge of combustion, corrosion and emissions.
The energy islands currently under development will become important hubs in the Power-to-X strategy, and you can get assistance with storing and transporting the green energy, as well as with connection to the current gas and district heating networks.
Emissions
We help companies to document critical emissions and describe the actual emissions with methods and measurement systems. This is to form the basis for the companies' development of reduction solutions, so that they can comply with existing and future requirements for limit values for new green fuels.
Companies in the industrial, transportation and energy fields can be assisted in developing carbon-neutral solutions with the lowest possible environmental footprint.
If you are  a manufacturer of new fuels, engine and cleaning technologies as well as CCUS technologies, we can assist in:
developing reduction solutions
calculating and documenting fossil and biogenic carbon
Although the new green fuels are carbon-neutral, they are not emission-free. Therefore, the entire environmental impact must be recognized.
Life cycle analysis (LCA) of products and services
With an With an LCA, you can document and account for the environmental impacts of your product or service. , you can document and account for the environmental impacts of your product or service. 
We can help you with a solid foundation on which you can base your decisions when delivering products or services to the Power-to-X transition or technology.
For example, we can help you to solve issues such as:
What are the environmental consequences of your solution model?
How does your product or service affect the environment throughout its life cycle?
How do you document the green messages in your marketing?
How sustainable is your green business model?
In addition to the life cycle analysis itself, we can also assist you with:
LCA Review
Eco-design
Carbon footprint
Inspection of pressure equipment
It is important that your pressure equipment in Power-to-X systems comply with all applicable requirements, so that it is safe for staff to use it and so that the environment does not suffer damage. 
Pressure equipment includes:
Pressure vessels
Pipelines
Valves, safety valves, etc
Boiler and process plants (units)
Transportable tanks
Filling stations
FORCE Certification A/S can, as an independent third-party body, supervise and assist you in assessing whether your pressure equipment is safe and sound and whether requirements and rules for layout and use are complied with.
Our expertise covers, among other things:
Test body for fitting, rebuilding, and repairs
Inspection body for installation, inspections, periodic checks, operational suitability and service life investigations, as well as conformity assessment of the requirements for operation of steam boilers without constant monitoring
Conformity assessments
Risk management
We hold vast experience in solving all kinds of failure and damage analysis. Hence, our experts are aware of all kinds of failure modes, which may exist as risks in your projects today. We are ready in assisting you in identifying the risk, handling them, and thus avoid serious failures and damages in your Power-to-X project.
Hydrogen technologies in common European development
FORCE Technology is a member of the ECHA (European Clean Hydrogen Alliance), which aims to bring together renewable and low-carbon hydrogen production, demands within industry, mobility and other sectors, as well as hydrogen transmission and distribution, thereby enabling ambitious implementation of hydrogen technologies.