Webinars on-demand
Get professionally updated when it suits you.
FORCE Technology offers a range of webinars on a wide range of topics. Each webinar lasts between a half and an hour, and it is free to attend.
To allow you to stay up to date, we record selected webinars so you can watch them when it suits you best.
In focus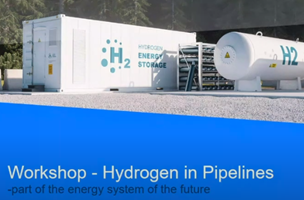 Hygienic design
CFD simulations of processing systems

Computational Fluid Dynamics (CFD) is a simulation tool used to calculate and solve flow-related problems, such as the aerodynamics of a car, the cooling of a battery, or the combustion process inside a boiler. A CFD analysis can be highly beneficial during the design phase of any flow system by calculating full-scale problems under several operating conditions and avoiding expensive experimental tests.

Since CFD allows 3D full-scale simulations of complex geometries and physics, it is an excellent tool for design, validation and compliance of processing systems, and gives a complete overview of the product before making a physical prototype.

The purpose of this webinar is to discuss

why use CFD in the design of processing systems?
how do we apply CFD efficiently in this sector?
what applications can benefit from CFD simulations?

When doing so, we will present stories/cases from the food and pharma industries where CFD simulations have made a difference.

Hygenic design with focus on EHEDG guidelines and good design processes

Update you knowledge on hygienic design of production facilities and the involved processes of qualifying designs and the subsequent qualification.

Hygienic design is crucial for proper process hygiene and the first step is to use hygienic components and the next to combine them in a hygienic manner.

The webinar will focus on the general process of assuring hygienic design of a process line and hygienic components i.e. EHEDG certified equipment and the application of the V-model as a project tool to document and qualify hygiejnic design in a process.
Energy
Optimisation of flue gas cleaning solutions using CFD

Flue gas cleaning units are commonly used to discharge clean air into the atmosphere and comply with environmental regulations. However, the ability of these units to function properly is highly dependent on flow distribution inside them. During this webinar, you will learn how CFD can be used to create optimal flow distribution inside flue gas cleaning units, ensuring maximum efficiency at the lowest cost. 

After this webinar, you will know how CFD can help:

Ensure optimal performance and maximum cleaning efficiency.
Reduce system pressure drop, CapEx and OpEx.
Solve commonly reported problems, through identification of factors that should not be overlooked.
Provide valuable data on when/how a unit will function properly, before making expensive decisions.
IoT and digital technology
IoT for service and maintenance in supply chains

How can IoT enable transparancy across the supply chain and improve the performance of service operations?

The webinar focuses on the service and maintenance domain, investigating how IoT can be used to enable transparency across the supply chain, what are the drivers and barriers for enabling this transparency and, eventually, how this can improve the performance of service operations (i.e. increasing reactivity and enabling a predictive and proactive maintenance approach).
Power-to-X
Hydrogen in pipelines

The gas network is one of the most profitable ways to transport hydrogen. Thus, the Danish gas network will be crucial in connection to the purchase, storage, and distribution of a significant part of the energy produced from renewable energy sources such as solar and wind, which may subsequently be converted into hydrogen.

The workshop, will focus on both the challenges that are known and where we have solutions, but also the challenges that we lack knowledge of and solutions to. We have gathered a number of speakers who will explain the various challenges and start the debate.

 

Materials compability in hydrogen environments

To follow up on the immense interest on the subject since our workshop in January 2021, we hosted a webinar on materials compability in hydrogen environments. Focus was on metallic materials and possibilities of mitigating risk by e.g. coatings. Presentations were covered by a range of our specialists.
Topics covered during the webinar;

How does hydrogen cause damage in metallic materials?
How can we test to mitigate risk and define the limits of applications?
Case on hydrogen induced stress cracking testing
Guidelines and standards – who decides what is safe?
Permeation testing and theory on metals. Does hydrogen even enter the steel, and then what?
Permeation of hydrogen through coatings and elastomers – are they affected?

The webiunar consisted of 4 parts: 

Part 1: Introduction

 

Part 2: Materials compability in hydrogen environments

 

Part 3: Permeation testing

 

Part 4: Coatings and elastomers in hydrogen environments

Online workshop: Metrology for large scale hydrogen production

Power-to-X is an essential part of the green transition in the Danish energy sector. For decades the Danish wind turbine industry has demonstrated an ability to establish and sustain a technology leadership. Power-to-X will extend this leadership with new value chains from upstream green power production to consumers.

Key elements of these value chains are large scale hydrogen production, development of the Power-to-X infrastructure and the knowhow required to operate the infrastructure in optimal coordination between power production and power consumption.

Water electrolysis is a well-established technology that has been used industrially for a century. What roles do metrology and instrumentation play in the scale up of water electrolysis for safe and cost-effective green hydrogen production? Are there any gabs between the available laboratory facilities and the needs seen by the industry? Upscaling puts more focus on custody transfer, fiscal measurements and needs for independent 3rd party control of instrumentation.