How to develop high performance electrodes for Power-to-X-electrolysis
Through intensive development the best possible process and the optimum coating composition were discovered for high performance electrodes intended for Power-to-X-electrolysis.
In the rapid transition from fossil fuels to green energy, Power-to-X is on everybody´s lips in the energy and climate sectors.
To transform the electricity produced by solar energy and wind power into hydrogen, e-fuels and e-chemicals electrolysis facilities are needed to save the energy.
For more than a decade, FORCE Technology has worked on developing electrodes for electrolysis through processes such as atmospheric plasma spraying, electric arc spraying, flame spraying, and laser sintering, which are all relevant for high volume production. Along the path of development, we have obtained valuable and crucial knowledge on the subject, which you have the option to exploit.
We have developed and tested numerous coating compositions for electrodes for electrolysis and with very good results. In this context the essential maturing of cost-effective manufacturing processes has been highly prioritised as well.
Case study: Atmospheric plasma sprayed NiAl electrodes show good results
During our development process we decided on using the atmospheric plasma spraying (APS) of Raney nickel (50/50 NiAl). It is a quite compact coating with few pores and cracks. After APS the electrodes underwent an activation process where aluminum was leached out from the intermetallic phases, which resulted in a highly catalytic sponge-like structure of nickel. Cross-sections of coating before and after activation are shown below: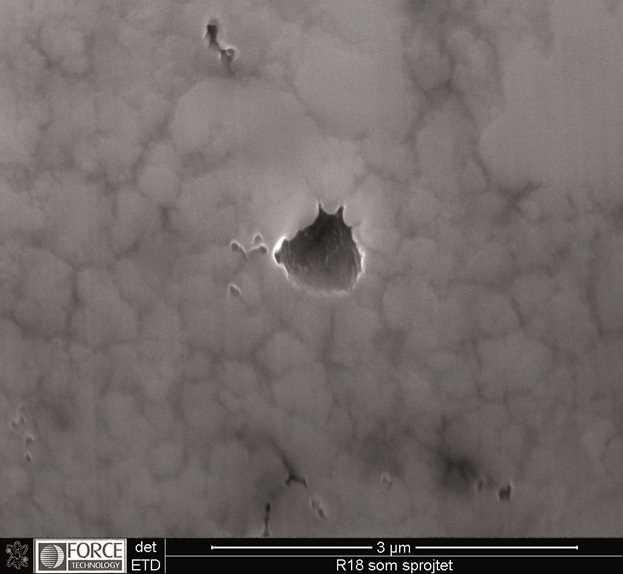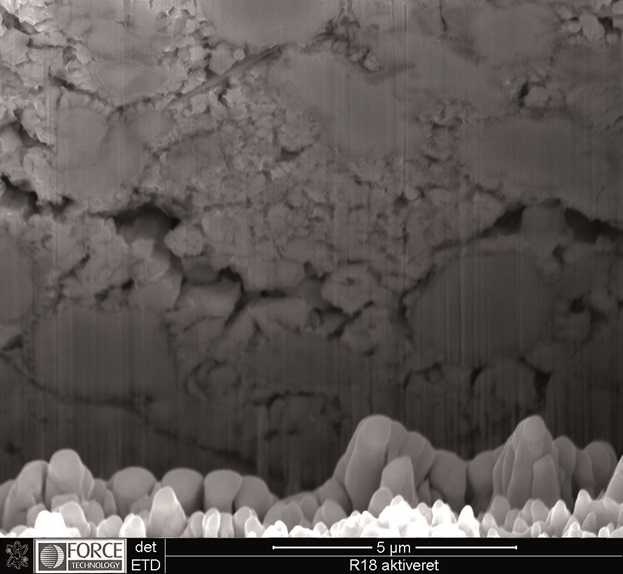 SEM pictures of cross-sections made by focused ion beam technique (FIB). As-sprayed (left) and activated NiAl coating (right).
Different layer thicknesses were applied to the electrodes and afterwards electrochemically tested for their efficiency to hydrogen electrolysis.
Electrochemical performance
The electrochemical performance was compared with non-coated nickel, and the NiAl coatings immediately provided a considerable improvement (i.e. reduction) in cell voltage, even at a small coating thickness of 30 µm. A wide range of coatings produced by APS have been tested this way. The best performance is observed for a coating with 100 µm thickness as seen below. No additional improvement was observed by increasing the coating thickness further to e.g. 300 µm.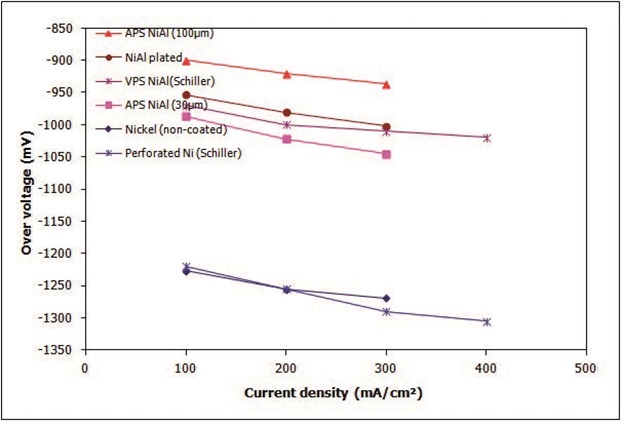 So far, our development work has shown the possibility of using atmospheric plasma spraying to produce highly efficient electrodes for converting electricity to hydrogen by high temperature alkaline electrolysis of water. 
Compared with vacuum plasma spraying and plating techniques the APS technique provides equal or better performance.
Test facilities are essential for companies involved in Power-to-X
Power-to-X is a crucial factor in the transition to green energy – yet it is an immature technology. There are many unknown factors when it comes to materials and equipment since no one yet knows the circumstances of the corrosive environment and high temperatures and pressure they have to withstand.
With access to extensive test facilities companies are left better prepared for cost-effective upscaling of the existing electrolysis technologies.