Benefits and challenges of LED lighting
LED lighting wins on all counts these days with low energy consumption and a long lifetime. However, they do not always perform as well.
LED lighting wins on all counts these days. Low energy consumption, a long lifetime and better colour quality are among the big advantages. For example, LED lighting elements can achieve lifetimes of up to 100,000 hours, which is significantly better than the typical 2,000 hours that an old-fashioned incandescent bulb could offer. In the real world however, they do not always perform as well.

LED lights are electronic lights, and in some situations these electronics can be the critical element that, over time, causes changes in the properties of the overall product. For example the lifetime of the electronic drives will often prove to be much shorter than the LED elements themselves.
In encapsulated systems or simply poorly ventilated lamps, the temperature of the immediate surroundings can reach up over 100 °C for many electronic components. This reduces the lifetime considerably. The lifetime for electrolytic capacitors typically drops with a factor of 2 for each 10 °C increase in ambient temperature, i.e. a several hundred times shorter lifetime at very high temperatures than at normal room temperature.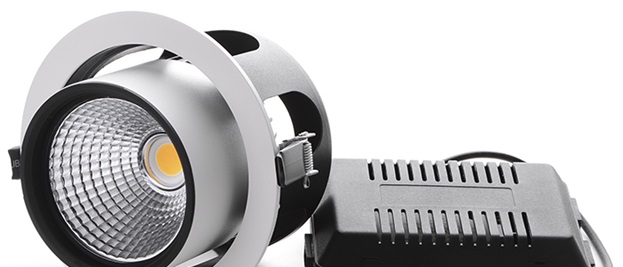 Major temperature changes in street lighting for example, which is switched on and must warm up on a cold winter day, can cause serious wear to components in many cases – not least when they are cast into potting material. In some cases the soldering breaks as a result of such mechanical stress.
Moisture has also become a greater challenge than with traditional lighting, because the low heat dissipation in LED lights – one of the technology's strongest qualities – means that moisture does not dry out to the same degree as previously with less energy-efficient lighting systems.
The electronics' sensitivity to transients on the electrical grid can be another factor that influences the lifetime of the electronics. Flickers can also be a parameter which you cannot neglect. Flickers come from the electronic controls.
The colour quality, which as mentioned can be much better with LED lighting than, for example fluorescent lamps and low-energy light bulbs is however not always as good as it could be. One of the reasons for this could be that manufacturers of LED elements compromise on colour quality, possibly for financial reasons or to achieve greater energy efficiency.
Want to join the new LED networking group?
Many of the issues described above are documented in reports from DELTA/FORCE Technology or currently studied. In May 2018 FORCE Technology held a symposium on many of the issues.
Also, the SPM network group for reliability experts has started a new experience exchange (ERFA) group that focuses on LED lighting.
Article from SPM Magazine, March 2018