Prototyping and business models
Article one in a two-article series about design thinking and business model innovation with new technology.
By Morten Wagner
Behind every great business model are certain assumptions about the world, the market and how your product or service fits in the mix of customers, competition, and value creation.
There are tools and methods out there to help you model your value proposition, your business model and to analyze the market – but while modelling and analysis are strong and necessary tools in an innovation journey, nothing beats actual assumption testing and validation. Basic premises behind the oft overused term "design thinking" are exploration, sketching, testing, and learning – and applying this approach to your business innovation is a strong proposition for a better and more successful innovation journey. 
The search for business modelling tools
In 2020, the Strategyzer team (behind the famous Business Model and Value Proposition Canvases), released the book "Testing Business Ideas". This happened in the middle of FORCE Technology's own two-year research project "Acceleration of Technology Based Innovation", where FORCE, in collaboration with business departments of Aalborg University, Copenhagen Business School, and the Danish Technical University, explored business model innovation in technology-driven innovation.
With inspiration from trends in the "Lean Startup", "Design Thinking" and "Sketching in Hardware" movements, we're concerned with how to best help companies bring meaningful innovations with new technology to market in new products and services - with a successful business and business model innovation. All too often great technology fails in the market – and fine business models are hindered by the wrong technology or the wrong application. While we dig uncover many good approaches in our research and through interviews with companies and innovators, we were still looking for a way to formalize an approach to business model innovation that relied less solely on theoretical analysis and added more real life validation. Additionally, we wanted a method that would allow for discovery, learning, reflection, and continuous improvement of new business models supported by new technology in, potentially, completely new applications. Interestingly, both our team and the Strategyzer team had come to the same conclusion – but with Alexander Osterwalder and James Bland (both of Strategyzer) providing the key insight, to how we can use the Value Proposition and Business Model Canvas to help find and build a path in an innovation journey. 
Thinking like a start-up
It is an old truth, that the most important thing about a start-up is not necessarily the idea that the start-up is trying to get to market. It's the team in the start-up. Before investing time or money, you should make sure, that the team has the right mix of entrepreneurial as well as operational competencies. Many start-ups need to be able to pivot during their first few years of their existence. The reason is simple; while trying to bootstrap your company, you learn about your product, your customers, and your product - and you need to be able to adjust as your hypothesis about the world gets solidified into theory into facts. And this applies to all innovation, also in larger and more established companies – and especially when applying new technology, trying to attract new customers, or implementing a new or add-on business model.
One of the most common mistakes is to be biased by experience and "business as usual" that is not actually applicable in new product and technology development. To succeed, you need to be able to ask the right questions, inspect the answers you get and assess their validity – and then take the right decisions based on your insights. It sounds simple, but only a few of us can do this intuitively and unbiased. The rest of us needs help to help navigate the entrepreneurial path.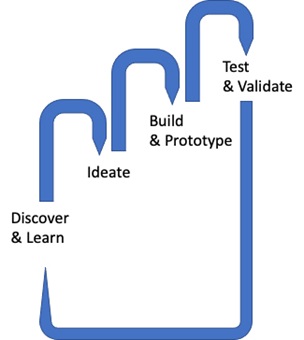 The perfect sweet spot of innovation
The most generally accepted diagram, that shows the three primary important aspects of new products or services is the feasibility, desirability, and viability trifecta. These three aspects, while covering a lot of ground, are worthwhile way-pointers in your innovation journey and cover market, business, application, technical and as well as operational aspects of your innovation. They are main building blocks in every business plan and pitch deck.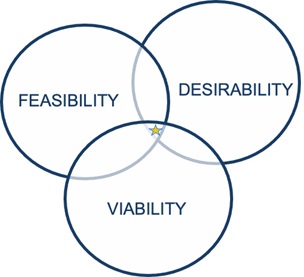 But these three aspects are not the only important domains. Increasingly, we see the need for even more considerations – and you can find several other Venn-diagrams trying to illustrate those and looking at other aspects of the innovation process. For example, there is one detailing the viability-aspects in a triple bottom-line of "people, planet and profit" and there is one detailing viability in varying degrees of "meaningful" or "worthwhile".

For the remainder of this small duet of articles, though, we'll base ourselves on the feasibility, desirability, and viability domains. Exploring these three domains, you can uncover the usability and applicability aspects of your product, the value of your product – and the technical and operational "buildability" of your product or service. 
Modelling the desirability, feasibility, and viability of your product or service
Again, and again, we discover how difficult it is to describe and explain an idea. While even very concrete ideas for products and services can be difficult to convey to others, it's even more difficult to explain business models and value propositions. When you then add the complexity of new technology, new operational challenges and/or new income streams, things get even more dodgy.
Luckily, we have models and theories to lean against. These models help us get a common language and reminds us about aspects that we need to consider. In short, models give your team a shared language by which you can get meaningful discussions, document your insights, and direct your efforts. Popular – and in all of our tests and trials, also very effective – are the canvases from Strategyzer and Alex Osterwalder, specifically the Value Proposition and Business Model Canvas . These two canvases, in collaboration, covers all three important domains in our Venn diagram, and helps detail the aspects and qualifies the discussions you need to have in your innovation team.