Get started with the IIoT & Industry 4.0
Industry 4.0 is a phrase on everyone's lips, but Danish companies are hesitating with the implementation. Through various case examples, we show how you can overcome the barriers and get started.
Hesitation with incorporation of IoT initiatives amongst Danish companies
Danish companies are well aware of the fact that the internet is here to stay. It is a technology and an infrastructure that enables new ways of connecting everything – also regarding products and production equipment.
For various reasons, Danish companies are more cautious than our international competitors about acting and embarking on new adventures on this front. Back in 2015, the Confederation of
Danish Industry (DI)
published its
"Every.Thing.Connected"
report together with Ericsson and Deloitte. The report finds that 60% of the 35 Danish companies surveyed had implemented one or more IoT initiatives, while an impressive 79% of foreign competitors were already well on their way. 
DI's study is based on large companies, though. If we look at small and medium-sized Danish enterprises, far fewer has started, which is especially problematic, if the market continues its development towards increasing demand for IIoT and Servitization solutions.
IIoT and industry 4.0 a driver for focus change of costs
The current trend is analogous to how the younger generation, also called 'millennials', is driving a sharing and service economy. Millennials would rather lease, rent, loan or trade than own; which is made possible, due in part to new technology helping to convey trust and which enables microtransactions, and monitoring and control of assets.

Just as millennials today are driving change in the consumer products market, future customers in the industrial sector will also expect new options for access to equipment and tools. IIoT and Industry 4.0 will mean a switch from focusing on the cost of acquiring physical assets (CAPEX) to operating costs (OPEX). Instead of investing in expensive equipment and hoping that production can recoup the large investment, we will see growing demand for other models with a focus on operating costs and where we pay for our production equipment gradually as it generates value for us.

The software industry has already been through such a development; many 'As A Service' software subscriptions have replaced previous years' substantial investments in software packages.
Rad also article: Using electronics as a design material: User centered design in hardware prototyping
Servitization with the aid of IIoT
Back in 2017, FORCE Technology, in collaboration with the innovation network ServicePlatform, the Alexandra Institute, Copenhagen Business School, and Odense Robotics among other partners, carried out a project concerned with servitization with the aid of IIOT and Industry 4.0 for six Danish SMEs. All of these companies had plans to develop their products with IIoT, but all of them were at different stages of their implementation. Overall, three main challenges were common:
How do you acquire the skills to develop and run a stable and long-term IoT solution when you have previously focused on physical product development?
How do you provide a high level of security, uptime and general QoS?
How will the market receive your solution, and how do you ensure the business model 'sticks'?
So actually, it is not the technological challenges that are the hardest, but the fact that adding IoT to your product is essentially development of a new product, a product that might substantially change your value offer and furthermore challenge your organisation's existing skills and everyday work, makes it an exercise that goes far beyond just experimenting with new hardware.
Read also case:Internet of Things in smart city planters
IoT maturity model
Industry 4.0 and IIoT can be implemented on many levels, and there exist many models that try to illustrate how you advance through different stages of maturity to finally achieve 'IoT Nirvana'. If you spend a couple of hours googling the subject, you can find IoT maturity models from Tony Shah, Amyx, Gartner Group, Microsoft, Vitria, Exosite, ThingWorx, Bosch+St.Galen and many more.

Typically, many models start with the simple single internet-connected sensor and then let their maturity model evolve through some intermediate stages of increasingly advanced implementations towards a final and significant transformation of their business. Below is a massively simplified and – admittedly – caricatured model.
Read also case: Noise monitoring and nudging in open office environments .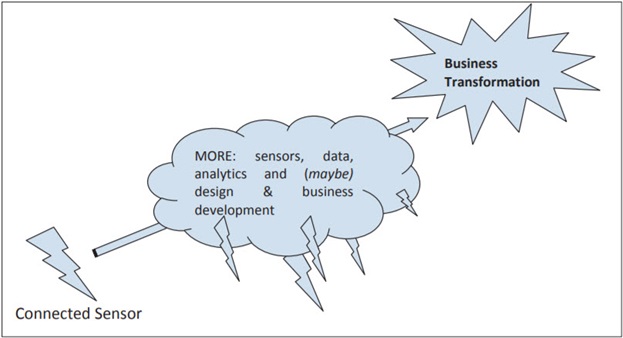 Wins can be found many places, though, from a simple solution with the most straightforward IoT implementation to a more advanced redefinition of the company business model, based on fully autonomous and intelligent products.

Some of the options of general interest in these various maturity models are:
Simple monitoring of equipment, i.e., surveillance and check of simple threshold values
Analysis of data for reducing fault conditions and downtime
Optimisation of productivity, efficiency and an extension of the equipment's lifetime
Sale of data and performance analysis to the customer
Autonomous configuration, optimisation and ordering of consumables
Completely new OPEX-based business models and thus a new place within the customer's value chain
Case stories of IoT utilisation 
There are many examples of companies that have mastered the IoT challenge from different angles and at various stages of maturity.
CC Jensen
One example is the Danish company CC Jensen, which manufactures oil filters for engines on large container ships and wind turbines. The company's product improves the quality and reuse of oil, but it also discovered, that data regarding particles and impurities in oil provides an interesting and valuable insight into the condition of the engine.
Using this data, it is now possible to offer access to and analysis of data on when an engine needs maintenance or replacement of vital parts. CC Jensen has thus opened the door for even more mature applications of IIoT in connection with optimisation of not only its own equipment's lifetime, but also for the customer's equipment and productivity.
Additional company cases
Other companies have focused on delivering the other end of the IoT chain; the sensor, connectivity, and data collection. Among them are Danish companies such as Andertech, BlackBird, SensoHive and TrackUnit (the latter which was acquired by Gro Capital and Goldman Sachs in 2015).
From a simple pulse counter to a more advanced and integrated sensor package, these suppliers help companies on their way towards industrial IoT and can typically offer a straightforward startup package, where the first step up the maturity ladder can be made with a minimum of difficulty.
Andertech, for example – a Danish company from Humlebæk north of Copenhagen – recently introduced 'Whisper 4.0'. Andertech's solution is a simple counter – called a 'Sniffer' – which can be connected to almost any kind of production equipment. It allows the user to obtain simple, but important, data from its production, e.g. regarding the number of pieces manufactured, the speed and reliability of the production line, or simply information about whether one's production is running or not. Andertech's solution is connected to WiFi and contains an online 'dashboard' that can be customised and accessed via various platforms.
Of course, solutions like these are not the final state of IIoT solutions. The path further up the maturity ladder can lead to an introduction of more advanced, targeted sensors and actuators, technologies that brings your IoT design-space into completely new dimensions. Suppliers like Andertech and SensoHive, however, gives us the opportunity to test not only the immediate values of data from monitoring our equipment: we can also test how receptive our customers are to the new functionality, and what challenges the introduction of IoT data places on our organisation.
John Deere and IoT integration
One company that got started on a simple solution early on and now has IoT fully integrated into its production is one of the world's leading manufacturers of agricultural machinery, John Deere. From being a company with a focus on engines and agricultural machinery, it established an IoT Innovation Unit, and now, IoT is integrated into the company's products as well as into its future strategy.
Fifteen years ago, John Deere took a risk and began incorporating mobile modems in its tractors, primarily to transmit their position. At that time, this was an experiment without an actual business model. Today this is a core asset, where Deere's extremely accurate 'Global Navigation Satellite System' (GNSS) is a pivotal point for new IoT products.
The company is already busy with its next transformation; from being focused on offering the farmer cloud-based analytics, Deere is now working on 'edge computing', which will enable the farmer to receive data analysis directly inside the tractor without the data necessarily having taken a trip up into the cloud first. Avoiding this, makes the user more resistant to dropouts of the internet connection while also minimising delays in response times, which can be especially interesting in connection with real-time control of functions.
IoT the driving force behind transformation of agriculture
By offering its customers real-time insight and control with the use of agricultural machinery, IoT has, in one John Deere employee's own words, helped to "transform agriculture from being an art into being a science.

There is a significant value in offerings that enable you to be important to your customers' success by supplying insights and valuable data with the aid of IIoT.

Danish companies inherently have the opportunity to be part of this, but only if they take the leap and get started.
Learn more about IoT and digital technology.