Remarkable quality when 3D printing propeller blades
3D printing of propeller blades shows convincing results on several significant parameters. Less oxidation and better mechanical properties are some of the benefits compared to casting.
Understanding the application design and determining relevant materials are important parts of the manufacturing route. This often leads to one or two methods of manufacturing. Obvious considerations when deciding on manufacturing method are quality and costs.
When you want to materialise your design, 3D printing and additive manufacturing are well-known for their rich possibilities and flexibility.
A study by FORCE Technology compares so-called wire arc additive manufacturing (WAAM) directly to traditional casting. The study was made on propeller blade manufacturing in aluminium bronze. 
Casting is a method that has existed for thousands of years, whereas 3D printing is a new technology. In spite of this, the results with 3D printing are extremely convincing.
What is WAAM? 
As a production method, WAAM has been known since the 1920s. Today, the method is used together with CAD-files and a robotic arm, and that combination is quite new. 
WAAM is well-suited for large-scale components produced with a robotic arm, which means that the components are not limited by space but by the reach of the robot.  
Requirements for processing the propeller blades
Casting: Raw material, crucible, mould and post-processing. 
3D printing: Wire material, welding machine, robot and post-processing. 
Corrosion properties and indications

Both images above show three printed propeller blade samples left and two cast samples right. 
The surfaces of the cast samples received some surface finishing, whereas the printed samples were taken right out of the 3D printer.  
Next, all samples were exposed to the same salt mist procedure. 
As can be seen in the picture right, the printed samples experienced mild oxidation. The oxidation would have been even less if the samples had been subject to surface finishing.  
The cast samples, however, experienced strong oxidation, independent of surface finishing. 
Mechanical properties and indications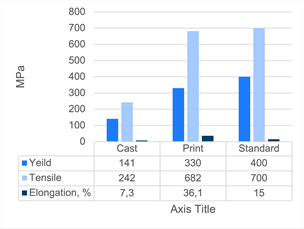 Visual appearance and microstructure  
The visual appearance and microstructure of the propeller blade samples are notably different.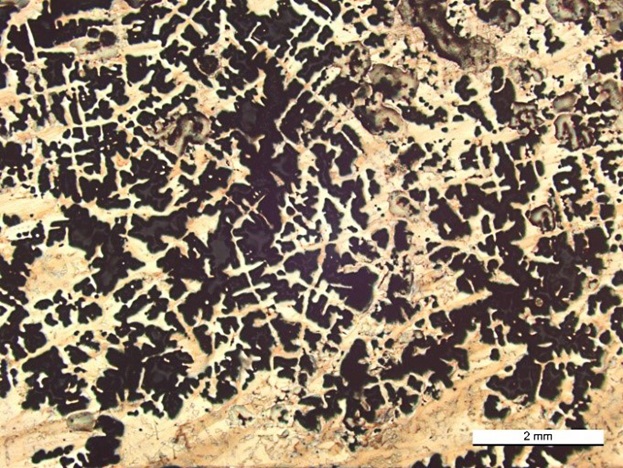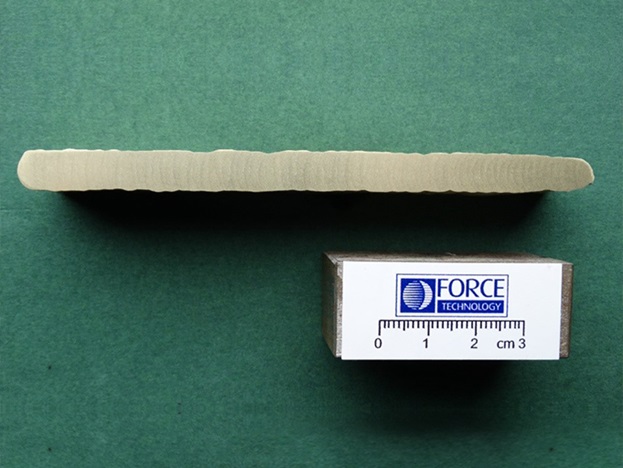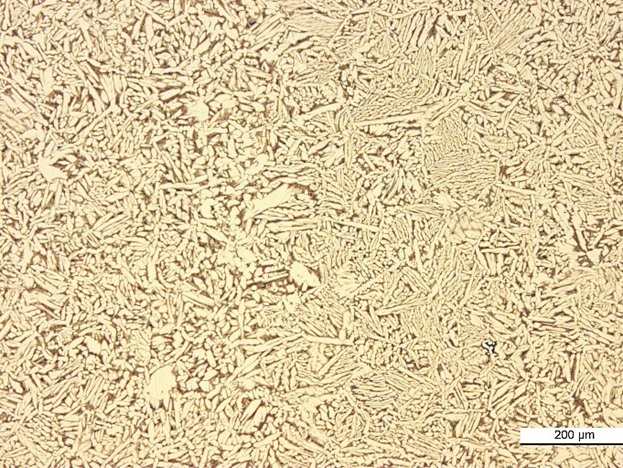 The top images show a cast sample with well-known defects such as voids. 
In 3D printed samples, the defects are usually very small, and in the case shown above, they are close to zero.  
3D printing is also a cost-saver 
On top of the significant benefits in relation to quality, 3D printing is often a cost-efficient alternative to casting.  
3D printing can give you direct production savings compared to casting. You do not have to create and maintain a mould. Furthermore, you achieve a high degree of design freedom. 
Finally, 3D printing optimises the use of resources and materials, and in many cases, it is possible to use materials based on recycling.  
UN global goals
The development project supports UN's global goal no 9, Industries, innovation and infrastructure.
UN global goals
The development project supports UN's global goal no 11, Sustainable cities and communities.
UN global goals
The development project supports UN's global goal no 12, Sustainable consumption and production patterns.
UN global goals
The development project supports UN's global goal no 13, Climate change.