Sjørring Maskinfabrik: A future with IoT enabled intelligent buckets
Sjørring Maskinfabrik engaged in the MADE Digital program to investigate how IoT technologies can support a premium service delivery and bring value across their supply chain.
Challenge
Exploring, building and testing technical solution proposals to support strategic development of a new smart bucket.
Process
Three design sprints performed investigating value proposition, business model and using IoT for decision making in warranty cases.
Outcome
Preparation and delivery of physical demonstrator (sensor device), building a focus strategy for next step into development phase.
Challenge
Sjørring Maskinfabrik provides high quality wheel loader- and excavator buckets for the European construction equipment industry and ships to worldwide destinations. Through a well-established supply chain consisting of Original Equipment Manufacturers (OEM), equipment dealers and end-users, Sjørring Maskinfabrik has built a strong business foundation based on reliable, robust and premium quality products. Customer relationship is essential, as no orders are the same, and every bucket is customized to meet a specific customer need.
Before engaging in MADE Digital, Sjørring Maskinfabrik had already identified several interesting value propositions potentially to be captured through the introduction of IoT. Especially anchored in a construction equipment industry moving away from traditional products sales, towards embracing total cost of ownership in leasing/rental models and holistic service-offerings though-out the product lifecycle. Acquiring data on bucket health, usage history and where-abouts can leveraged into a strong service offering across the value chain.
Jørgen B. Randa, CSO of Sjørring Maskinfabrik, explains why engaging in the MADE Digital project can give them a competitive advantage in the market:
"As it is today, Sjørring is one of the leading manufacturers of bucket attachments for construction machines. In order to keep and augment this position, it is necessary to be at the forefront of technology development. It is vital to uncover the ever-changing needs and requirements from our customers, as well as understanding what solutions are out there to be used, that can contribute to better performance and usage of our products. As we recently launched our own product portfolio of excavator buckets, the timing for exploring IoT enabling couldn't have been better."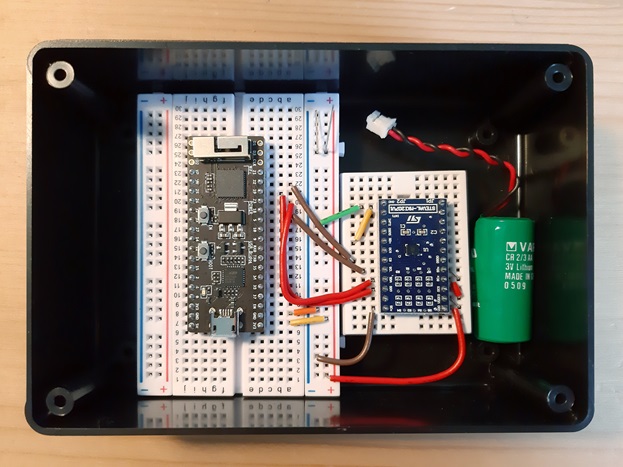 MADE Digital provides structure and interdisciplinary competencies
To support a strategic digitalization process for Sjørring Maskinfabrik, it was necessary to structure a systematic investigation of the identified value propositions expected to be released through IoT. Through exploratory work, FORCE Technology facilitated a process for capturing, validating, building and testing a variety of ideas incorporating both people, technology and business perspectives. This includes identifying the value propositions across the supply chain, exploring technical possibilities as well as generating, building and testing technical solution proposals.
Jørgen B. Randa elaborates: 
"When you compare the level of digitalisation in other industries, there are so many potential solutions that can be leveraged in the construction machinery industry. These can be implemented with great advantages for our products and customers. By offering data collection and health monitoring of our buckets to customers, we are able to refine our products and thereby our service and customer relations."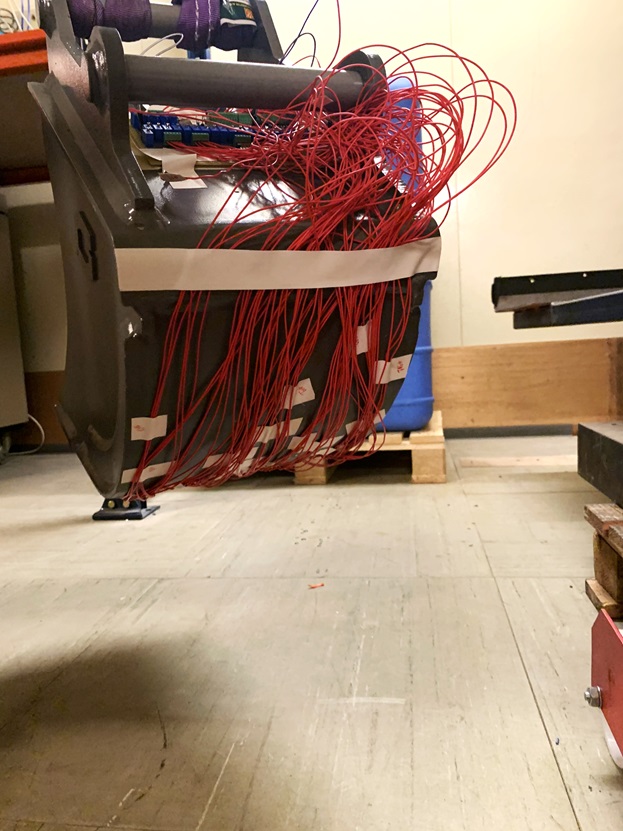 Process
A project team was formed at Sjørring Maskinfabrik with CSO Jørgen B. Randa and Key Account Manager Helle Nisted as regular participants alongside a group of flying participants who were engaged appropriately during the project. The project was facilitated by FORCE Technology's department for IoT, Data & Services Innovation and supervised by Aalborg University, department of materials and production.
The project was segmented in three parts, each with individual focus areas but executed with an agile approach in order to use and iterate from gained knowledge and findings. The projects were carried out inspired from FORCE Technology's design thinking framework used for exploring, building and testing technology solutions, incorporating contextual and business perspectives into the process.
The individual focus areas of the three parts where identified through a kick-off workshop, in order to be able to prioritize and structure separate areas with no or low evidence that could be explored in the project.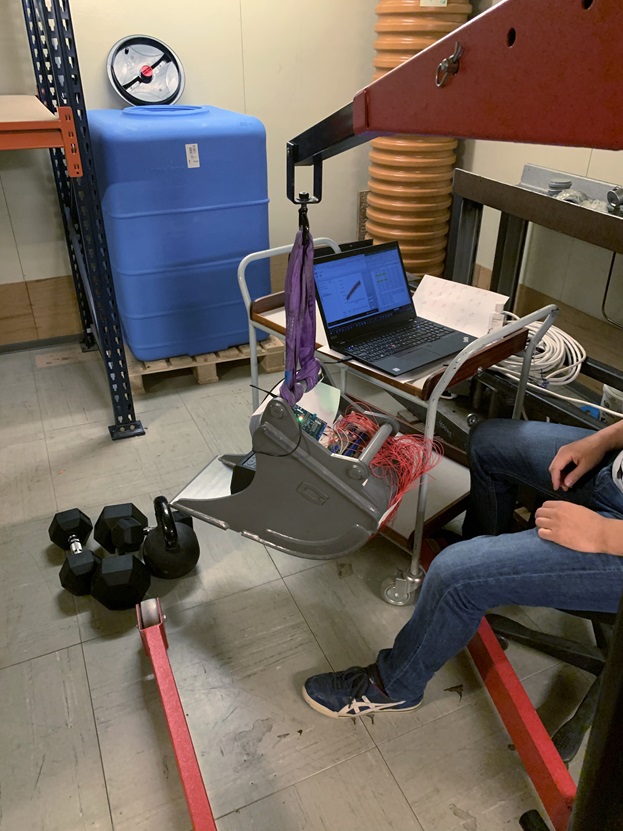 Exploring IoT potentials through design thinking in three sprints
Using the design sprint framework accommodates a need for incorporating both people, technology and business perspectives, and the framework facilitates holistic exploration, ideation, building and testing through five phases:
Empathize: Understanding the context
Define: Identifying challenges and opportunities
Ideate: Generating ideas and creative solution proposals
Prototype: Preparing quick n' dirty mockups
Test: Test of ideas – gain feedback
Design sprints are often carried out in five workdays but were expanded to ten workdays. Thus, the activities of the project were carried out as follows: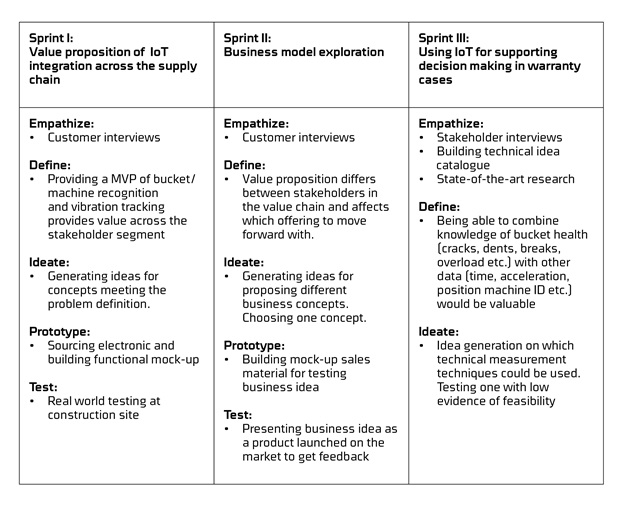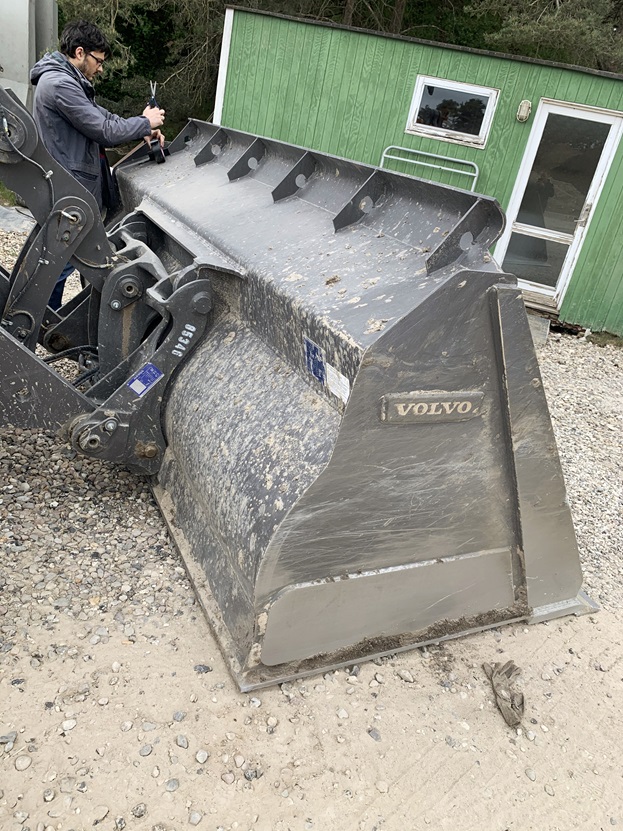 Outcome
Working from a technology standpoint, this project has been able to contribute with an explorative study of the potential value to be released through IoT in the construction machinery industry for Sjørring Maskinfabrik.
Anchored in iterative and agile practices, the work has delivered stakeholder- and market insights through continuous interviews and involvement of Sjørring Maskinfabrik's closest collaborators. This approach provides a broader understanding of complex challenges across the supply chain.
From here, potential solution proposals were identified through building a technical idea catalogue, performing state-of-the-art research that were used for generating ideas for new technology concepts. Two concepts were picked for further prototyping, test and evaluation in a real-world context.
Lastly, a business model proposal was tested with potential customers in order to validate assumptions on how IoT will be value adding across the value chain. Early stage exploration of digitalization potentials can help de-risk the investment of getting started and locate where to begin, says Jørgen B. Randa:
"Throughout the process, FORCE Technology has engagingly and with confidence uncovered many preliminary questions and concerns that we have had. We have investigated a variety of possibilities for product digitalization and worked our way through several of the technology challenges related to our products and industry. We will definitely leverage this work for our next step with digitalization and implementation of IoT enabled products in our portfolio."
Contact us to learn more or visit our IoT and servitization home page.
About FORCE Technology: IoT, Data & Services Innovation
IoT, Data & Services Innovation is a business unit in FORCE Technology with around 30 specialists working with applied innovation - that is, facilitate development processes and help shape the right IoT concept to create valuable IoT solutions for companies to make direct use of. We have an innovative approach to problem solving, business modeling and service innovation, combined with deep expertise in electronics and hardware. We are bridging the gaps between new hardware technologies, design thinking and business development.
About MADE Digital
MADE – Manufacturing Academy of Denmark - is a research program launched in 2017 to accelerate digital transformation of Danish production companies. Though nine specially focused work packages, the exploration, design and implementation of industry 4.0 is strengthened in MADE Digital in a collaboration between Danish SME's and larger companies together with university research group and technical experts from the Danish GTS network. MADE is supported through a combination of funding from private companies, GTS institutes and universities as well as Innovation Fund Denmark (2014-2019).