DSB getting under way with IoT and sensor technology
By collaborating with FORCE Technology and the Nordic IoT Centre, DSB has gained technical knowledge in the field of IoT and sensor technology. The goal is cheaper, better, and smarter train service.
Challenge
DSB needed help to understand how it could use IoT and sensor technology to reduce operating expenses and improve its customer experience.
Solution
The Nordic IoT Centre worked with DSB to develop a system specification and scan the market for potential IoT and sensor solutions.
Result
The inspiration and knowledge of IoT solutions that DSB gained became the foundation of a public tender for prototype systems.
Starting the IoT journey
Many businesses are already aware of the huge potential in using IoT and sensor technology to cut costs and reduce the need for manual processes. Figuring out how to get started and where to find information is not so easy, though.
Niels Kloppenborg Laursen, DSB's fleet manager, wanted to develop an IoT infrastructure for DSB's regional service. However, he was unsure of what the system should look like from a technical perspective, who could supply it, and what it would cost.
A need for IoT consulting and feedback
FORCE Technology put DSB in touch with the Nordic IoT Centre. The Centre oversees a consolidated ecosystem for IoT development and application in Denmark and, eventually, the other Nordic countries. The Nordic IoT Centre is partnered with a long list of IoT and sensor solution vendors, and it organises IoT user groups in various domains and industries. 
"We wanted to learn more about IoT and how we could actually use it. It was also important for us to talk to someone neutral, someone who wouldn't favour one vendor over another," Laursen says. 
Determining service needs with door closing speeds
One of the IoT application areas that DSB identified right away was its train doors. DSB intends to install sensors on the doors in its trains to collect data on their opening and closing speeds. This data enables DSB to recognise when a door is about to fail.
By replacing manual inspection with sensor-based monitoring, DSB can streamline its manual inspections conducted annually and detect potential issues before they affect train service.
"Basically, we want to monitor the systems that can fail in service. If a door won't close properly, traffic on the line has to stop. By bringing in this raw data, we can determine if a door is about to break instead of waiting for it to actually break before doing something," Laursen explains.
DSB also wishes to monitor the climate control systems on its trains using a similar approach. For instance, if four passenger compartments on the same train have significantly different temperatures, it could indicate that the climate control system is not functioning correctly. DSB can use this knowledge to service the affected system before it causes problems for customers.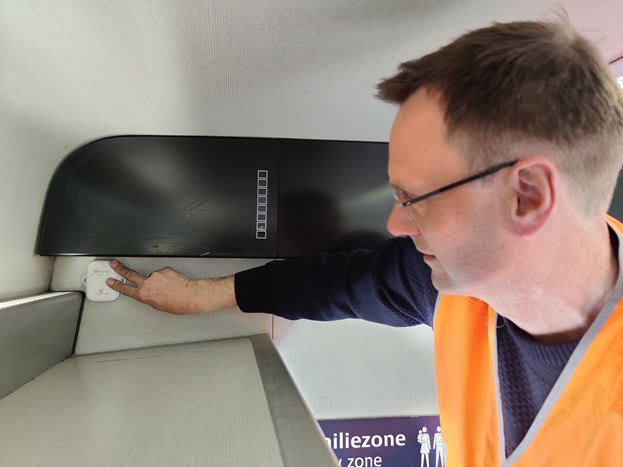 Putting sensors under seats for happier customers
Collecting data on the number and distribution of passengers in trains is third on DSB's IoT wish list.
Placing sensors under seats makes it possible to see which seats are occupied in real time. This information could also be made available to passengers. This can facilitate optimal use of the available seating, improving the customer experience.
Scanning the market with the Nordic IoT Centre 
DSB collaborated with FORCE Technology and the Nordic IoT Centre to conduct what it calls an IoT Solution Search. First, the centre works with its customer to develop a system specification. The goal here is to describe requirements for the desired solution. The centre also investigates what is feasible using the available technology.
In DSB's case, the system specification involved sketching out the IoT infrastructure, identifying potential IoT application areas in DSB's train service, and prioritising these areas. On the technical side, they looked into how the data could be collected, transmitted over DSB's network, stored, and processed. Ultimately, DSB needs to be able to extract the information it needs to optimise its service and operating processes.
The system specification went out to the Nordic IoT Centre's extensive network of vendors, as well as to vendors chosen by DSB, to invite proposals and bids. DSB ultimately reviewed 12 proposals. 
IoT Solution Search: lessons learned for DSB
DSB reviewed the vendors' 12 proposals to gain inspiration and better understand how the business could obtain a solid, scalable solution that would still "respect taxpayers' money," as Laursen puts it.
Consequently, DSB decided against a subscription-based IoT platform for data visualisation, priced based on the number of sensors in use. Instead, DSB decided to import the data directly into its own standard tools for data management and visualisation.
"The vendors' responses have helped us to really get to the heart of the matter. As far as subscription-based solutions go, we've learned what we don't want to do – and that's important, too," Laursen says. 
DSB leveraged its experience to find a specific solution that has now been implemented on the first trains. So far, data collection is going well and helping to streamline maintenance operations.
Considering next steps in comprehensive IoT roll-out
Now, DSB is considering launching an invitation to tender with a revised requirements specification based on the results of the IoT Solution Search conducted with assistance from the Nordic IoT Centre.
Whatever the result may be, Laursen says he would not hesitate to recommend FORCE Technology and the Nordic IoT Centre to other businesses looking to learn more about IoT and get a better sense of the vendors and solutions on the market: 
"Working with FORCE Technology and the Nordic IoT Centre has been a pleasure. Your know-how is tremendous."  
First leg of the journey
DSB decided to focus initially on implementing fundamental IoT infrastructure in its trains. The company focused on the three areas of application mentioned previously: doors, climate control, and seats. DSB predicts that exactly these areas will have immediate positive effects on operations and the customer experience.
That said, the system specification outlined a number of future areas where IoT technology can help DSB to operate better, smarter and more cost-efficiently. For this reason, it was important for the solution to be as generic and adaptable as possible.
In other words, DSB's IoT journey has only just begun.