Struers improves preparation of porous electrode surfaces for Power-to-X use
Struers ApS has optimised the moulding of porous materials used in hydrogen production. Using electron microscopy, it is now possible to produce sharper images and better analyses.
Challenge
Struers wanted to evaluate a conductive moulding material for porous structures to be used in catalytic hydrogen production.
Solution
Various prototype moulding materials were tested on porous electrode surfaces and analysed in an electron microscope.
Result
Struers is continuing to optimise moulding processes and techniques for analysing porous surfaces on metallic objects.
The green transition and the development of Power-to-X technologies require new approaches to studying new, highly efficient catalytic porous surfaces needed to improve the efficiency of hydrogen production through electrolysis. Consequently, advanced electrode surfaces will play an important role in Power-to-X in the future. 
Conductive moulding material saves processing steps for Struers
Struers ApS provides advanced solutions for metallographic studies, including equipment and consumables used to mould metallic objects in ways that permit analysis of the objects' surfaces and inner structures by electron microscopy. 
To maximise the efficiency of a catalyst used for hydrogen production, the surface must be highly porous—and this is only possible using materials that meet a stringent set of requirements. Using a conductive moulding material facilitates analysis of the catalytic surface using an electron microscope.
"We wanted to test a conductive cold-moulding product that would be compatible with electron microscopy. By using a conductive material, we can eliminate the need to apply a conductive coating to the sample before analysis," says Per Buus Øding, an R&D engineer for consumables at Struers ApS.
"It's important for the sample to be conductive so that electrons don't simply build up on the surface. If that happens, the data from the electron microscope will be inaccurate," Øding explains. "It's also very important for the moulding material to be sufficiently fluid to get into all the cracks and crevices without destroying the fragile, porous structure."
Prototype verification needs
Because Struers did not already have access to electron microscopy internally, the moulded materials were examined using FORCE Technology's electron microscope. FORCE Technology supplied samples of catalyst materials for future Power-to-X systems, and Struers supplied moulding materials and prepared them on its own equipment.
Finding out whether the prototype moulding material we developed in the laboratory was actually viable and had adequate conductive properties was really important for us. We gained insight into whether we were on to something, and now we know that we can impregnate porous structures. So we'll be continuing our work on optimising the properties of the moulding material.

Per Buus Øding

/ Struers ApS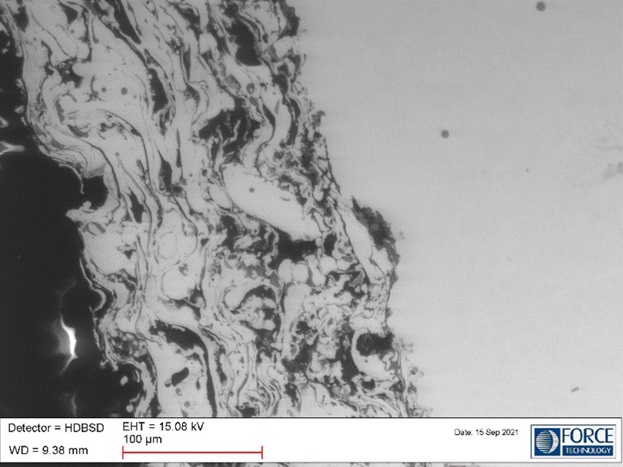 A collaborative project that creates value for both parties
While Struers has yet to reach its goals for the formulation of the moulding material, the company is moving forward with several positive aspects of this collaboration.
"Seeing how companies can collaborate, and how both sides can get something out of the process, has been valuable for us. It's really been a win-win solution for both parties," says Marianne Strange, consumables manager at Struers ApS.
It's only natural to turn to the people you already know, especially when you also know that material testing is one of their strong suits.

Marianne Strange

/ Struers ApS
The collaboration also revealed that an optimised moulding technique can improve the impregnation of objects being studied using electron microscopy, resulting in sharper images and better analyses of porous structures.

This collaboration between Struers ApS and FORCE Technology is part of "Power-to-X as a driver of green transition and growth," a development project financed in part by grants from the Danish Agency for Higher Education and Science.