TwinEye X-ray measuring system monitors pipes in Brazil
FORCE Technology has developed, manufactured and installed a TwinEye X-ray measuring system for National Oilwell Varco Denmark's (NOV Flexibles) new production line in the state of Rio de Janeiro, which produces flexible pipes for oil and gas extraction.
Quality is paramount
NOV Flexibles, previously NKT-Flexibles, supplies flexible pipes for offshore oil and gas extraction. The company is a subsidiary of the American, employing more than 60.000 staff globally. NOV Flexibles has just opened a new factory in Brazil.
The complex pipe systems are used between installations on the seabed and between the seabed and the surface, posing huge requirements to the quality of the pipes. Their full integrity and flexibility must be preserved for many years under extreme conditions at several thousand metres depth and free span  in an active sea. Faults and breakdowns may have severe environmental and financial consequences.
FORCE Technology's TwinEye X-ray measuring system performs complex measurements in the full circumference of the pipe and the results contribute to ensuring and documenting the quality of the product.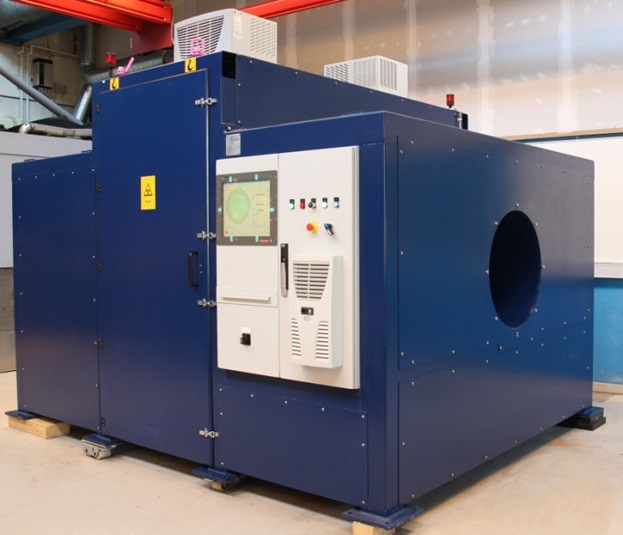 Measuring system for quality control, product documentation and process surveillance
The extreme conditions makes the quality control of the flexible pipes paramount. The measuring system is installed in-line in the production line for the fastest possible control of dimensions for pipes with an outer diameter up to 650 mm. The system helps ensure the quality of the pipes' polymer layers to protect the many reinforced layers against corrosion from the outside as well as inside. 
NOV supplies each pipe with extensive documentation proving that the pipe is in accordance with the product specifications. In the documentation is included continuous and extensive measurement of the dimensions of the polymer layers. All measurements are integrated in the documentation systems. 
The system's high measuring frequency, its coverage of the total pipe circumference and integration into the control system of the production lines is used for process monitoring. Process variations and production defects may influence a large part of the production, and it is crucial to be able to correct it as early as possible in the process. Small process variations and early error detection ensure optimum production.