Ship bridge simulators for training, practicing and planning
The realism of a ship bridge simulator has a decisive impact on the value to be gained from utilising a virtual environment for training, practicing and planning.
Virtual reality enables reality to be taken beyond the performance envelope. When done correctly this provides the perfect domain for turning virtual reality into reality. Realism is the key to this.
Modelling reality
Our ship bridge simulator SimFlex4, has been under constant development for over 30 years. It is renowned for its realism. Right from the very beginning focus has been on correctly modelling the hydro- and aerodynamic physical characteristics. This is done by addressing all the forces acting on the vessel and then solving the equation of motions for the vessel. Each force component is a function of many variables, which each contribute to the total force exerted and the corresponding motion. This approach makes it easy to add or remove an effect.
The design is based on an eclectic approach where data is retrieved and combined from many sources. Herein lies the success and realism of the ship bridge simulator.
In order to maintain a high level of quality and provide our customer the best experience, we offer service and support 24 hours seven days a week. You can contact us on; +4522697712 or send us an email; Support@Simflex.dk.
We also develop and sell ship simulators
FAQ: Simulator bridge design and support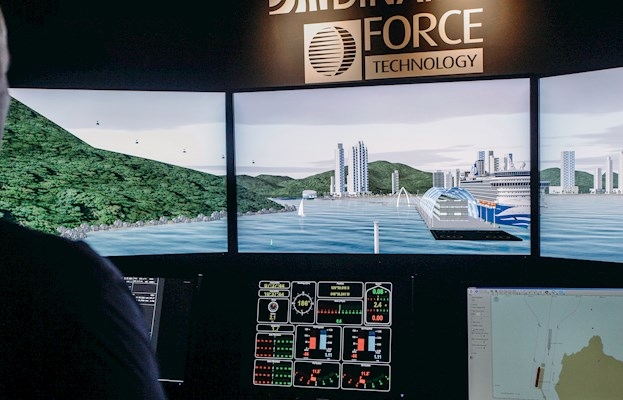 Case
Together we stand stronger
Through collaboration with FORCE Technology, ACD can offer services to Brazilian ports.
Mathematical model DEN-Mark1
The mathematical model DEN-Mark1 behind the ship bridge simulators is based on results from towing tank, wind tunnel tests as well as trial trip data with actual vessels. Our dedicated team of developers continuously works on refining the software and exploiting the technology as it develops.