Protective clothing – accredited test and certification
Accredited test and certification of protective clothing in accordance with European standards for personal protective equipment (PPE) used by manufacturers, importers, and distributors.
What is protective clothing, and what standards apply?
Protective clothing includes, for example:
Footwear
One-piece suits
Disposable suits
Paint suits
Spray suits
Dust suits
Safety suits
Individual parts such as trouser, jackets, or aprons 
Protective clothing is used in e.g. industry, agriculture and health services.
Get your protective clothing tested in accordance with the European standards EN 943, EN 14605, EN ISO 13982, EN 1073, EN 14126, EN ISO 20346 and EN 13034 for personal protective equipment. This allows you to obtain a CE marking of your product. 
Does protective clothing need to be CE marked?
Yes. If you want to market and sell clothing for protection against chemicals or the like in the EU, it must be CE marked.
With a CE marking, you can provide proof to customers and authorities that the product meets the requirements for quality, safety, and performance in accordance with at least one of the applicable standards.
What requirements does protective clothing need to meet?
In the European system for chemical protective clothing (CPC), there is a series of numbers that indicates the type and level of protection. These have an associated standard, in which the requirements are described.
For types 3, 4 and 6, there is also a version referred to as PB. This covers products that only cover parts of the body such as trousers, jackets, or aprons.
Below you can see the different types and their level of protection as well as the related standards.
According to CEN TR 11610, there must be a clear distinction between protective clothing that can be reused and clothing intended for single use. In the table below, there are some typical properties for single-use clothing and clothing intended for repeated use.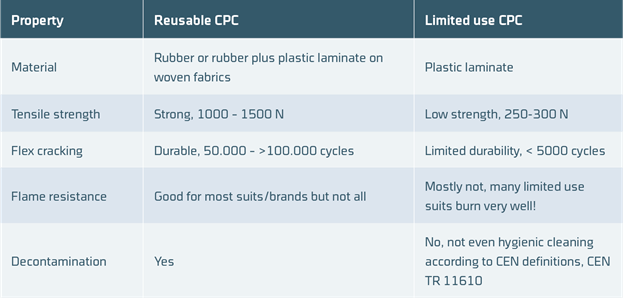 What responsibility do you have as a manufacturer, importer, or distributor of protective clothing?
If you import personal protective equipment, such as protective suits or other protective clothing from a manufacturer outside the EU for sale on the European market, you must ensure that the product is CE marked and registered by a notified body in Europe. If this is not the case, you are, as the importer, responsible for doing this.
This rule applies whether you distribute protective clothing to a retailer in the EU or whether you are a retailer yourself. Once you get the product CE marked, you will be registered as a manufacturer or EU responsible for the product. This means that you will be responsible for the safety and quality of the product in question along with the enclosed documentation. 
How to get your protective clothing CE marked
As an importer or distributor, you must first and foremost decide what the protective suit is intended for, i.e. the purpose of use. This determines the standard by which the suit is to be approved.
At the same time, it has significance as to which requirements the protective suit must live up to and which properties it must have in terms of design, density, resistance to penetration of e.g. chemicals, mechanical strength, flammability, etc. In addition, factors such as the need for maintenance and comfort should not be overlooked.
In order to get protective clothing CE marked, your product must be tested by an accredited test laboratory so that you can document that it meets the requirements of the standard in question. Once this is done, you can have a CE certificate issued for your product by a Notified Body, such as FORCE Certification.
Accredited test laboratory ensures the quality of your personal protective equipment
FORCE Technology is accredited by DANAK (65 and 8) for testing personal protective equipment.
We offer accredited testing of your product as well as preparation of documentation that meets the requirements of the standard so that your product is ready for CE marking. Once this is done, you can have a CE certificate issued by a Notified Body, such as FORCE Certification.
We also offer a review of documentation for importers, so you can be sure that the documentation meets the requirements and is credible.
If you require additional information or want your product tested, feel free to contact us.