Large scale climatic testing now available at FORCE Technology
A large climate chamber for full-scale testing has officially been added to the infrastructure at Lindø Component and Structure Testing A/S, LCST.
4 April 2017

Complete testing environment for the offshore industry
LCST has so far focused on mechanical testing with the
large scale mechanical test bench
. With the addition of the almost 900 m
3
climate chamber, LCST can provide a complete testing environment for the offshore industry.
The climate chamber was officially handed over from its supplier ENGIE, to FORCE Technology on the 28th of March. The first demo test was conducted almost immediately thereafter. 
Volvo Wheel Loader covered with ice
In cooperation with Volvo Construction Equipment a successful low temperature and over icing test was performed on a L180H Volvo Wheel Loader. The 28 tonnes heavy loader was exposed to a temperature of -20 °C and over sprayed with water until it was completely covered with ice.
This simple test is a small indication of the capabilities of the climate chamber.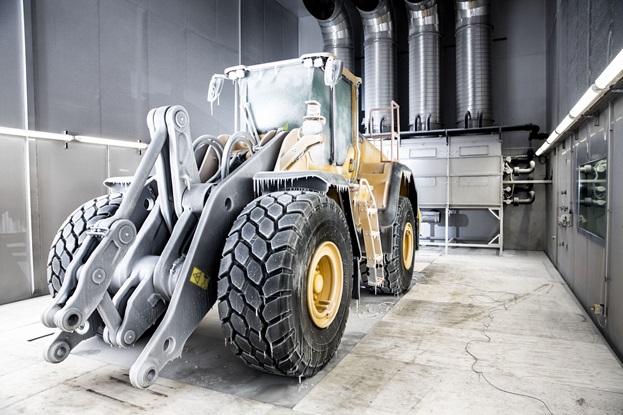 The chamber temperature can be varied from -35 °C to 60 °C and the relative humidity can be varied from 0 % to 100 %, within the range of 10 °C to 60 °C. Additionally, subjects in the chamber can be sprayed with salt water (up to 4 % concentration). These conditions make the chamber ideal for climate testing of large components designed for offshore operation. 

However, the climate chamber is quite versatile and is a vital testing facility for any industry operating in extreme and harsh climatic conditions. Along with the chamber is a sizeable data acquisition system with numerable inputs for different temperature sensors and analog signals, which allows for the recording of any parameter requested by the customer.
Lindø Component and Structure Testing A/S is a cooperation between FORCE Technology and LORC.
For further information or a tour of the climate chamber please contact Per Baunegaard With Jensen.