Team Denmark runs tests in FORCE Technology's wind tunnel
The Danish national cycling team train hard in their preparations for the 2020 Olympics. To improve their chances of taking home an Olympic medal, they're also testing the aerodynamics of the riders' equipment.
15 August 2018

In early summer 2018, Team Denmark came by our wind tunnel in Lyngby to run some aerodynamic cycling tests, together with two-time Danish individual time trial champion, time trial record holder and engineer Martin Toft Madsen, as well as an engineering student from DTU.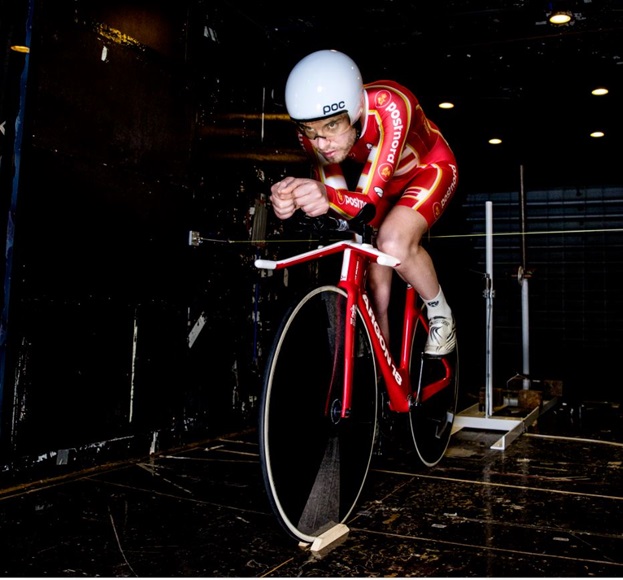 The wind tests will be used to improve riders' times before the 2020 Olympic Games in Tokyo, where the national team will be competing for medals in the 4 km team pursuit - an event often decided by hundredths of a second.
"We're using FORCE Technology's facilities and wind experts because they're the best in wind and technology. We get a lot out of that. When you - like us - are hunting for small margins to improve on, it's important to get input and advice from technology experts," says Andreas Top Adler, Performance Engineer for Team Denmark.
As they prepare for the cycling events, they look into every element that can speed the riders up. Besides being in peak physical shape, the riders need aerodynamic equipment to minimise wind resistance.
"Of course, it is essential for the riders to eat, sleep, and train correctly. But if the national team's cyclists are going to beat the competition, we need to make sure that we aren't at a disadvantage in terms of choosing bicycles, helmets and uniforms," explains Andreas Top Adler, who supports the team in selecting materials and equipment for the Danish national cycling team.
Precision wind resistance measurements
Selecting optimum equipment is highly complex when there are many different parameters that can be adjusted. The advantage of running tests in the wind tunnel is that the team can freeze certain parameters and precisely calculate the effect of adjusting other parameters, like uniform materials and helmet shapes.
"When we conduct wind tunnel testing, everything about the rider remains the same - the same shoes, socks, helmet, suit, bicycle, and body position. We change just one little thing at a time, like the way the suit is stitched, and we measure what effect that has on the wind resistance," says Andreas Top Adler, emphasising the importance of being able to reproduce their wind tunnel work in real-life situations.
To help taking measurements, Denmark's time trial record holder, Martin Toft Madsen, sat on a bicycle for several hours in our wind tunnel, with the wind blowing at speeds of 60-70 km/hour while the DTU student carefully measured the wind resistance.
"What's smart about doing tests in the wind tunnel instead of on the cycling track is that we can ride at high speeds for a long time. It's hard to do these kinds of tests on the track," explains Andreas Top Adler, who expects to perform several more tests in the wind tunnel with the Olympic team later on, after the results from the first test have been processed.
See more in Team Danmark's video to the right.