Enabling better dairy production decisions
Digital twins and Augmented Reality collaboration help improve Clean-In-Place planning at Arla Foods facility.
Clean-in-place (CIP) planning means designing a system that allows the cleaning and sanitising of equipment and pipelines in a food or dairy production facility without disassembling them, ensuring proper hygiene and reducing downtime.
In a previous collaboration between FORCE Technology, Alexandra Institute and Kold College, the partners demonstrated how digital twins and Augmented Reality could benefit system operators or product developers to design, develop, manage and optimise performance. Now, FORCE Technology, Alexandra Institute, Arla Foods and SPX FLOW are working to establish a new way of performing digital bacterial growth monitoring for CIP planning and avoiding contamination using AR and a digital twin.
Need: a tool to assess when it's wise to clean
"Regular cleaning is crucial in dairy production because the content of thermoresistant germs plays a vital part in the biofilm formation in the plate heat exchanger. But biofilm formation differs from farm to farm, and today, dairies typically keep to 6-7 hours of production time to be safe. But some milk can bear 12-14 hours of production time without compromising quality – the problem is that dairy producers don't risk it because they can't know if longer production slots are safe. That's the need at the heart of this collaboration", FORCE Technology's Audit and Verification Senior Consultant Annette Baltzer Larsen says.
Digital tools and online predictions can help maintain quality and improve efficiency
The new collaboration seeks to change how we monitor and predict the growth of biofilms by utilising digital tools to improve decision-making. Monitoring biofilm growth in dairy production is essential to prevent contamination, maintain product quality, and ensure food safety by detecting and addressing potential sources of bacterial growth and pathogens.
The partnership aims to provide online predictions of biofilm growth for decision-makers to plan and optimise CIP to reduce the risk of contamination of dairy products and to maintain the efficiency of heat exchangers and other equipment.
FORCE Technology is developing a digital twin of SPX FLOW's Heat Exchanger and a biofilm growth model and implementing the twin model on the Alexandra Institute AR platform to be demonstrated at Arla Foods' dairy production facilities in Taulov.
Dairy giant Arla Foods seeks new ways to drive more sustainable production
Arla Foods' dairy operation in Taulov, southern Denmark, is one of the world's most advanced dairy production facilities. It produces 65,000 tonnes of cheese and weighs 650 million kg of milk annually.
"We're always looking for new technology and solutions that can help us improve. That's why we invest in research projects and collaborate closely with suppliers and stakeholders to find new ways to drive even more sustainable production. We see digitisation as a key enabler and tool to manage resource use, and a digital twin will give us better knowledge of our production in real time and help us see how we can set in to manage and monitor biofilm growth. A digital twin can help us avoid guesswork and assumptions regarding production times and cleaning. Via the biofilm development, we can schedule cleaning. In some instances, we might even be able to increase production slot lengths," Senior Operations Manager Frits Mogensen at Arla Foods in Taulov says.
Heat exchangers: key to producing dairy products with less waste and greater efficiency
Heat exchangers in dairy production are used to cool down or heat milk and other dairy products efficiently and quickly, making them safe for consumption and extending their shelf life.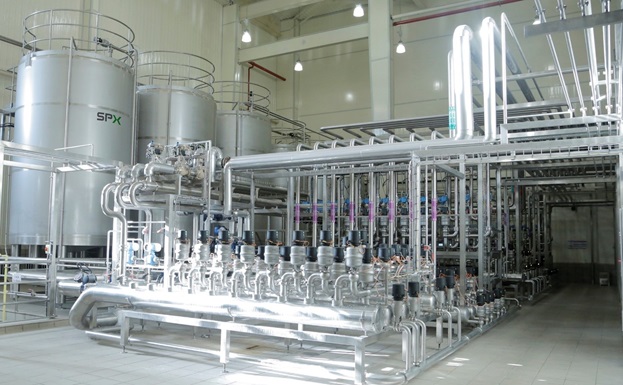 APV, a brand central to SPX FLOW's suite of solutions, has been involved with plate heat exchangers for 100 years since its inception. With their background and expertise, they believe that it's vital to continue to help drive innovation in the field:
"We work closely with our customer Arla Foods to listen and provide custom solutions to their needs. So, knowing they were participating in this project, it was a natural fit to join as well. SPX FLOW will be providing data on our plated heat exchangers to help facilitate the building of the digital twin. We hope that it will go toward advancements in the understanding of dairy processing to optimise systems, both for our customers' sake and for benefits like reduced waste and greater energy efficiency. We hope this data will result in the ability to institute longer running times to better predict when CIP is needed. In turn, it will give us the knowledge to optimise our equipment and the overall process itself," SPX FLOW Key Account Director Jørgen E. Pedersen says.
Alexandra Institute AR expertise vital to visualising simulation results
The Alexandra Institute is a Danish Research and Technology Organisation (RTO) focusing on developing and applying advanced digital technologies to drive economic and societal impact. They excel in Augmented Reality, which provides interactive visual guidance by overlaying digital information onto the user's view of the real world.
"In this collaboration, we are contributing with a web and Augmented Reality visualisation of the simulation data to use as a decision-making tool. Visualisation can help simplify data and actions required because Taulov has a control room with 12 screens with all kinds of data they need to react to. We are also working on making an operator dashboard for the heat exchanger, which contains step-by-step instructions on how to perform specific maintenance tasks, such as making sure the right temperatures are measured in the heat exchanger and validated to be within the accepted ranges," Principal Software Architect, Digital Experience and Solutions Kaspar Rosengreen Nielsen says.
Helping dairy processes run cleanly and safely for longer
"With this collaboration, we gain insight into real-world production and can help ensure product quality and production optimisation by enabling intelligent decisions about product safety. Once the results are ready, any facility that performs the pasteurisation process in a plate heat exchanger will be able to use them to improve its CIP planning. Manufacturers of plate heat exchangers can use them for development purposes – to optimise the product to perform safely for a longer time and be easier to clean," FORCE Technology's Project manager Anders Brix Skovgaard Madsen says.