Thruster units and tug models for a new research facility in Singapore
The Technology Centre for Offshore and Marine Singapore (TCOMS) is finalizing their new deep-water ocean basin research facility in Singapore. The usage of the new tank is focused on the Marine & Offshore and Maritime sectors.
TCOMS new tug models and additional propulsion systems
For their new facility, TCOMS has selected us to deliver two new tug models and additional thruster units for the tug models. Thruster units combine both propulsive and steering function in one device and with the two sets of thruster units, it will be possible to perform studies in the basin where pod propulsion is required.

Our many years of experience in designing and producing measurement equipment for our facilities has come in handy as TCOMS are not the first facility we deliver a solution to. The propulsion systems consist of complete ducted azimuth thruster units with control and measuring systems.

This exact project covers an extensive model test series for resistance and self-propulsion, seakeeping and manoeuvring with tugs in our towing tank facility in Denmark. In addition to the model tests, we will also deliver the mentioned tug models and propulsion systems to TCOMS for them to use for their research activities in their basin after testing has been completed in Denmark. FORCE Technology has previously on request also delivered thruster units to other facilities.

The project will be executed in 2020 and we look forward to an exiting corporation with TCOMS.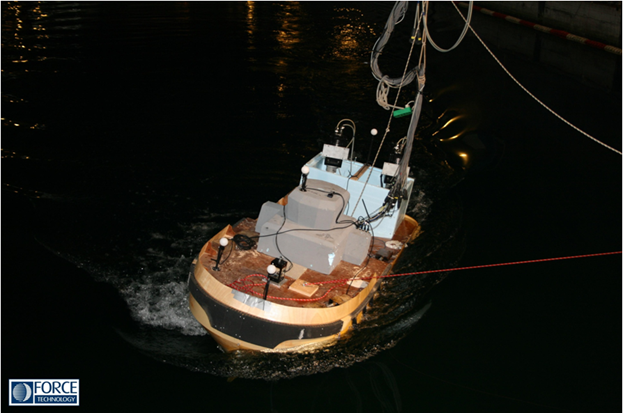 Technology Centre for Offshore and Marine Singapore (TCOMS)
TCOMS, a national centre of excellence, is a joint initiative between the Agency for Science, Technology and Research (A*STAR) and the National University of Singapore (NUS) to integrate research and industry expertise to co-create innovative concepts for the Marine & Offshore and Maritime sectors.
TCOMS is nearing completion of its next-generation Deepwater Ocean Basin research facility, which is equipped with advanced wave and current generation systems to simulate the physical ocean environment and complex scenarios that Marine & Offshore platforms and ships operate in.
TCOMS is also supported by the petascale supercomputing capabilities of the National Supercomputing Centre (NSCC) Singapore. Such capabilities allow its researchers to better understand complex marine environments and help Marine & Offshore Engineering companies enhance the design and performance of their solutions.