In the service of art
FORCE has helped Statens Museum for Kunst, SMK, reveal secrets in one of their masterpieces, the almost 400 years old Jacob Jordaens painting "The Ferry Boat to Antwerp" from approximately 1623.
The task was major in more ways than one. SMK had decided to carry out an extensive restoration of the painting, taking the colours back to their original glow, by removing several layers of yellowed varnish. 
You could compare it to a before-situation, where one regards the painting wearing sunglasses and an after-situation where one regards it without sunglasses. This illustrates the extent of the difference.
Largest painting in the collection
Also the painting's rather impressive size measuring 2.79 x 4.67 m was a huge challenge, as restoration manager from SMK Jørgen Wadum relates: "First and foremost we had to have eight strong removers taking the painting off the wall, dismounting the gigantic frame and laying it flat on a table with the back facing up. Then FORCE Technology specialist, Torben Klit Pedersen together with the museum's personnel could start X-raying the painting, which gave the restorers valuable information as to the condition and creation of The Ferry-Boat, before the actual restoration work could commence". 
"For a long time we had looked for a company that could take on this huge and delicate task, and international players in the art business recommended FORCE Technology, who had carried out similar, however smaller – previous tasks", continues Jørgen Wadum.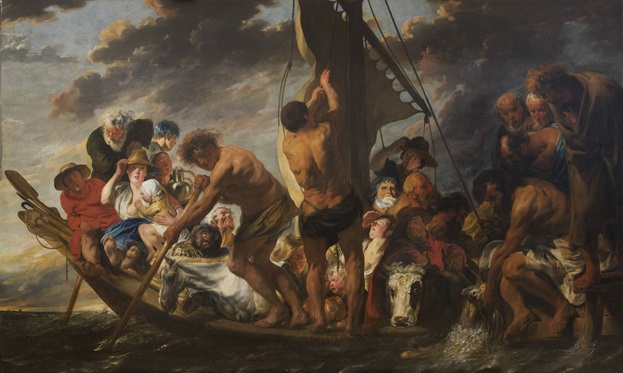 Digital X-ray imaging reveals secrets
X-raying is especially efficient when it comes to restoring very old paintings. This is due to the fact that previously paint consisted of much more heavy metal, e.g. lead and cadmium, than is the case in modern paintings.
"Due to the heavy metals, the absorption of X-rays is higher here, and the contrasts between light and dark parties in the X-ray recording are higher. You see more different shades in the digital image and more detailed information can be conveyed to the restorers. In the X-rays you can detect all that lies between the front and back pages of the painting, as these are digital images, and you can zoom in and out on the details. The process may be virtually conveyed and even very simply, so that even a child could grasp it", says Torben Klit Pedersen. 
FORCE Technology's X-ray images show "The Ferry-Boat's" entire existing scene – and then some. The X-ray recordings have revealed several figures and details that are not visible to the naked eye.