Optimisation of disinfection systems using CFD
At FORCE Technology, we have great experience in the optimization of multiple disinfection systems in the food and pharma industry.
There is a broad range of these systems, from disinfection of different kinds of food (grains, fruits, meat) to working utensils and equipment (knifes, hospital beds). For the purpose of showcasing previous work, the focus of this article is on SonoSteam food disinfection systems, and results for chicken and egg disinfection systems are shown.

SonoSteam Food Disinfection System
For food disinfection to occur, SonoSteam nozzles are used to inject high temperature steam into the system. SonoSteam nozzles also create ultrasonic sound pressure, which enhances the disinfection process.
To ensure a proper level of disinfection, a certain temperature during a specific time duration must be achieved. However, since overheating of the food can be damaging for its quality, special attention must be put to high temperature and their duration.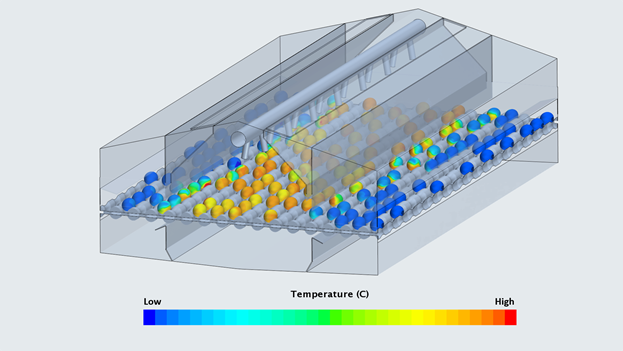 Purpose of CFD Simulation
CFD simulations have been done to monitor the temperature at the surface of the food product, as well as inside the disinfection chamber in general. To ensure the highest level of accuracy, FORCE Technology considered both effects of steam and ultrasound on the heating of the products, together with the movement of the conveying system.

Too low temperature at the surface of the food product would lead to poor disinfection, while too high temperatures would reduce the food quality.

Too long times of a certain temperature can also have a negative effect on the end-result, which is why our CFD simulations allowed finding the exact relationship between surface temperature and treatment time, for optimal performance of the system and best food quality.

The ventilation within the unit was also assessed, to ensure optimal steam flow in and out of the system. 
Why CFD?
Results of our CFD simulations have provided the following benefits:
Validation of concept design
General understanding of the disinfection system without the need for long and expensive experimental tests. 
Thorough understanding of all areas within the disinfection system, which could not be obtained through regular experimental tests.
Clear knowledge on the system's ability to reach its highest possible performance.
Several redesign options in order to improve the system's performance, as well as to potentially downsize the system.
Proper ventilation within the disinfection system.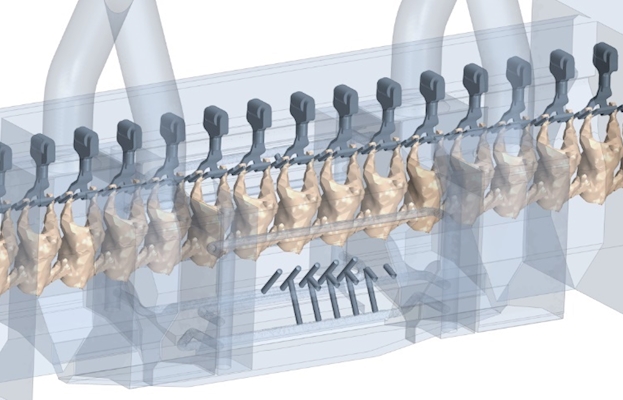 Article
Guide: CFD and food processing system
Guide to improve design of your food processing system.