The cold cruise industry
The cruise industry is expanding – not only vessel wise but also geographically to beautiful, colder and more distinct areas of the world such as the Arctic and Antarctic. 
While Arctic and Antarctic waters have a number of similarities, there are also significant differences. The Arctic is an ocean surrounded by continents while the Antarctic is a continent surrounded by an ocean. The Antarctic sea ice retreats significantly during the summer season or is dispersed by permanent gyres in the two major seas of the Antarctic: the Weddell and the Ross. Thus, there is relatively little multi-year ice in the Antarctic. Conversely, Arctic sea ice survives many summer seasons and there is a significant amount of multi-year ice.
A IMO model course
In order for the cruising companies to offer a safe and pleasant cruise it is important that the bridge crew are familiar with navigation in ice filled waters. IMO has made a model course description for training requirements to be followed to ensure that navigators operation vessel in polar waters are familiar with ice navigation.
In order to provide the best possible training we have teamed up with Greenland Pilot Service to develop a Polar Code course that fully meets the requirements from IMO. Greenland Pilot Service has many years of experience sailing in ice filled waters and that experience is what they bring to the table regarding the operational part of the course. FORCE Technology is responsible of the pedagogical learnings as well as the simulator exercises.
The class room lectures are held by an experienced pilot from Greenland Pilot Service who has sailed for many years in polar areas.
The Polar Code test
We held a test course for the pilots from Greenland Pilot Service. Afterwards we talked to Steen Lom, Master Mariner. He has sailed in Greenland waters since 1976 and understands the challenges of sailing in ice filled waters. According to him the benefits of the course is that the bridge crew will gain knowledge about the polar code and thereby get a higher understanding of what is necessary in certain situations.
Furthermore, the bridge team gets a better understanding of how the pilots do their risk assessment and information gathering before entering polar waters. This ensuring the entire bridge team is fully aware of the risks and how to mitigate the risk when navigating in ice filled waters.
In order to optimise the time spent in the classroom and the simulator the ice-recognition is placed as e-learning before the course.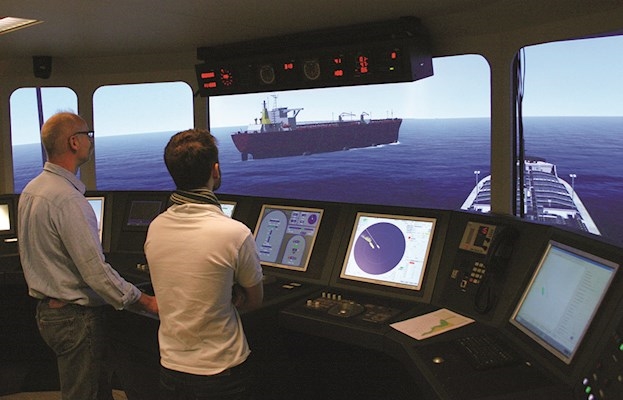 Facility
Ship bridge simulators
Our ship bridge simulators range from desktop to full-mission configurations.