Maritime green transition and safety: virtual services
New virtual services in efficiency and safety will support Denmark's maritime businesses - known collectively as "the Blue Denmark" - in the maritime sector's green transition.
The green transition calls for new ship designs
The maritime industry and logistics have been identified as a particular Danish strength. The maritime industry is Denmark's largest export industry, collectively accounting for about a quarter of Denmark's exports and a large proportion of its employment.
The Danish government and the Blue Denmark Climate Partnership, in particular, have high ambitions to reduce emissions in the maritime sector. The Blue Denmark Climate Partnership, Danish Shipping, and the new Centre for Zero Carbon Shipping have set a target of climate neutrality by 2050 without climate offsets, and the first zero-emission ship is expected to enter service by 2023.
The green transformation of the maritime sector therefore requires new ship designs, adapted to new hull shapes and propulsion systems optimised for energy, the environment, and the climate, based on (e.g.) electricity, multi-fuel engines, wind, etc.
In this project, entitled "Maritime green transformation and safety: virtual services," we will develop new virtual services. These services will combine physical and simulated data with advanced computation and simulation tools to optimise designs and to monitor and optimise ship operations. In doing so, we will support the Blue Denmark in a secure way during its green transformation.
Virtual services targeting efficiency and safety in the maritime industry
This project's ambition is to help the maritime industry further in the green transformation with efficiency improvements and safety. We will use, verify, and combine physical and simulated data, full-scale performance data, and advanced computational and simulation tools adapted to the ships of the future and their needs for energy-, environment-, and climate-optimised systems.
The project will simultaneously support the industry's desire and need for digitalised, personalised, and globally accessible solutions.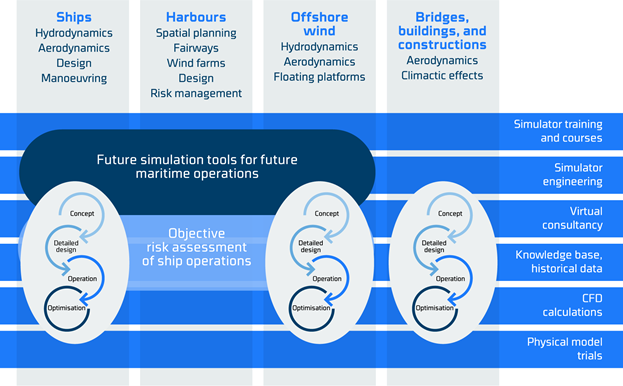 Virtual services to benefit the whole maritime industry
The "Blue Denmark" comprises more than 1000 companies and a significant ancillary industry with regionally anchored and geographically dispersed players. Therefore, many organisations stand to benefit from these new virtual services. 
The project has a wide range of stakeholders, meaning that there are many potential customers for these virtual services, including shipping companies, ports, ship designers, consultants, consulting engineers, shipyards, equipment suppliers, piloting companies, public authorities, maritime schools, and architects. In addition, the offshore wind sector, including concept developers, designers, installation and service companies, lifting gear designers, and offshore turbine owners will also benefit from the developed services.
The climate initiative in Denmark
The development project supports the Danish government's climate policy.
Danish Board of Business Development
The development project supports the Danish Board of Business Development's strategy "Business Promotion in Denmark 2020-2023".
UN global goals
The development project supports UN's global goal no 13, Climate change.
KEEP UP TO DATE WITH THE PROJECT
Sign up to receive news from and about the project - or send your questions and comments.