NDT of tube-to-tube sheet welds
Let us perform a thorough inspection of tube-to-tube sheet welds in your existing or newly acquired heat exchangers and avoid unnecessary production stops and failures.
Advantages of our tube-to-tube inspection
We provide a fast ultrasonic technique, which does not require special safety procedures prior to or during inspection, for detection of weld defects in tube-to-tube sheet welds. The advantages of our tube-to-tube inspection are:
Quality assurance of newly acquired heat exchangers
Avoidance of unforeseen production stops
Lifetime assessment of existing and new heat exchangers
Exact positioning and extent of indications
Fast inspection rate, 60-90 weld examinations per hour i.e. around 600-800 welds per day.
The technique offers a lot of benefits for our customers and significantly increases the level of confidence they have in the examined heat exchangers. The technique is very fast, thus minimizing downtime and provides full scanning of the welded volume. 
Contact Peter Bertelsen to learn more about what we can do for you.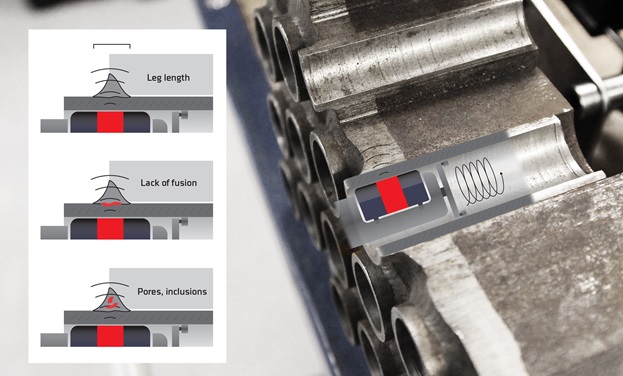 Typical failures in tube-to-tube sheet welds
The following types of defects are detected with tube-to-tube sheet examination:
Root defects
Lack of fusion
Cluster of pores
Inclusions
Leg length
The examination supplies detailed information about the quality of the weld, insuring the clients' confidence in delivering a first class tube sheet weld product. For objects already in process, the examination will locate possible leakages developed during operation. This way potential repairs can be rectified immediately and the weld consequently re-examined. Depending on your need, we can perform the inspection at your location or directly at your supplier.
The inspection process
The scanning system operates with a traditional ultrasonic technique and performs an 100% circumferential scanning of the weld, which supplies detailed information of the weld quality. 
During a 10-hour shift, around 600-800 welds are examined and a preliminary report stating any severe findings will be issued daily or prior to the inspection team leaving from the site. Such high inspection rate significantly reduces downtime of the system and, combined with the high quality of data and documentation, provide a clear advantage over the more traditional inspection methods. The technique has good versatility and adaptability to various tube dimensions, from 12mm in internal diameter. 
If you want more details on the inspection process, the technique, the data collection or the scanner used during inspection download our white paper or contact Peter Bertelsen.
Read more about NDT of Tube-to-Tube sheet welds here