NDT on wind turbine towers
The most common request for weld inspection on wind turbine towers is to reveal fabrication defects or in-service induced flaws. We apply well-established NDT methods to inspect these welds.
In-service inspection of wind turbine towers
FORCE technology's series of remote controlled magnetic wheel scanners, can all be configured to carrying multiple probe setups, which reduces the inspection time significantly. A 14-meter weld can be fully inspected in less than 10 minutes. The inspection can be conducted from a Sky Climber, a mobile crane, from the ground or even by rope access technique.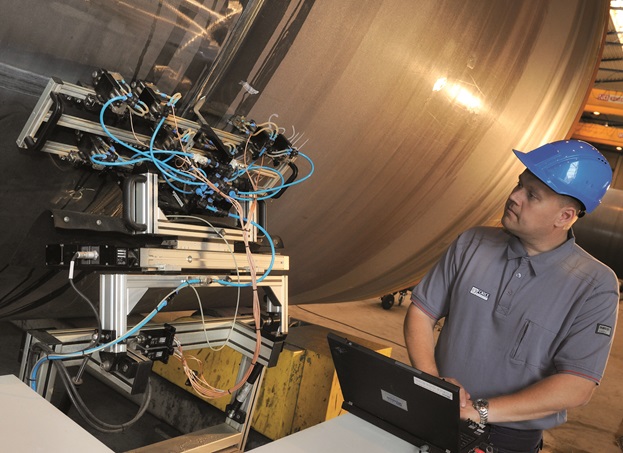 Inspection techniques
Techniques such as Phased Array, P-Scan pulse echo Ultrasound, Time of Flight Diffraction (ToFD), visual examination and Eddy Current, can all be applied individually or in a combination and often at the same time in connection with inspection of welds on wind turbine towers.

The above mentioned techniques can also be applied in the fabrication stage using our specially designed FUWI scanner (Fast Ultrasonic Weld Inspection) AMS 41.