Cloud-based maritime simulator
Using cloud-based simulators and mixed reality for maritime training, practice and planning makes realism essential.
Precision, realism and proven results – now with augmented reality
Virtual and augmented reality (AR) enable reality to be taken beyond the performance envelope. The precision and realism of our new maritime augmented reality concept is the key to this. Using augmented reality glasses, you will receive even more detailed and realistic maritime training than ever before. It will be almost like being on the ship or at the port. Obviously, this makes the training even more real, hands-on and recognizable. All to the benefit of your training.
SimFlex Cloud – advanced training on your location
The new cloud-based maritime simulator concept, SimFlex Cloud, makes our physical simulator concept available in the cloud, right where you are – onshore or offshore. SimFlex Cloud makes this experience and knowhow more accessible than ever before. With SimFlex Cloud, you will always have the most recent content and training methods available. 
The cloud-based simulator concept is sustainable and future-proof. SimFlex Cloud is both time- and resource-efficient, being available anywhere and anytime. In other words, no travel is needed, so no potential restrictions need to be considered.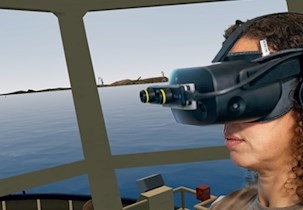 Get a demo
Want to see a demo of the SimFlex Cloud simulator? Register here.
Training tailored to your needs
The focus is on flexibility, allowing you to receive high-quality training remotely with equipment suited to your exact needs. This creates a simulation as realistic as possible, tailored to any given situation or process you wish to simulate. The cloud concept comes in different versions, with or without augmented reality: it all depends on your needs for training and simulation. 
The highly accessible, cloud-based simulator solution is available with an instructor and as self-study. However, it does not have to be exclusively one or the other: we can tailor the solution to your specific training needs.
The key to good training is learning, rather than teaching. With this in mind, the methods we have developed are internationally recognised and ensure logical progression from the participant's perspective. The focus is on making you use what you have learnt, so you know exactly how to react in any situation.
The cloud-based concept can be used for training, port and engineering studies, ship handling and bridge resource management, with several participants in the same scenario. The effects of our simulation services are proven to enhance safety, performance and operational efficiency. 
Maritime cloud simulator training with instructor
Combining the cloud simulation with our skilled and worldwide-recognised instructors gives you easy and flexible access to our solid experience and knowhow within maritime training and ship bridge simulations. 
The instructor guides you through the course and adapts it to your specific needs. As a result, you and your colleagues reach the highest possible level of learning, covering both knowhow and skills.
All instructors are certified on the SimFlex Cloud simulator and will create the best possible learning environment for junior officers, as well as for experienced captains and senior officers.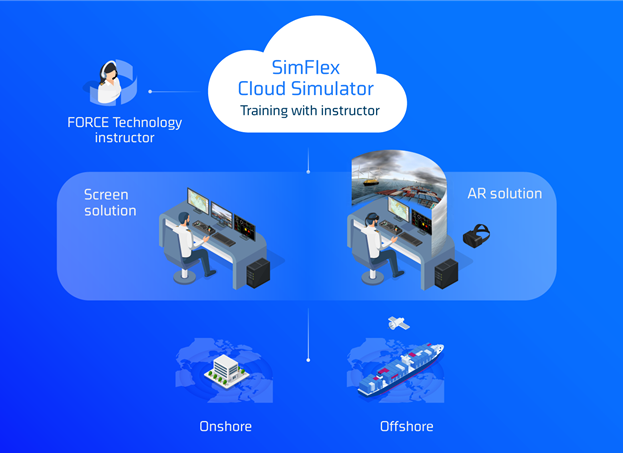 Maritime cloud simulator training as self-study
The self-study SimFlex Cloud solution gives you access to a variety of pre-defined courses and e-learning modules in the cloud, for training and ship bridge simulations. 
The course material also includes practical exercises. After the course, you can perform the exercises in the actual SimFlex Cloud simulator. This way, theory is immediately put into practice.
The very practical exercises are also a perfect supplement if you already have an existing training concept in your company.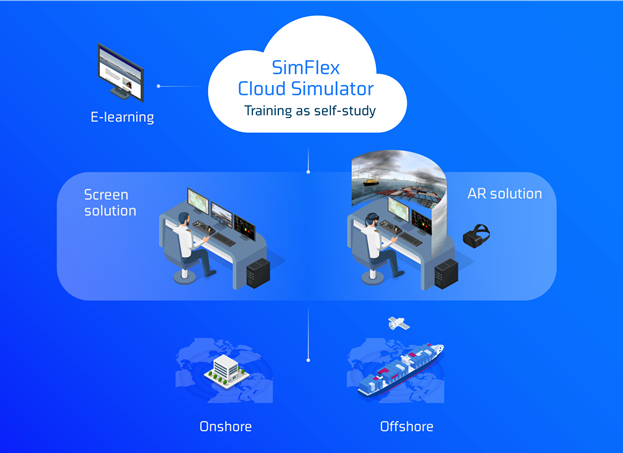 Engineering studies for ports and offshore energy renewables
Simulators are essential when modifying or building new ports or handling offshore energy renewables. With the cloud-based simulator you can evaluate various lay-outs, decisions and predetermined criteria under conditions corresponding to those expected. 
Simulators also provide a common platform where stakeholders can address their issues and relate them to other stakeholders. The simulator-based approach is a proven method to establish the data and observations required to make informed decisions with regards to safety, efficiency and other impacts.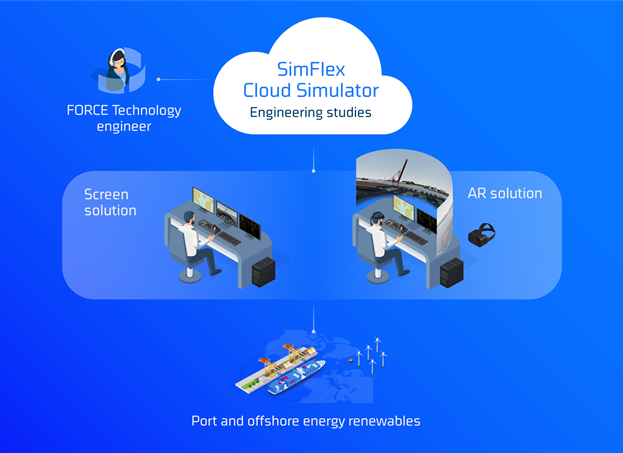 Hardware requirements and recommendations 
SimFlex Cloud is based on a cloud solution, which is accessible whenever convenient. The simulations can be performed on your own hardware, i.e., powerful PCs and monitors. For the full and realistic experience and training, PCs may be connected to augmented reality equipment and a control unit which are provided by FORCE Technology. 

Additional services
The licensing system allows you to purchase additional services, such as ships, ports, courses, training, training logs and train-the-trainers programmes.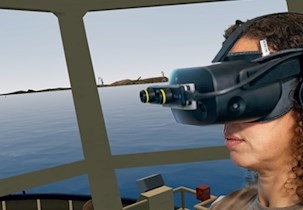 Get a demo
Want to see a demo of the SimFlex Cloud simulator? Register here.