Maritime simulator helps you learn
Use the SimFlex cloud-based simulator for maritime training, practice and planning from anywhere – also on vessels.
Proven results with advanced simulator training
Maritime training is expensive because it requires specialised equipment and facilities. You need simulators, training vessels, qualified instructors, navigation instruments, and safety gear to educate staff. Acquiring, maintaining, and operating these resources can be costly. In addition, there are fuel, port fees, crew salaries, provisioning, maintenance, insurance, and other operational expenses.
Practice skills and decision-making abilities
The SimFlex cloud-based maritime simulator provides a realistic and immersive environment for training and education in maritime operations where trainees can practice their skills and decision-making abilities in various simulated scenarios, such as:
docking
collision avoidance
adverse weather conditions
emergency situations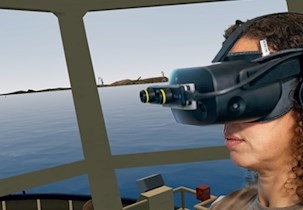 Get a demo
Want to see a demo of the SimFlex Cloud simulator? Leave your details and we will get back to you.
Time and resource-efficient training on land and at sea
The key to good training is learning rather than teaching. Our instructor-led or self-study simulator training is internationally recognised and ensures logical progression from the participant's perspective. The focus is making you use what you have learnt so you know exactly how to react in any situation.
With SimFlex Cloud, you have the most recent content and training methods available. All instructors are certified and will create the best possible learning environment for junior officers, as well as for experienced captains and senior officers. The self-study solution gives you access to various pre-defined courses and e-learning modules in the cloud for training and ship bridge simulations.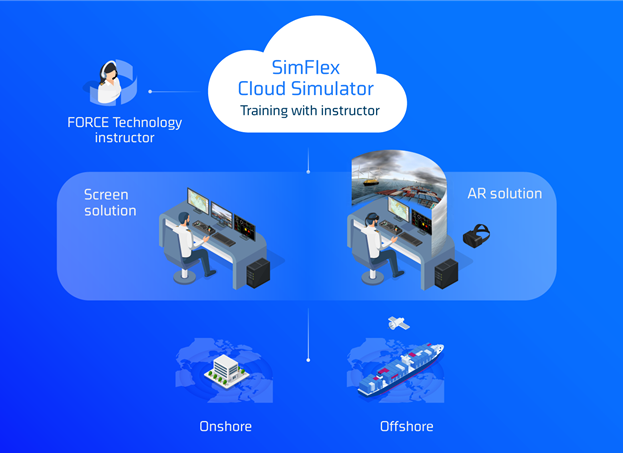 The green and safe choice for maritime training
Maritime simulator training reduces fuel consumption and emissions by replacing real-world training exercises. The controlled environment is optimal for trainees to practice ship handling, navigation, and emergency response without the risks associated with actual operations. This ensures the safety of trainees and eliminates potential environmental hazards.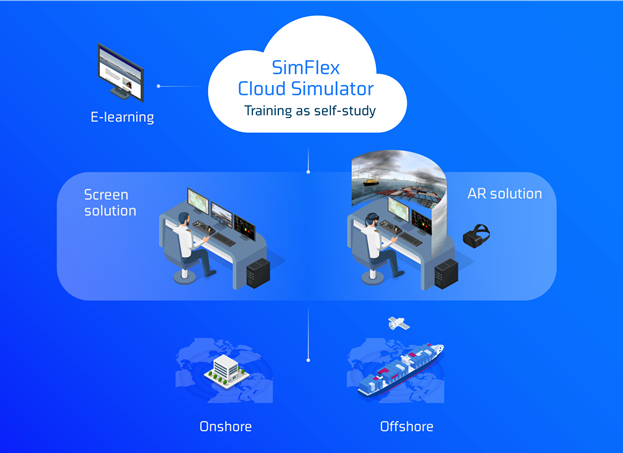 World's first integrated onboard shipboard simulator
Our proven SimFlex VR simulator set-up connects to existing onboard equipment and integrates with the propulsion and steering systems. This means that the crew onboard can train from the comfort of the wheelhouse chair using the ships manoeuvring handles, making the training happen in the most flexible and realistic environment possible.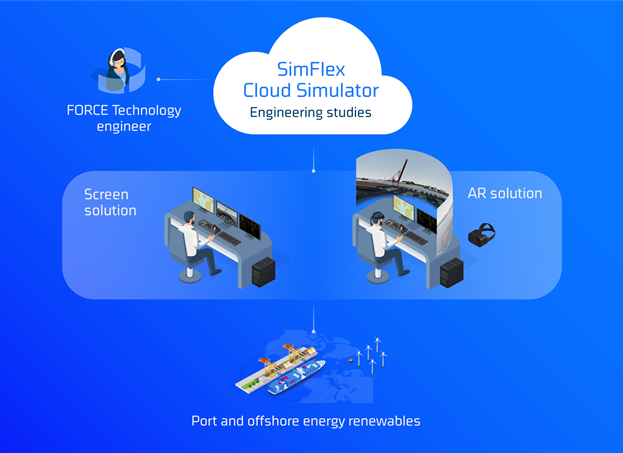 Hardware requirements and recommendations 
SimFlex Cloud is based on a cloud solution, which is accessible whenever convenient. The simulations can be performed on your own hardware, i.e., powerful PCs and monitors. For the full and realistic experience and training, PCs may be connected to augmented reality equipment and a control unit which are provided by FORCE Technology. 

Additional services
The licensing system allows you to purchase additional services, such as ships, ports, courses, training, training logs and train-the-trainers programmes.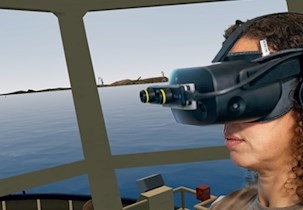 Get a demo
Want to see a demo of the SimFlex Cloud simulator? Leave your details and we will get back to you.