Cloud-based maritime simulator for engineering studies
SimFlex Cloud for engineering studies helps you modify or build new ports and offshore renewable projects from anywhere. It evaluates layouts with real-life criteria and facilitates fact-based and resource-efficient decisions.
Study and analyse port design online pre-construction to save resources
Assessing a port's or an approach channel's optimal design is complex. You get the best results by combining advanced software, the right data and realistic simulators. 
With FORCE Technology's online maritime simulator for engineering studies, you can evaluate various layouts under predetermined criteria that correspond with real-life conditions. The simulator visualises the advantages and limitations of the proposed port design, enabling fact-based, safe, and cost-saving decisions on the port or approach channel's layout. 
The most advanced and realistic online maritime software simulator around
SimFlex Cloud is the online version of FORCE Technology's physical simulator. It is advanced, accessible and easy to use. It is the most realistic and comprehensive maritime simulator software available for your needs, and you can perform engineering study simulations on your own hardware 24/7.
Tailor SimFlex Cloud to meet your hardware and software requirements. This includes:
Access to the cloud-based simulator software
Access to Operator's Control Centre (OCC)
PCs and Monitors
Steering console for manoeuvring the vessel
VR headset.
The cloud-based engineering studies are performed with a certified engineer for optimal benefits.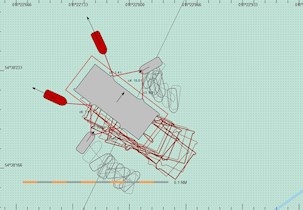 Get a demo
Want to see a demo of the SimFlex Cloud simulator? Leave your details and we will get back to you.
Build your own maritime area databases or find the ones you need in our library
The SimFlex Cloud software solution can also include the Engineering Suite, allowing the operator to build their own area databases and vessels to be used during the engineering study. Depending on your needs, you can get SimFlex Cloud with a choice of vessels and area databases. Our library includes more than 500 available vessels and numerous area databases from all over the world. 
Supervise the online engineering sessions through the Operator Control Centre
The Operator's Control Centre (OCC) is the operator's interface to the simulator and acts as the hub where the operator supervises and interacts with the sessions. From the OCC, the operator can control all aspects of a simulation. This includes the start-up, system initialisation, simulator setup configuration, supervision and exercise interaction.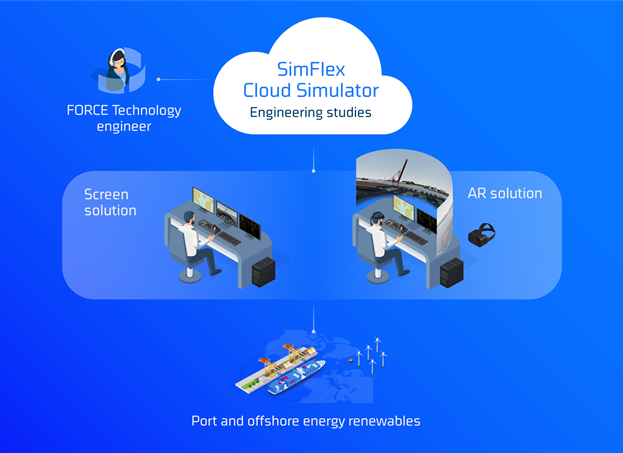 SimFlex Cloud comes with simulator access for a vessel managed by a control centre. The vessel can manoeuvre independently or interact with other vessels in a scenario where wind, waves, current, swell, tide, time of day, fog and many other aspects can change to reflect the actual conditions in the simulated area or port. 
Get in touch to find out what the SimFlex Cloud online maritime simulator can do for your engineering project.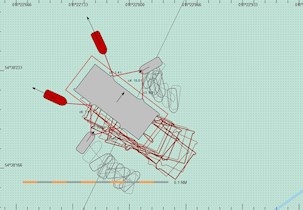 Get a demo
Want to see a demo of the SimFlex Cloud simulator? Leave your details and we will get back to you.
Online training available for officers and captains
Combining cloud simulation with our skilled and worldwide-recognised instructors gives you easy and flexible access to our solid experience and know-how within maritime training and ship bridge simulations. All instructors are certified on the SimFlex Cloud simulator and create the best possible learning environment for officers and experienced captains. Learn more about our maritime simulator
training
.