Laboratory for calibration of sensors
The sensor laboratory has the latest, modern equipment for testing and calibrating all types of gas and particle sensors.
Sensor calibration and validation of particle measuring instruments
Our laboratory for calibration of gas and particle sensors has instrumentation for generating gases at known concentrations, from the ppb range to the % range. In addition, the laboratory contains a large number of reference instruments for checking interferences, temperature, moisture, etc.
The specialists at the sensor laboratory are developing new techniques for gas generation with an aim of performing cost-effective calibrations of microsensors.
At the sensor laboratory, we can also validate instruments for measuring airborne particles, including sensors for the determination of particle numbers and Black Carbon (soot particles).
In the sensor calibration laboratory, we can conduct:
Testing and validation of gas sensors
Cost-effective calibration of microsensors
Testing and validation of particle sensors.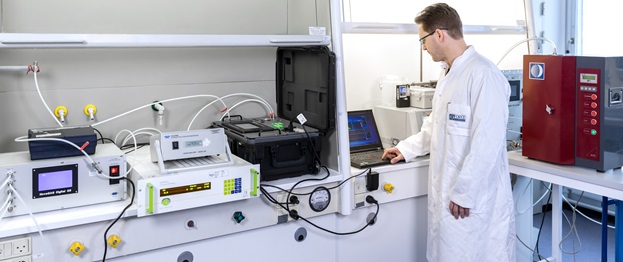 Frequently Asked Questions about the Sensor Laboratory
What equipment does the sensor laboratory have?

The sensor laboratory consists of the following:

Gas mixing bench with proprietary software for collecting and processing signals from dosing equipment and sensors.
Dosing using accredited gases according to EN ISO 6145-1.
Particle number dosing using a nebulizer
Dosing of soot particles from a generator developed by FORCE Technology

What kinds of reference measurements can be performed at the sensor laboratory?

In the Sensor Laboratory, we can conduct:

Reference measurement of NO and NO2 using CLD
Reference measurement of ozone using UV absorption
Reference measurement of SO2 using UV fluorescence
Reference measurement of CO2 and CO using NDIR absorption
Reference measurement of particle number using CPC
Characterisation of particle size using SMPS or ELPI

Contact us for reference measurements of other gases.

What types of gas analysers can be calibrated at the sensor laboratory?

There are no restrictions on the type of gas analysers, and in principle no restrictions on the types of gases we can produce at known concentrations.

Standard gases are typically NO2, NO, CO2, SO2, methane and other gases, which can be produced in certified/accredited mixtures in pressurised cylinders. But we also produce ozone (O3), water vapour (H2O), HCl, HF, etc. through special dosing equipment.

We can produce gases at known concentrations from the ppb range and up to the % range.