3D laser cladding removes wear problems in pressure vessels
SPX FLOW delivers process systems to the food industry. Previously, at worst, customers had to replace the pressure vessels after a year FORCE Technology solved that problem
It has been seven years since SPX FLOW first welded a particularly durable metal alloy on to a stainless steel plate, which is part of a pressure vessel in their processing plants for the food industry. "It still holds. We cannot measure any wear and tear, "states Knud Thorsen, Mec. Engineer + IWE, Global R&D Technology in SPX FLOW.
Some liquid foods contain abrasive particles, ie small particles with an abrasive effect. It can for example be chocolate milk, where there are sand particles from the cocoa bean harvest. It is perfectly normal and poses no hazard to humans. Unfortunately, the same cannot be said about the pressure vessel. "The liquid food enters the vessel with a high velocity. You can compare the effect to a surface being constantly sandblasted." Knud Thorsen explains.
Minimizing downtime for SPX FLOW's customers
Previously the result was holes in pressure vessels. Often already after one year, although the process plant as a whole is built to last for 30 years with round-the-clock operation. The problem was known and accepted by customers, and normally the solution was to replace the pressure vessel with a new one to minimize downtime of the plant. The alternative was to dismantle and ship the vessel for repair at SPX FLOW in Silkeborg. It could take weeks to repair and return the pressure vessel, depending on where in the world the process system was installed.

"No matter the solution, a food processing company prefers not having metal workers working on repairs in the process system." Says Knud Thorsen.

The wear-resistant metal alloy that FORCE Technology welds onto the component using 3D laser cladding, has proven to be of great value for SPX FLOW's customers and SPX FLOW. 

"All our specialized process containers, which could be exposed to abrasive wear food processing, get the wear-resistant metal alloy applied. Our customers are very satisfied and are willing to pay extra to have this improvement included." Says Knud Thorsen.
FORCE Technology secures documentation
The documentation for the metal alloy and application handled by FORCE Technology also has great value for SPX FLOW. When FORCE Technolgy was approached by SPX FLOW, the overall requirement was that the applied metal alloy had to have very high abrasive resistance values. It should be 100 percent solid and free of any pores or cracks to meet hygiene requirements. In addition, the applied surface should in no way be allowed to fall off during the life of the container and contaminate the food. Last but not least, the applied surface should be approved according to the rules for food contact materials in both EU and USA.
"In addition, the pressure vessel approval of the welding procedure, is extremely cumbersome - especially in North America. The US ASME VIII pressure vessel rules can be quite tough to navigate, and at one point it almost stopped the entire project, but FORCE Technology succeeded in navigating through the rules under ASME VIII" says Knud Thorsen.
On the whole, he is satisfied with the long-standing collaboration with FORCE Technology, which he describes as a leader in the field. "I myself have a background as a welding engineer and over the years, I have repeatedly benefited from FORCE Technology's expertise in welding technology as well as corrosion and metallurgy. At times, we have also benefited from FORCE Technology's laboratories for some of our more unusual and special cases, "states Knud Thorsen.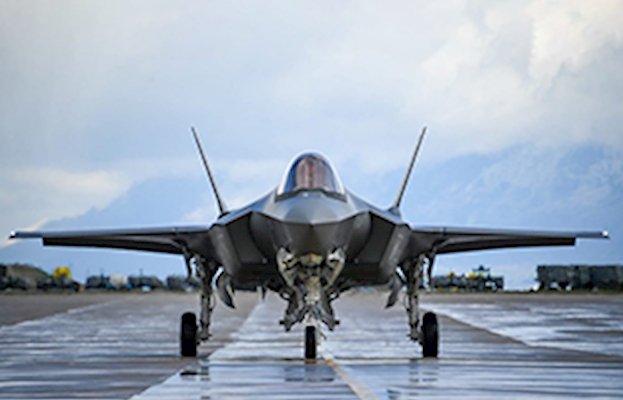 Case
Terma reduces materials and time spent through 3D print
Additive manufacturing reduces manufacturing time & material consumption for F-35 component by 90%.
About SPX FLOW
SPX FLOW is a listed company headquartered in Charlotte, North Carolina, USA. The company offers highly specialized and innovative components, process equipment, technologies, automation and service solutions. SPX FLOW operates in the food and beverage and marine industries as well as in the oil, gas and energy sectors. SPX FLOW has factories in over 35 countries and sales offices in more than 150 countries.
Read more at
spxflow.com