Ballard powers ships with zero-emission fuel cells and hydrogen
Ballard Power Systems has been granted a type approval from the classification society DNV for its hydrogen fuel cell module, FCwaveTM - making it the first company to receive this type of approval.
Challenge
Ballard was seeking type approval for its new FCwave™ fuel cell module for maritime applications.
Solution
Following comprehensive testing and documentation, including EMC and climatic testing, the module has received maritime approval from DNV.
Result
Ballard has made significant progress with its zero-emission solutions and earned a valuable certification.
From Power-to-X to X-to-Power
In Power-to-X, electrolysis and other processes are used to convert electricity into alternative fuels like hydrogen, ammonia and methanol. The next step, which we might call 'X-to-Power' and is an important step in the decarbonising of the transportation sector, enables the use of 'X' as a fuel in (for example) the shipping industry.
One of the leading players in this area is Ballard Power Systems, which designs, develops, and services PEM (Proton Exchange Membrane) hydrogen fuel cells. In a fuel cell, a chemical reaction takes place to convert hydrogen into electrical energy. When used as a fuel, hydrogen only generates water and heat as by-products. This makes it possible to operate emergency backup power systems, buses, trucks, trains, ships, and other kind of systems and vehicles with zero emissions.
Ballard is headquartered in Canada, but its European facilities are located in Hobro, Denmark. Here Ballard designed, developed and builds its FCwave™ fuel cell module.
"As the name implies, we developed this module for maritime applications. A single module has an output of 200 kW. By combining multiple modules, it's possible to power large vessels, like the cruise ferries that operate between Copenhagen and Oslo. There's incredible potential here," says Karin Jessen Kristiansen, Senior Compliance Engineer at Ballard Power Systems Europe.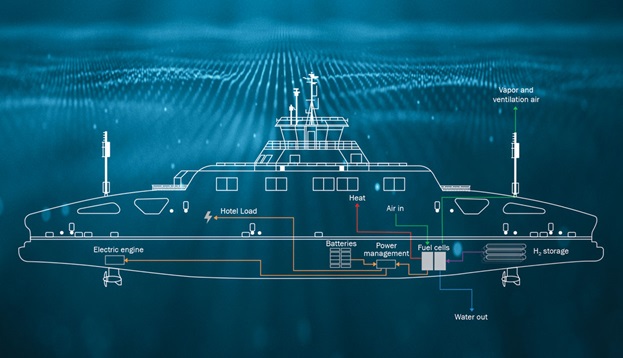 The many advantages of a type approval
Before a fuel cell module like FCwave™ can be marketed and integrated on ships, it must undergo a series of tests (safety and functional) to receive a type approval from a certification agency; Ballard chose to work with classification society DNV. 
"A long series of internal and external tests are required to document safety characteristics for a variety of situations that can occur at sea. In return, though, you're not only assured that you meet the stringent rules and regulations in the marine industry – you're also getting a mark of quality," Kristiansen explains.
A wide range of tests, from electromagnetic to climatic
FORCE Technology conducted several of the tests required as part of the DNV certification process for the FCwave™ module. A specialist from FORCE Technology visited Ballard in Hobro to test the fuel cell's electromagnetic compatibility (EMC), which determines whether the fuel cell could disrupt other systems on a ship, such as the emergency radio. These test results are presented in a 70-page report. 
Additionally, FORCE Technology subjected the module to a series of climatic stress tests at its own facilities, including the climate chamber in Hørsholm. The tests were configured to demonstrate that FCwave™ is capable of withstanding the heat in an engine room without incurring damage. 
"Despite how complicated these tests are, working with FORCE Technology has been a smooth experience. Communication was open and flowing in terms that were easy for laypeople to understand, and the expertise was clear," says Kristiansen. 
Ballard also notes that because FORCE Technology's testing facilities are DANAK-accredited, it was not required for DNV to be present to observe the full testing process. 
Queueing up for hydrogen-powered ships 
With the certification in hand, FCwave™ is now officially the world's first fuel cell module to receive DNV type approval for maritime use. This positions Ballard as an industry leader, contributing to the pivot to zero-emission power in the marine industry.
Demand has increased significantly since the announcement of the completed FCwave™ type approval. Customers around the world are preparing to install FCwave™ modules.

Karin Jessen Kristiansen

/ Senior Compliance Engineer at Ballard Power Systems Europe
Given the increased focus on upcoming climate targets set for the shipping industry, interest in zero-emission fuel cells is especially high in Europe. For instance, Norled's MF Hydra ferry, which has two FCwave™ modules on board, will soon be operating in Norway's fjords.
Demanding certification improves access to new markets
FCwave™ was developed specifically for the marine industry, but as Kristiansen puts it, "in simple terms, this is an engine powered by fuel cells. This means that the module can be used to supply energy in other applications as well."
In that regard, the comprehensive DNV certification is a major advantage for Ballard. "The maritime industry has very stringent requirements," Kristiansen explains. "Because of that, we can use the test results and experience from the certification process and apply it in other markets and applications." 
Following the FCwave™ certification process, Ballard requested FORCE Technology's assistance with another fuel cell module – FCmove™, designed for buses. This module needed to undergo a comprehensive series of emission and immunity tests set out in the EMC directive.
Getting clarity on market requirements
While having its fuel cells tested, Ballard also sought know-how from FORCE Technology on clarification regarding certification requirements across market segments. 
"For instance, when it comes to EU regulations, it can be difficult to figure out which directives and compliance requirements apply to different market segments, as fuel cells and hydrogen safety are still new to the regulatory world. FORCE Technology can provide clear answers to some of these questions. That's really helpful," Kristiansen concludes.