Industrial 3D printing in metal and architectural visions: A match made in heaven
BIG has succeeded in drawing attention to the UN's 17 Global Goals by applying the latest technology to produce a 3D-printed metal model of a city planning project in Stockholm.
Challenge
BIG's architects wanted to create an aesthetically pleasing, weather-resistant model of a city planning project for the Solna Business Park.
Solution
FORCE Technology produced a 3D-printed metal model at its laser welding facility.
Result
BIG now intends to consider 3D printing in metal for its future projects.
Over the next 10 years, a district of Stockholm known as the Solna Business Park will be undergoing a major transformation aligned with the UN's 17 Global Goals for sustainable development. The project aims to put the 17 Global Goals into the hands of ordinary citizens. To that end, residents of Stockholm can already take a stroll through a new park that uses colours and symbols to raise awareness about the Global Goals. Among the more spectacular sights in the park is a 3D-printed model showcasing how the entire district will look once the project has concluded.
Blending storytelling with smart technology
BIG — short for Bjarke Ingels Group — is an architectural firm participating in the city planning project in Stockholm. As part of the project, BIG needed to deliver a model of the future vision for the district aligned with the 17 Global Goals. The firm decided to use a cutting-edge technology for the model: 3D printing in metal, also known as additive manufacturing.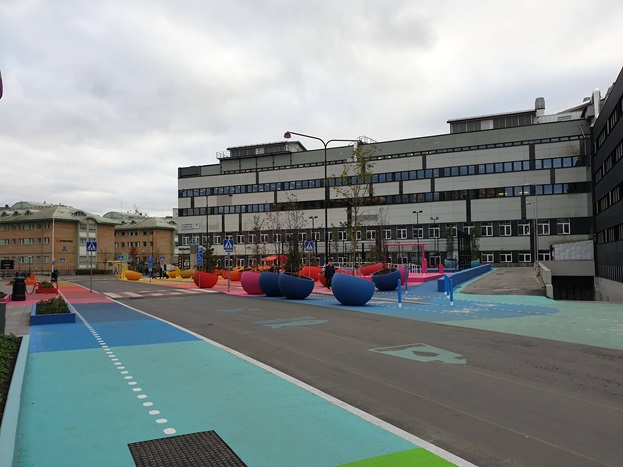 "Our model is designed to tell people about this place and about developments coming to the district over the next 10 years. For as many people to see it as possible, it needs to be placed outdoors. Our ordinary plastic models can't withstand that, so we were initially thinking about a 3D-printed concrete model. But then, we learned about FORCE Technology's metallic 3D printer," says Mikkel Marcker Stubgaard, a senior architect at BIG.
After some test prints conducted at FORCE Technology's 3D laser welding facility in Lindø, the focus shifted to translating BIG's computer model into a format that the 3D printer could use to produce a physical model. The model, produced at a 1:500 scale, has a diameter of 1.5 metres. 
Can 3D printing technology meet BIG's aesthetic requirements?
BIG was concerned about striking a balance between the coarse, industrial nature of additive manufacturing and aesthetics. The model could not be too imprecise, nor could it be sanded down so much as to eliminate the characteristic look of 3D printing. BIG had already ruled out the traditional approach of creating a physical mould and casting the model in brass or bronze, as doing so would be too costly.
"At BIG, aesthetics are a big deal to us. We wanted it to look good, but we also wanted it to tell a story, to explain the thought that went into it. Finding that balance in the midst of uncharted territory wasn't easy," Stubgaard explains. "That's why it was so important for us to develop this solution together with FORCE Technology. There were some inevitable bumps in the road, but they were so flexible and solution-orientated, which was great. With just a few refinements here and there, we've achieved an optimal solution, and the model's finish — which was the toughest part of the project — came out the way we wanted it to."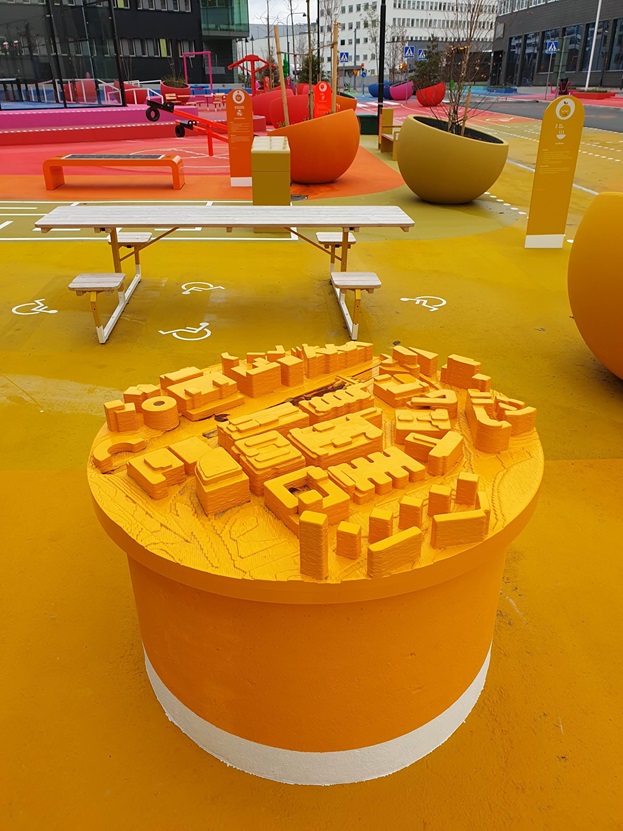 New opportunities for new, flexible solutions in the future
BIG's architects have gained valuable knowledge about what is technically feasible, and they are considering ways they could use metallic 3D printing in their future projects.
One of the major benefits of 3D printing in metal is freedom to refine the design until the very last minute. BIG took full advantage of this freedom. Since the printing technology is based on welding, finished models can also be modified at a later time, such as to add new buildings.
"It's been such a pleasure for us to work with FORCE Technology on this project. This has opened up a whole new world for us, in terms of what is technically feasible and how we can use this in the future. Obviously, this is a major advantage for us, and given the rate at which the technology is developing, robots will be able to make even metallic 3D prints that are even smaller and more detailed in the future, so we feel that the technology has a lot of potential," concludes Stubgaard.
In light of the new opportunities and greater freedom it brings to design and architecture, large-scale 3D printing is well on its way into creative fields.
The 3D-printed metal model of the district will be officially unveiled in spring 2022 in the Solna Business Park.