Nordic Shelters for military use tested and delivered on time
Challenge
Nordic Shelter needed expertise in handling extreme temperature and humidity conditions according to STANAG 4370.
Solution
Test plans and compliance expertise helped document that the containers could meet the expectations of the Netherlands' Armed Forces and the NSPA.
Result
Complex equipment for military use delivered on time and in adherence with existing standards and legislation.

Nordic Shelter provides tailor-made mobile container solutions to customers worldwide. These highly specialised temperature controlled and self-powered units are perfect for military applications.
The NATO Support and Procurement Agency (NSPA) brings together the NATO nations, NATO Military Authorities and partner nations, providing effective and costefficient multinational solutions to the Alliance, its 31 countries and partners.
In 2022, Nordic Shelter won an NSPA tender to supply cooling containers to the Netherlands Armed Forces. Documenting that the containers could function in certain environmental conditions according to the STANAG 4370 NATO standard and AECTP-230 was a prerequisite for fulfilling the terms set out in the tender. These conditions are:
A1: 32°C to 49°C and 3% rH to 6% rH 
B3: 31°C to 41°C and 59% rH to 88% rH
C1: -21°C to -32°C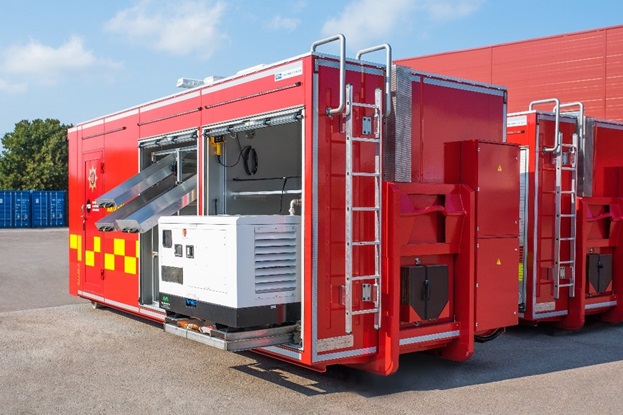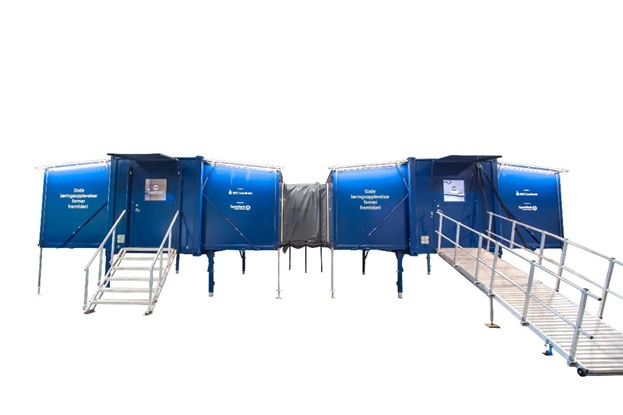 Climate chamber simulates heat from the sun, extreme temperatures and humidity
The purpose of testing defence products in a climate chamber is to evaluate their performance, durability, and reliability under various environmental conditions, simulating extreme temperatures, humidity levels, and other climate factors they may encounter in realworld operational scenarios. This testing ensures the products can withstand and function optimally in harsh environments, enhancing their overall effectiveness and mission success.
"Nordic Shelter contacted us to check the availability of our climate chamber that can test equipment and products to vet and document and that they function as promised in different climatic scenarios. They needed an accredited report and speedy testing to meet the deadline and deliver the necessary accredited reports to prove the capacity and durability of the 20-foot cooling containers. Competing climate chamber test services had long waiting lists, and we were able to offer a testing slot within to suit the customer's schedule," Per Baunegaard With Jensen, FORCE Technology's Materials & Components Test Engineer, says.
From one test to comprehensive test requirement advisory and execution
When we take on a task like this, we dig deep to understand the full scope of requirements and specifications:
"A rigorous and comprehensive test regime is necessary when working with products for the defence industry to demonstrate compliance with the stringent requirements listed in tenders, ensuring the products meet the specified performance, quality, and safety standards, and inspiring confidence in their capabilities among potential buyers," Mehdi Banisi, FORCE Technology's Defence and Space Business Development Manager, says.
"In this case, it quickly became apparent that we could not only provide the initially requested climate chamber test services but also the required Electromagnetic Compatibility (EMC) testing in accordance with AECTP-500 (grounding & bonding test) and concrete insights and advice on how to go about building a comprehensive test plan to enable the customer to confidently meet the fixed deadline," Hans Henrik Matthiesen, FORCE Technology's Materials & Components Test Senior Team Leader, says
On a project like this, where some testing is done in Denmark, the project leader sits in Norway, the production is in Estonia, and the sub supplier is in central Europe, hiccups such as delays or rescheduling can have drastic consequences in terms of financing and completion.
We delivered:
Climatic test A1; B3 and C1 according to STANAG 4370 NATO standard and AECTP-230

A1: 32°C to 49°C and 3% rH to 6% rH, Sun exposure
B3: 31°C to 41°C and 59% rH to 88% rH, Sun exposure
C1: -21°C to -32°C


Accredited test report
Function test
EMC test according to AECTP-500 (grounding and bonding test)
Bundled test services are a valuable offering
"The value of a partner being able to deliver a bundle of relevant test services fast is immense. Not many facilities have this capability, making it a rare and valuable offering. This capability is essential for upcoming and modern projects, especially those of a military nature. The testing conducted in a climate-controlled chamber exposes the equipment to the harshest climatic extreme conditions, providing assurances to both the customer and the manufacturer," The NSPA Project Manager Marcello DI SANTO says and continues: "The experience of visiting the facilities and working with the Force Technology Team was highly positive. The team exhibited professionalism, flexibility, and cooperativeness throughout the process. They were friendly and demonstrated technical capabilities, contributing to a smooth collaboration."
Knowledge gained from the collaboration will have a positive impact on future projects
"The collaboration with FORCE Technology has resulted in a deeper and more complete understanding of the system, including its limitations and capabilities. This knowledge gained from the collaboration will positively impact future projects. It has clarified what to include as test requirements when embarking on similar projects, ensuring a more comprehensive approach in the future. As a result of the collaboration, there is now a clearer understanding of what to include as test requirements when undertaking similar projects. The experience gained from working with FORCE Technology and the lessons learned will contribute to a more effective and well-rounded approach to future projects. This will have a positive impact on the overall outcome of those projects," Nordic Shelter Project Manager Lee Whiteford says.
Documentation is a valuable resource and reference point for future sales
The test documentation generated during the collaboration can be used to support the sale of the same container unit to other clients, provided the specifications remain the same or within similar boundaries. While each order may have its own specific test plan, the documentation from the collaboration will serve as a valuable resource and reference point. It will help streamline the testing process for future customers and provide credibility and assurance regarding the container's performance.
"Partnering with a facility that can deliver a bundle of relevant test services fast is of significant value. The experience of working with the FORCE Technology team was highly professional, flexible, and cooperative. The collaboration resulted in a deeper understanding of the system and its requirements. The knowledge gained will positively impact future projects, ensuring better test requirements and documentation for similar endeavours. The test documentation generated can be utilised to support selling the container unit to other clients within certain boundaries," Lee concludes.
"I am very proud of our team for their extreme flexibility and agility in supporting Nordic Shelter in any way they could to ensure the Netherlands Armed Forces gets a fully compliant product that lives up to specs and expectations. Even when the project scope grew, we delivered on time. This goes to show that our manner of turning every stone to help customers avoid surprises and delays down the line pays off and that our extensive experience with working with defence stakeholders has given us a thorough understanding of what it takes to successfully test a product according to this industry's complex requirements," Mehdi says.