Measurement and analysis of odours
Measurement and analysis of odours tell you whether your company complies with the odour emission requirements, and how to ensure an acceptable odour impact in the surroundings.
Accredited odour measurement ensures documentation to the authorities
Odour emissions from companies such as restaurants, manufacturing companies and sewage treatment plants are regulated by law. Companies must, among other things, know their odour emission, to document compliance with threshold limits and minimise the environmental impacts.
Odour assessment requirements are usually described in the company's own environmental permit. If you, as a business operator, fail to fulfil these requirements, you can risk an injunction from the public authorities and, at worse, a prohibition or a fine.
We can help you to ensure the documentation required as the basis for assessing compliance with the environmental permit. FORCE Technology can perform accredited odour measurement, where we:
Assess the time and place of odour sampling
Collect and analyse odour samples
Calculate outlet heights using dispersion modelling
Assess compliance with ground level limit values
Advise on measures to reduce odours.
Odour measurements in conjunction with complaints
In contrast to most chemical pollution, odours can be perceived immediately, and therefore also often lead to complaints from surrounding neighbours. Irrespective of whether the odour is pleasant or unpleasant, it can be a nuisance for the neighbours.
In situations where a company is the subject of complaints from neighbours because of odour nuisance, an environmental authority will be involved and may require the measurement and eventual reduction of odours. In this case, it is vital that you are familiar with the requirements to which your company is subject.
If you do not have an environmental permit, the company will be subject to the Danish Environmental Protection Act. In this case, the environmental authority can impose an injunction to comply with the indicative threshold values in the Odour Guidelines.
Regarding complaints, we can assist your company and the authority in identifying the specific regulations applying to the complaint. We can also advise on methods and technologies that you should consider in order to reduce your emission of odours and avoid future complaints and injunctions.
Call our consultant if you have an urgent need for assistance with a complaint.
Odour measurement based on many years' experience and professional expertise
As a customer, you are ensured broad-based expertise within odour measurement and analysis, since we:
Have been undertaking measurement, analysis and advisory services concerning odours for more than 30 years
Cooperate closely with the authorities in Denmark
Have our own odour laboratory with a trained odour panel
Take part in European standardisation committees under CEN auspices in the odour area. In recent years, we have contributed to the revision of the odour analysis standard and to drawing up standards for odour assessment and electronic odour sensors. Our knowledge in this area is thus fully updated.
Assist the Danish Environmental Protection Agency with investigating odours, including contributing to the ongoing revision of the Odour Guidelines and the recommended odour measurement method.
Our methods for the collection and analysis of odour samples take place in accordance with EN 13.725 and  DANAK accreditation 51. All odour samples are analysed in our odour laboratory with the help of our olfactometer and trained odour panel.
We can always adapt our service according to your requirements – whether this concerns individual odour measurements, or a package solution with odour measurement, analysis and advisory services concerning reduction technologies.
Use the form to contact us for more information on how to ensure compliance with the odour emission regulations and reduce odour emissions to the environment.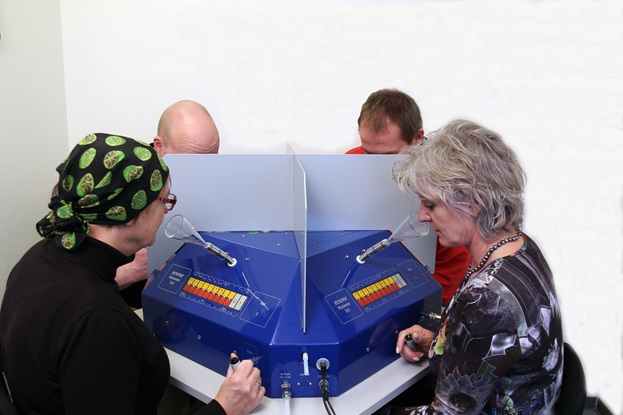 FAQ
Which regulations apply to my company?

Companies are regulated in different ways.

Some are subject to an environmental permit, while others are required to comply with the rules for specific sectors, and others again are subject to requirements based on individual considerations. Whatever the circumstances, they are subject to the requirement to document compliance with emission requirements and environmental impacts (compliance with ground level limit values).

Some of the regulation is laid down in EU directives, primarily the Industrial Emissions Directive, which are fully implemented in Danish legislation. Environmental permits are often drawn up on the basis of claims.

The terms of the environmental permit or any injunction will be the applicable law for the individual company.

How are odours measured?

In contrast to most chemical pollution, odours can be registered immediately, and therefore also often lead to complaints when companies emit odours. Irrespective of whether the odour is pleasant or unpleasant, it can be experienced as nuisance by neighbours.

Odours are measured by collecting air from the source, e.g. a stack, in a bag. This air is analysed within 30 hours in an olfactometer.

The analysis is performed by an odour panel comprising a minimum of four persons in our own odour laboratory. The panellists sniff to samples which are diluted less and less, until the panellists can perceive weak odour. The degree of dilution is a measure of the odour content in the bag. The panellists' description of the odour is noted – e.g. rotten, chemical or sweet.

How odour samples are collected and analysed is described in a European standard, EN 13.725.