Digital twins
Use a digital twin to design, develop, manage and optimise the performance of a product or entire system.
A digital twin can add extra value to your organisation, production line or product. This is true on several levels – from the design phase and production through operation to the end of the life cycle.
For example, the digital twin can sharpen your competitive advantage for a product by increasing its performance and predicting its expected lifetime. This can ensure energy savings and better utilisation of resources.
Digital development & optimisation
During the design phase of a product, a digital twin allows representing the ideal version of the coming product using 3D models and simulations.
The digital representation of what was previously just an idea provides knowledge of product performance and the opportunity to test new ideas and improvements, before embarking on costly manufacturing and physical testing.
The simulation-driven design results in a significant cost reduction compared to traditional product design iterations. It also provides the opportunity to identify and test potential initiatives for energy and resource savings in a digital environment before final implementation and operation.
Digital twins in service
With a digital twin, you can combine the accuracy of high-fidelity simulations of multiple physical disciplines with the speed and dynamic response of real-time system modelling. At the same time, live sensor data can be used. This makes it possible to see your developments throughout the design phase and to see performance improvements with new system changes.
You also gain new insight into the value of various performance parameters. The specific added value ranges from training of operating personnel, what-if scenarios and predictive maintenance to identifying new business opportunities such as maintenance services.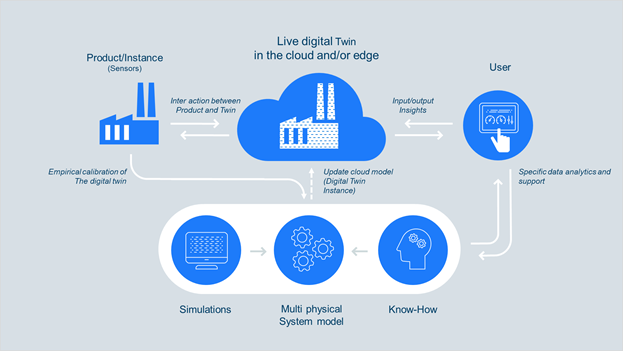 Interacting with the product through the digital twin
With technologies such as AR and MR (augmented and mixed reality), data and results can be visualised by the end user, who can also interact with the physical product through the digital twin.
A digital twin makes it possible to access real sensor data and simulated data of otherwise inaccessible information from physical sensors, e.g. in environments that are extremely harsh for physical sensors.
Having the extra layer of information from simulated data improves the insight into the current state, performance and processes of/in the product for more solid decision-making.
Predictive maintenance for optimal performance
A digital twin updated with real-time conditions of the physical product makes it possible to perform data analysis and run what-if scenarios for predictive maintenance. This enables you to detect early faults before they get critical, which can prevent suboptimal operating conditions, thus ensuring safe working conditions, low operating costs, longer product life and maximum efficiency.
The digital twin can also be used for time-to-failure prediction. This allows for early planning of future necessary actions, which can eliminate or reduce unexpected maintenance and planned revision. This can, for example, reduce waste in food production.
Feedback on the design of product generation 2.0
Based on the process, performance and operational data of both the physical and digital part of the product, the new insight can be feedback, through the digital twin, to improve the next generation in the product line. A large part of the digital investment and development from the previous product series will often be reusable.